PRISON:
Angelo's Drawings
Opening service July 7, 5 – 10 pm. Hours: 12 – 5 Saturdays.
Marc Fischer hosts a discussion of the exhibition on Saturday, July 8 at 1 pm.
Angelo is a 56 year old artist currently incarcerated in the California prison system. A lifelong draftsman of extraordinary ability, this will be the first concentrated exhibition of Angelo's work. On Saturday, July 8, 2000, at 1 pm, Temporary Services will host an open discussion of Angelo's work and the many issues it raises. Marc Fischer will be available to discuss, among other topics, his relationship with Angelo, the nature of art-making in prison, moral issues raised by the Angelo's drawings, and the multitude of problems attached to the exhibition of work by artists and authors not working within the gallery system.
Here is the text from the booklet.
"Sunday Funnies" plus descriptive text by Angelo
---
Prisoners' Inventions
We asked Angelo—an artist incarcerated for over 25 years—to illustrate and describe the many incredible inventions made by prisoners that he had made, seen, or heard about over the years. These inventions are attempts to fill needs that the restrictive environment of the prison tries to suppress. The inventions cover everything from homemade sex dolls, condoms, salt and pepper shakers to chess sets, privacy curtains and ways of communicating between cells. We collaborated on this project with Angelo for over two years to get it going. We had many additional collaborators who made a book, exhibition of re-created inventions and a prison cell possible.
Prisoners' Inventions Overview
---

Supermax Subscriptions
Supermax Subscriptions seeks to connect the surplus of well-traveled citizens to a population that never goes anywhere: prisoners in American supermax prisons.
As most of you know, frequent flyer miles often expire before it is possible to save enough of them for a free airline ticket, seating upgrade, or other costly prize. Supermax Subscriptions asks people with these surplus miles to exchange small quantities of unused miles for magazine subscriptions to supermax prisoners. For as few as 300 miles, you can give the gift of a yearly magazine subscription to a prisoner with little or no reading material.
The first goal of Supermax Subscriptions is to provide every prisoner in Tamms C-MAX supermax prison with at least one magazine subscription. Men in Tamms are in their cells 23-24 hours a day in permanent solitary confinement. The men have been there for years on end, many for ten years. They have no communal activity, no phone calls, no programs, no education, no work, no librarian, and virtually no reading (mostly children's books). A magazine subscription is one way to give these men your support. Your gift will not be taken for granted.
This project is a collaborative effort by Tamms Poetry Committee, Laurie Jo Reynolds, Sarah Ross, Temporary Services, and you!
Airlines: Check these airlines to sign up for a mileage awards plan, check your travel mile balance and to find out how to redeem miles for magazine subscriptions: AMERICAN AIRLINES, DELTA, STAR ALLIANCE, UNITED, other airlines may apply. You are also welcome to purchase magazines if you don't have any frequent flier miles.
Overview of Prisoners' First Amendment Rights
---

Publications
---
MOBILITY:
Portable Temporary Services
The Portable Temporary Services unit was designed and built for us by Nicolas Floc'h. It can travel to remote locations and function as an instant office, meeting space, exhibition context and more.
Images of some of the components:
List of places the PTS traveled and services it provided:
PTS — Zoo Gallery, Nantes, France, January 13, 2000

We presented the work of the following people with the PTS at Zoo:

HaHa – slide show documenting their FLOOD project
Stephanie Ognar – flip books
N55 – manuals
Mark Nelson (Pan American, Labradford) – music

See booklet below.
Copyright/Copywrong — Last two weeks of February, 2000

This exhibition is part of a region-wide series of exhibition in France that explores issues around intellectual property rights from the copying or resampling of works to getting patents on the genetic manipulation of plants.

Temporary Services provided guides for re-creating works by Felix Gonzalez Torres, Mel Bochner and Lawrence Weiner. Zoo Gallery recreated the works based on the instructions provided in the guides.
MUU- Café — MUU Gallery, Helsinki, Finland, August 16 – September 10, 2000

Artists association MUU is organizing MUU – Café in its own gallery in Helsinki 16.8. – 10.9.2000. During that time the gallery space is serving as a cafeteria and also as an open exhibition for works in small scale format like artists books, sound works, cartoon etc. There will also be a videolibrary and wallspace for drawings and paintings. One weekend is for performance, and there will be events for videos.

We would like to invite other non commercial galleries and workshops to present themselves with a portfolio or other suitable format. Material could stay permanently in the office of MUU as a small library, or alternativly it could be sent back after the exhibition.

Other non-commercial groups included:

Gallerie Für Landchsaftskunst, Hamburg
Hlynur Hallsson, Hannover
Ballonmagasinet (a radiostation), Oslo
Frotté magasinet, Oslo (independent art magasine)
Pineapple gallery, Malmö
Academia non Grata, Pärnu, Estonia (private art school)

Project is organized by artists Pirjetta Brander and Tero Kontinen.

MUU.GALLERY
Lönnrotinkatu 15
00120 Helsinki
Finland
PR ' 00 [Parentesis en la Ciudad] – Fortaleza 302, espacios públicos designados y Museo de Arte de Puerto Rico, 10, 11, 12 y 13 de Octubre, 2000. 

Concepto y organización: M&M Art Projects / michelle marxuach galería

Temporary Services is providing several services in San Juan. Ten to fifteen different versions of Boutique will be set up in public spaces. We are also creating our own public dispenser systems to distribute packets of assorted items (socks, condoms, safer-sex guides, booklets, toiletries and other items). The packets will be attached to light poles, walls, signs, buses and other public surfaces with velcro. The Portable Temporary Services will be installed on the fifth floor at Fortaleza 302. It will be a center for documenting our activities and for providing other services during the exhibition.
Related publications below
---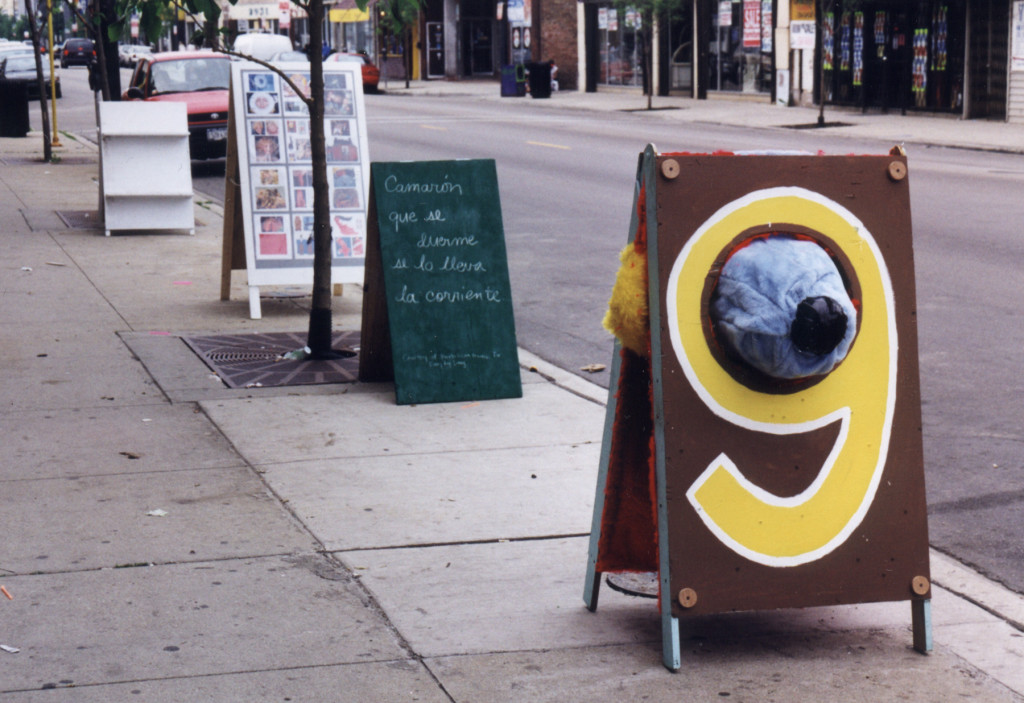 Mobile Sign Systems: A Temporary Public Art Project—Organized by Marc Fischer, June 11 – June 26, 1999
Sandwich boards by: Jim Duignan, Anthony Elms, Oli Watt, Harold Jefferies, Jacqueline Terrassa, Erik Brown, Zena Sakowski & Rob Kelly, Matti Allison & Marc Fischer, Michael Piazza with Ronald S. from the Cook County Juvenile Dentention Center
The booklet that accompanies this ambitious initiative includes Marc Fischer's introduction to the project, a guide to making your own sandwich board, a list of artists, activists, troublemakers and others that have worked in public and inspire Temporary Services, a bibliography, and material from the artists that contributed to Mobile Sign Systems.
Full listing with images and publication PDF
---
Free For All Portable Exhibit — Flaxman Library, SAIC, Chicago, IL, March 2 – 29, 2000
A complete set of works given away at Free For All will be presented in the glass display cases at Flaxman Library. Flaxman Library is located on the 6th floor of the School of the Art Institute of Chicago's Champlain building on 37 S. Wabash. This exhibit will include copies of every work given away during Free For All – a total of roughly 100 objects. A free booklet collecting the primary Temporary Services texts from this project will be provided at the library. Immediately following this exhibit, all of the works displayed will be donated to the Joan Flasch Artist Book Collection in Flaxman where they can be viewed during collection hours. Please note that while anyone can access this exhibit, you will have to register with security when you first enter the building. For information about library hours call 312-899-5097.
 Joan Flasch Artist Book Collection
---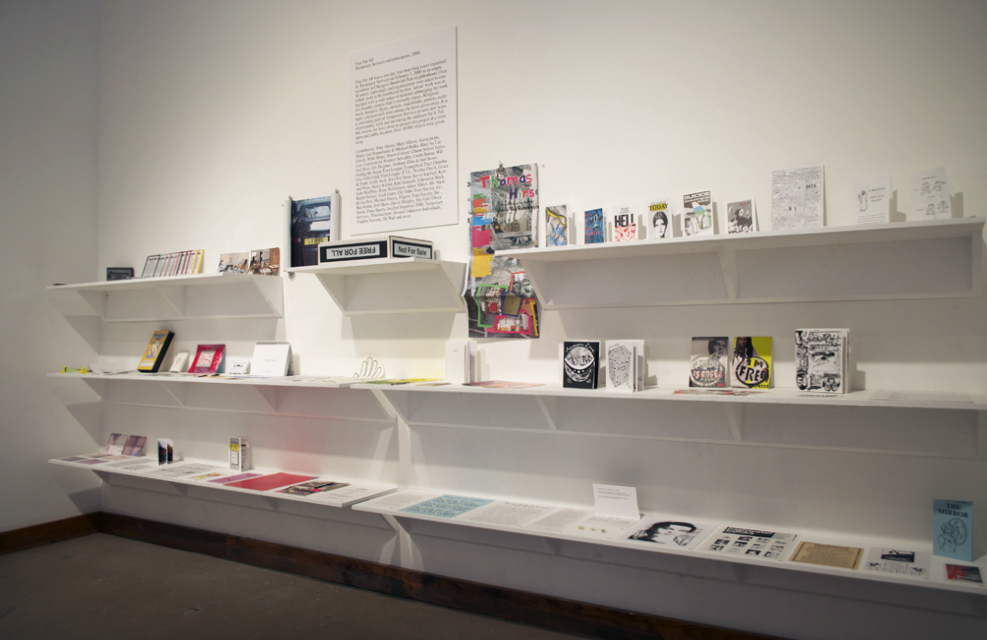 Free For All Portable Exhibit – twain, organized by The Art Foundation, Grey Matters Gallery, Dallas, TX, October 27- December 15, 2012
We are presenting Free For All in this exhibition.
The Art Foundation presents twain, an examination of the alter ego as an artistic method of expansion and safe haven.
Concerned with the increasing burden of reputation as a stultifying constraint upon artists, the exhibit allows its artists to take-up an artificial duality, promoting unfulfilled desires by negating a recognizable identity through the person of the alter-ego. This anonymity of the true individual leaves objects and embedded concept free from qualifying associated status.
Capitalizing on this highly democratic method of exhibiting, The Art Foundation has invited a range of internationally recognized artists, art groups, and writers to participate in the exhibition, many of whom will remain anonymous. Specific works will: engage reflections on both local and international issues, address the phenomena of the alter-ego's persona eclipsing the artist's original identity, allow for the permissive recreation of works previously authored, promote dubious legitimacy, and highlight the written word as contextual subterfuge.
---
Audio Relay
This unit was designed and constructed by the Intermod Series to operate as a mobile audio player that can accumulate and share homemade or unusual CDs as it travels to different locations. Designed to be as small and lightweight as possible for maximum portability, it can store several hundred unique CDs which can be played on the built-in CD player. Other audio sources such as a laptop can plug into the line input jack. A 4-watt transmitter is built into the unit for FM broadcasting. Average broadcast coverage is several city blocks. The Audio Relay runs off standard electricity. If that's not available it's designed to use a car battery which, when it runs low, can be charged using the solar panels or by connecting the battery and plugging the unit into any electrical outlet.
There are two Audio Relays. The original was built in 2002 and has been relayed to over a dozen locations. In 2007 it was loaned to Esteban Garcia and Radio Chiguiro (www.chiguiro.org) in Lafayette, Indiana, for several years and is currently being used by Radius in Chicago. The second Audio Relay was built with a new Intermod design in 2005. This version traveled with Beyond Green, Toward a Sustainable Art which was originally at the Smart Museum (Chicago) and an iCI (Independent Curators International) exhibit. It's now back in Chicago for a check-up before heading off to new locations.
The Audio Relay is a collaboration with Temporary Services. They maintain the library and coordinate the itineraries.
---
Binder Archives
---
Mobile Structures Resources
---
Publications