Description of our collaboration
Dave Whitman has been homeless for over seven years. Temporary Services first met Dave when he began to visit the exhibitions and projects that we presented in an office space we were renting in downtown Chicago. Each of us immediately felt that Dave was one of the most thoughtful, intelligent, entertaining, and insightful visitors we ever had. His astounding banks of obscure knowledge, completely carefree and crude sense of humor, and playful thinking made a powerful impression on us. We developed a friendship with Dave and found him to be unusually generous. He often kept us company while we maintained hours during exhibitions. He frequently engaged visitors in discussions about the work on view and helped us out during events. Dave would tell hilarious and compelling stories for hours on end. In the winter he often slept in our office.
In 2000, Dave and Salem collaborated cooking free bacon and eggs for people in the park. At this time Salem gave Dave a tape recorder and provided him with replacement cassettes and batteries. The recorder allowed Dave to document the incredible stories he'd been telling us. It gave him a space to recount his many astute observations. Over a period of several years, Dave recorded more than eight hours of stories for us to use and present. He had many stories about how the city's public spaces are regulated and very hostile to his presence. His search for a remote place to sit where the police would not harass him often took hours. He recorded the unusual social behavior he witnessed. Dave taped his endlessly revealing and entertaining stories about other homeless people – including those whose panhandling scams he gleefully reveals, and the homeless who are "so disgusting that even other homeless people want nothing to do with them." He made a series of recordings devoted solely to the homeless women that he knows or has encountered.
There was a period of ten months when we didn't see Dave and were worried about his well being. After running into him by chance in downtown Chicago, we rekindled our friendship and began spending a lot of time together. Dave was interested in making recordings again so we provided him with a new tape recorder and tapes. This time he used the recorder more experimentally, often weaving background noises into his story telling. We talked about going to North Carolina together to work on the presentation of his stories at the museum. He had never been there.
At the end of Summer 2003, Dave disappeared again. This time it felt permanent. He had been planning to leave the country and was slowly raising enough money to make his escape. He left us with an undeveloped disposable camera that included the two self-portraits on these pages. He sent us one last email – an unsigned list of recommended books intended for a friend of ours – and then he vanished.
---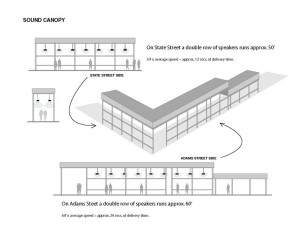 A letter from Dave for Sound Canopy
Hi, I'm Dave. I'm one of those awful homeless people that you see all over the place. And I know that it's bad enough to see them, but it's worse to have to read something that they dictated, isn't it?
If you put your hands on your hips and move your head back as far as it will go, in addition to looking really cute, you will be able to notice some speakers located directly above you. In a moment, poison gas will come out. No, just kidding! Ha, ha, ha.
But seriously, those speakers are part of Sound Canopy. You will hear some stories and meet many of my fellow screw-ups (for example, the Chicken-Head Lady, the Drooling Beggar, and the Most Disgusting Man on Wacker Drive). You may have seen some of them, but not know them by name. In addition to meeting them, you also have a great excuse to be late when you're downtown. You could say, "I was listening to that mental case bum on Sound Canopy."
If you have too much free time and like to listen to oddball things in your home, you can listen to these stories on Temporary Services' website, www.temporaryservices.org. If you would like to e-mail me and say "Hi", write me at davedirtysox@yahoo.com.
---
Track Listings + mp3s
1. Michigan Avenue (Introduction)
5. The Traits of Strange People
7. Borders - A Place To Be Strange
8. I'm Not Allowed To Sit In The Chairs - Borders part 2
12. Monte Cristo Sandwich
16. Are You And The Dog Homeless?
18. The Bucket Kids - part 2
19. The Bucket Kids at Borders
21. The Most Disgusting Man on Wacker Drive
27. No Soap In The Washrooms
31. Travis - Birthdays - Part 2
36. The Chicken Head Lady
38. Opening - Art Show - part 2
40. Chicago Journal - Art Show - part 3
42. Commercially Attractive Women
43. I Gave The Musician $2
44. Help Ease Local Poverty
46. Crazy Street Preacher
48. The Bum's Book Review
49. In The Men's Room at Borders
50. I Think Some of Them Would Cry
52. Bums In The Bathroom - DePaul - part 2
56. Traveling Motorhome - The Red Line - part 2