Temporary Services & Half Letter Press — Printed Matter's New York Art Book Fair, PS1, NY, September 21-24
We are happy to be returning to NY for this year's book fair. We can't wait to have several thousand conversations about artist books!
---
 
Temporary Services and Half Letter Press Publications — Zine Mercado: Logan Square Independent Zine Fest, Comfort Station, Chicago, IL, 11 AM – 6 PM, August 20th
Join us for the 2nd annual ZINEmercado at Comfort Station in Logan Square! This year's edition will be larger and feature zines by several dozen artists, writers, musicians, and photographers. We'll also feature live music by Wet Wallet, and DJ sets by Rebel Betty, BillyTheKid, Bumbac Joe, and King Hippo!
Zine tablers this year include:
Alamo Igloo Press with Keith & Gina Herzik
Banana Sticker
The Bettys
Blood Fruit Printworks
Brown and Proud Press
Charles H. Kerr Publishing
Corey Hagberg
Cul de Sac Press
David Alvarado
Flatlands / Fltlnds Prss
Fotoflow Press
Half Letter Press
Holy Demon Army Distro
Joe Tallarico
Lupe Garza-Martinez
Michael Morrill
Mike Gamboa
Nathan Pearce
Ocho Manos Press
Rebel Betty Arte
Tara Zanzig
Tom Guenther
Tony Recktenwald
Venadito
Vice Versa Press
YouMedia @ Chicago Public Library
and more!
Admission is free.
---

Temporary Services and Half Letter Press Publications — Self-made: zines and artist books, State Library, Victoria, Australia, August 11 – November 12
This bold exhibition delves into the evolution of do-it-yourself culture, from limited-run artist books to cut-and-paste photocopy fanzines.
Discover science fiction fanzines from the 1940s, ground-breaking 1970s punk zines, Australian underground press publications, and artist books designed to defy tradition and buck the commercial gallery system.
Supported by Visions of Australia and Creative Victoria.
Self-made: zines and artists books
---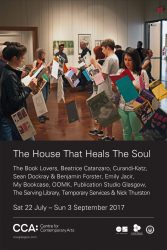 Booklet Cloud —  The House that Heals the Soul, CCA, Glasgow, Scotland, July 22 – September 3
Contributors: The Book Lovers, Beatrice Catanzaro, Curandi-Katz, Sean Dockray & Benjamin Forster, Emily Jacir, My Bookcase, OOMK, Publication Studio Glasgow, The Serving Library, Temporary Services & Nick Thurston
This summer's exhibition at CCA focuses on the political and social status of libraries. Programmed in collaboration with artist Nick Thurston, CCA's exhibition spaces will be opened up to house a selection of library and self-publishing resources alongside artworks that look at various histories of, and approaches towards, the protection and presentation of libraries' collections, infrastructures and their users.
Public libraries have become one of the last remaining spaces where people can gather without expectation or requirement. As the future of libraries and their buildings becomes increasingly precarious, this exhibition aims to expand an understanding of the potential of libraries as sites of resistance, shelter, preservation, creation and restitution, and to do so in a dynamically public way as a functioning library of libraries.
It includes artworks that explore the loss of libraries and books, and how controlling access to them can be a political strategy of occupation. Alongside typical and atypical library resources, the exhibition will also include a series of artworks examining readers' relationships to publications, alternative politics of collecting publications, and technologies for disseminating and archiving them. Digital sharing platforms will also have a presence in the space, and there will be a series of talks by artists and practitioners throughout the show exploring our ever-changing relationships to public sites for knowledge development and exchange. The exhibition will support a dialogue around the importance of the librarian as an interlocutor, artist and curator, as well as giving access to CCA's spaces for visitors to read, view and produce.
Publication Studio Glasgow will move into the gallery spaces as an open-source resource for self-publishing. CCA and the Publication Studio partners will run a series of workshops and inductions, enabling any member of the public to design, print and bind their own book edition.
We welcome proposals from any individual or group who would like to contribute a library collection, gain access to any of the resources listed, host their own event or use the gallery as a space to meet during The House That Heals the Soul. This project marks the beginning of a series of summer exhibitions in CCA's main galleries that will open the rooms up as spaces for meeting and exchange, providing the resources and facilities for more autonomous activities to be led by our communities.
---

Self-Reliance Library & Self-Reliance School — Compound Yellow, Oak Park, IL, May – October
Temporary Services and Compound Yellow present the Self-Reliance Library and initiate the Self-Reliance School.
The Self-Reliance School will host classes, workshops, talks, public events, a book shop, a zine mercado and more from May – October 2017.
Self-Reliance Library (SRL) is an immersive installation consisting of a library of over 80 books, as well as banners and furniture that take influence from ideas found in the library. You can see the full list of books by clicking on the booklet cover below. A link to Installation images of the SRL can be found below in the sidebar.
Compound Yellow is an autonomous site for learning, researching and making that consists of multiple spaces for experimental exhibitions, public art, classes, workshops, film screenings, recording, and events located in Oak Park.
For regular updates, programming, and news, visit the page we made for this initiative:
---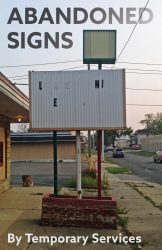 Abandoned Signs — The Museum of Capitalism, Oakland, CA,  June 18 – August 20
We are presenting a new collection of images of Public Phenomena called Abandoned Signs. We made a page of all the images of Abandoned Signs that we have taken.
Free copies of our booklet are available during the exhibition.
The Museum of Capitalism is an institution dedicated to educating this generation and future generations about the history, philosophy, and legacy of capitalism, through exhibitions, research, publication, collecting and preserving material evidence, art, and artifacts of capitalism, and a variety of public programming. The museum's programs result from collaborations between a network of researchers, curators, artists, designers, filmmakers, writers, economists, historians, scientists, and non-specialists from all walks of life, including those with direct experience of capitalism. The Museum's inaugural exhibition will appear in Oakland, California in 2017.
---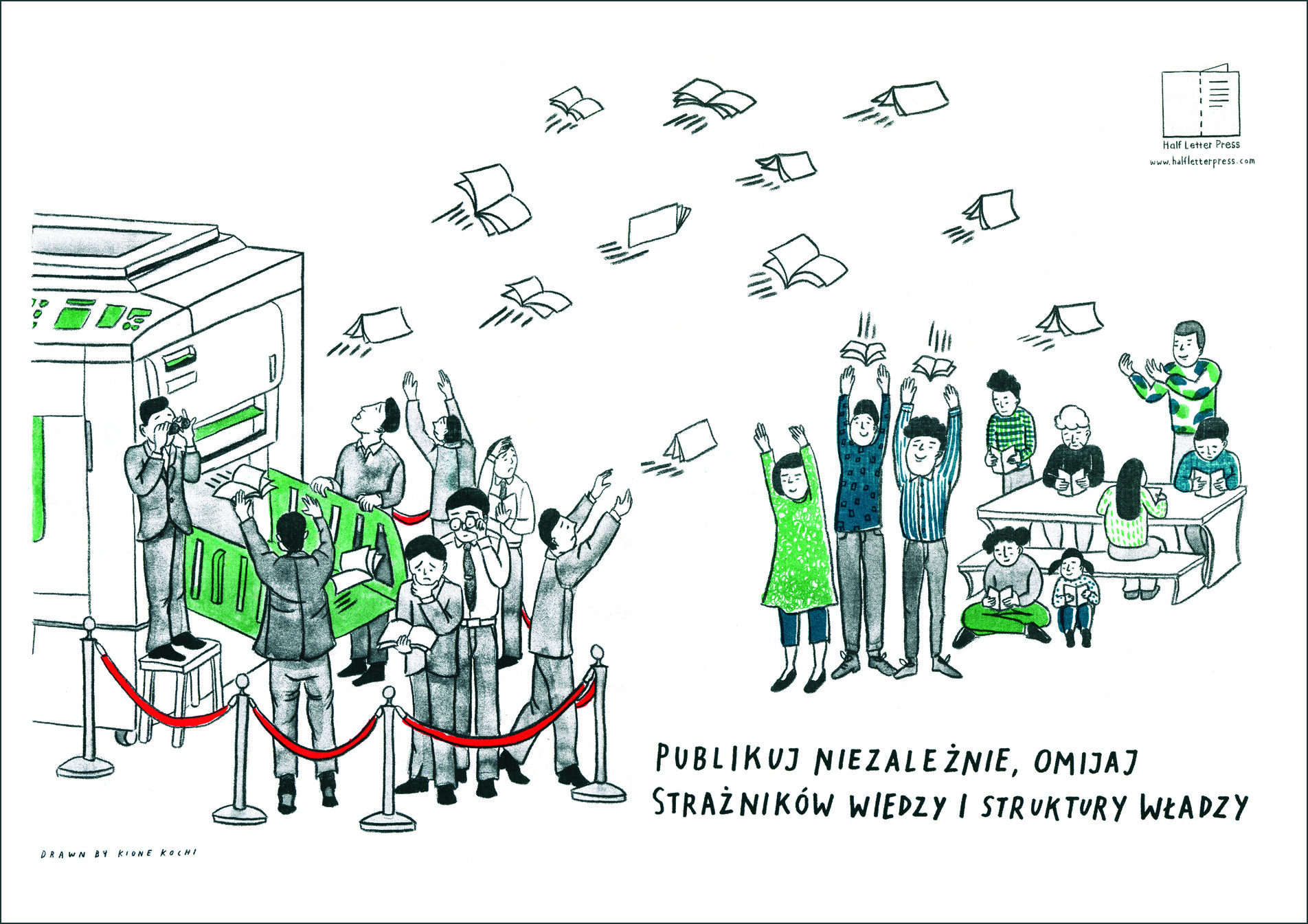 Public Poster with Kione Kochi — 289 148, Silesian Museum, Katowice, Poland, June 26 – until posters disappear from public
We have contributed the poster "Self-Publish to Bypass Gatekeepers and Power Structures" made in collaboration with Kione Kochi. The poster was translated into Polish. 100 copies were printed and put out in the shared city spaces of Katowice.
Here is how the initiative is described:
Nothing is forever, but nothing is impossible either.
The frames of the 289 148 exhibition are blurred, but we can assume that they are synonymous with the administrative borders of the city.
The exhibition comprises announcements in B2 format distributed throughout the urban landscape. These posters may be a tool for mobilisation or persuasion, though it's not entirely impossible that we will use them as carriers of abstract, standalone images. But can an image which is viewed in the public sphere remain abstract?
Not everyone sees the same things, and a painting need not be a murder mystery.
The title of the exhibition, 289 148, is variable, as it depends on the current number of residents of the city. We're making reference in this way to the Numbers Shows organised between 1969-1974 by the art theoretician, curator, and activist, Lucy R. Lippard. She is one of the people who in the last century revolutionised our understanding of what an art exhibition can be, and simultaneously of what a museum is for, and ultimately what do we understand by the words 'work of art' (certainly art can be this or that, but can it be this and that at the same time?).
So we return to elementary questions, but (in our stormy times) we are not in a hurry to find an answer, trying to understand the possibilities offered by our ignorance.
Will we recognise art when we see it, will we want to make use of it? We begin by leaving the museum behind and by stifling two essential elements which allow us to isolate art from the surrounding 'non-artistic' background noise:  a clearly assigned authorship, and the work's uniqueness.
We focus on the ABCs of museums.
From A to B. From B to C. And from C to A, the long way round, via Z.
The exhibition spaces for these posters are shop display windows, fences, mechanics' garages, waiting rooms, school corridors, private flats, allotment gardens, parking lots, city offices, libraries, empty lots etc. The elements which make up the city.
The exhibition will last as long as possible. Until the material runs out and fades away.