Selected Temporary Services & Half Letter Press Publications — Chicago Art Book Fair, Chicago Athletic Association Hotel, November 16-19
The first Chicago Art Book Fair is dedicated to showcasing emerging directions and diverse legacies within small press arts publishing. The fair features an international group of over 100 arts publishers, small presses, book artists, comics artists, zinemakers and printmakers. The fair will take place over the course of three and a half days from November 16–19, and will also feature satellite programming and after parties. CABF is free and open to the public.
---

Selected Temporary Services & Half Letter Press Publications — Rrréplica—03 Ante la urgencia: ¡autonomía! / In the face of urgency: autonomy!, Casa del Hijo del Ahuizote, Ciudad de México, November 17-19
Meeting / Encounter / Clash of Rebellious / Disobedient / Unruly / Publishers / Printers / Editors / Duplicators / To conform public space / To cultivate the right to dissent / To attend the urgency / To resonate
Rrréplica is a non-profit, fiercely independent initiative. A gathering for the discussion and dissemination of the publishing practices of those who use the electronic stencil-printing technique, known as risography. It's about publishing, conforming public space, cultivate the right to dissent, attend the urgency and resonate.
Casa de El Hijo del Ahuizote is a space, an archive, a publishing project and a museum. Located in what were the workshops of El Hijo del Ahuizote, a legendary satirical newspaper of opposition and resistance to the tyrannical regime of Porfirio Díaz during the late 19th and early 20th century, served as a matrix of the first revolutionary movement in Mexico, led by a group of journalists that soon derived into radical anarchism.
---

Selected Temporary Services & Half Letter Press Publications — Not on View: Re/Activating the Archive and its A/Effects, November 11 – January 6, 2018
Co-Curator: Dylan Otterbein – Curatorial Research and Programing
November 11, 2017 through January 6, 2018
Opening reception: November 11, 2017 from 7-10 PM
(Baltimore, MD) Not on View: Re/Activating the Archive and its A/Effects is a group exhibition featuring nine artists, as well as selected texts and ephemera from the newly established REINSTITUTE Research Library & Archive, in an exploration of the critical, social, and artistic implications of re-activating the archive as intervention. This is Dylan Otterbein's debut curatorial exhibition with Guest Spot @ THE REINSTITUTE. Not on View runs from November 11th, 2017 to January 6th, 2018.
When the excluded are made visible, when they demand visibility, it is always ultimately a matter of politics and a rethinking of history. This is often the case with artists collectives…The archive is consuming its host, brandishing all the malicious resentment of the profaned, the philistine, the exile…A materialising dark matter now confronts this so-called future as a grinning archive and antagonistic corpse…[Dark matter] directs our attention towards an ellipsis within the historical record where none is supposed to exist…The archive has split open.  –Gregory Sholette
Not on View re-positions the archive—much like the self-organized practice itself—as a site for counter-narratives of resistance and solidarity. In offering a collection of a/effects and artifacts typically excluded from the institutional archive, Not on View asks its audience to question who decides what is worth keeping and what histories are worth preserving, and to critically consider how we engage with both the archive and its objects as a site of knowledge, truth, power, and protest.
Not on View features the work of Conrad Bakker, Eric Doeringer, Noah Fischer, Kang Seung Lee, Antoine Lefebvre, Kameelah Janan Rasheed, and Paul Soulellis, with selected materials from THE REINSTITUTE Research Archive & Library, including  books, texts, and ephemera  by John Cage, Juan Caloca, Sylvia Federici, Coco Fusco, the Guerrilla Girls, Martin Herbert, David Horvitz, the Journal of Aesthetics & Protest, Miranda July, Sister Corita Kent, Zoe Leonard, Mess Hall, Occupy Museums, John O'Connor, Press Press, Public Collectors, The Reinstitute Press, Gregory Sholette, Temporary Services, W.A.G.E. (Working Artists and the Greater Economy), Kara Walker, Caroline Woolard, and more.
Not on View draws upon THE REINSTITUTE Research Library & Archive at large, the completion of which was made possible through generous contributions from our Supporters.
---

Art Work Newspaper — Publishing as an Artistic Toolbox: 1989–2017, Kunsthalle Wien, Vienna, Austria, November 8 – January 28, 2018
What is the role of art publishing today? How have artists adapted modes of publishing as a tool for their practice? How has the notion of artists' publishing activity changed, given the ever-increasing amount of fairs and an ever-evolving number of book-related collections in contemporary art museums? Publishing has developed a favorite site and medium for aesthetic and artistic experimentation. It has also become an alternative space for promoting unrestricted individual or collective discourse. The multi-part exhibition project Publishing as an Artistic Toolbox: 1989–2017 explores the potentials of publishing – in the form of books, magazines, journals, artistic interventions, websites – as a particular medium and context both to circulate information, knowledge – and to produce art.
Instead of looking at the already historicized and analyzed period of the 1960s and 1970s, the exhibition will highlight how a recent generation of artists use publishing as a productive tool for their practice. The focus lies on the period from 1989 until 2017, taking 1989 as symbolic date to underline the shift from analogue to digital. On a political level, 1989 with the fall of the Berlin wall marks a significant date. On a social level, it is an important year as it indicates the invention of the World Wide Web.
The project, like a toolbox itself, is composed of different parts, sections, and components. Publishing as an Artistic Toolbox: 1989–2017 opens up and unfolds through different propositions, partly by material exhibits on display, partly through the presentation of time-based events, as well as through an offsite project.
---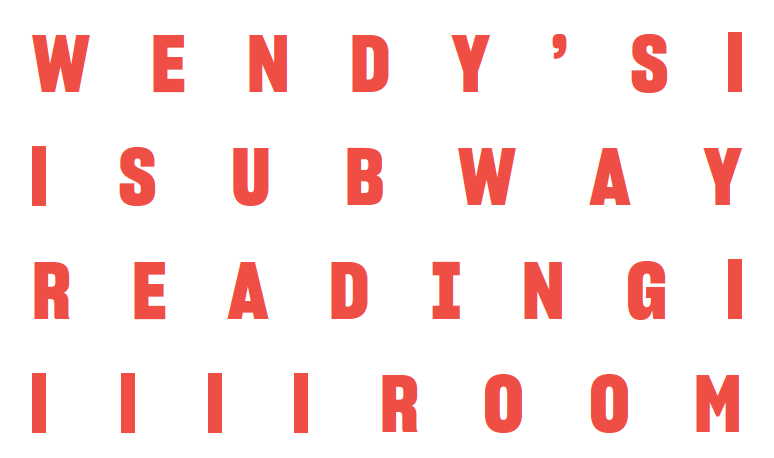 Selected Temporary Services & Half Letter Press Publications — Wendy's Subway Reading Room, BAM Next Wave Art, September 14 – December 22
Sharp Lower Lobby, BAM Fisher
321 Ashland Place
Brooklyn, NY 11217
Wendy's Subway returns to BAM for the second year with a newly envisioned Reading Room. The space, as part of Next Wave Art, is located in the BAM Fisher Sharp Lobby and houses a collection of over 300 books, including titles selected by Next Wave Festival artists for their relevance to their shows on the BAM Fisher stage and their artworks on view throughout BAM's campus this fall. Readers will also find a small collection of titles suggested for further reading on other Next Wave Festival performances happening this season.
This year, Wendy's Subway has also invited 25 international, independent, and artist-run libraries and organizations to recommend titles from their own collections, broadly related to the field of performance. These titles expansively reflect the specific collections of each participating library or organization, and it is our hope that their involvement fosters a platform for sharing resources, references, and forms of knowledge across many publics, within a convivial and intimate reading context.
The Wendy's Subway Reading Room is open every day (excluding holidays) from 12 to 5pm, September 14 through December 22, with extended hours before and after evening performances in the Fishman Space. Readers are encouraged to spend time with the non-circulating collection. This limited-edition catalog of the library's holdings is available in the Reading Room and on the Wendy's Subway website.
---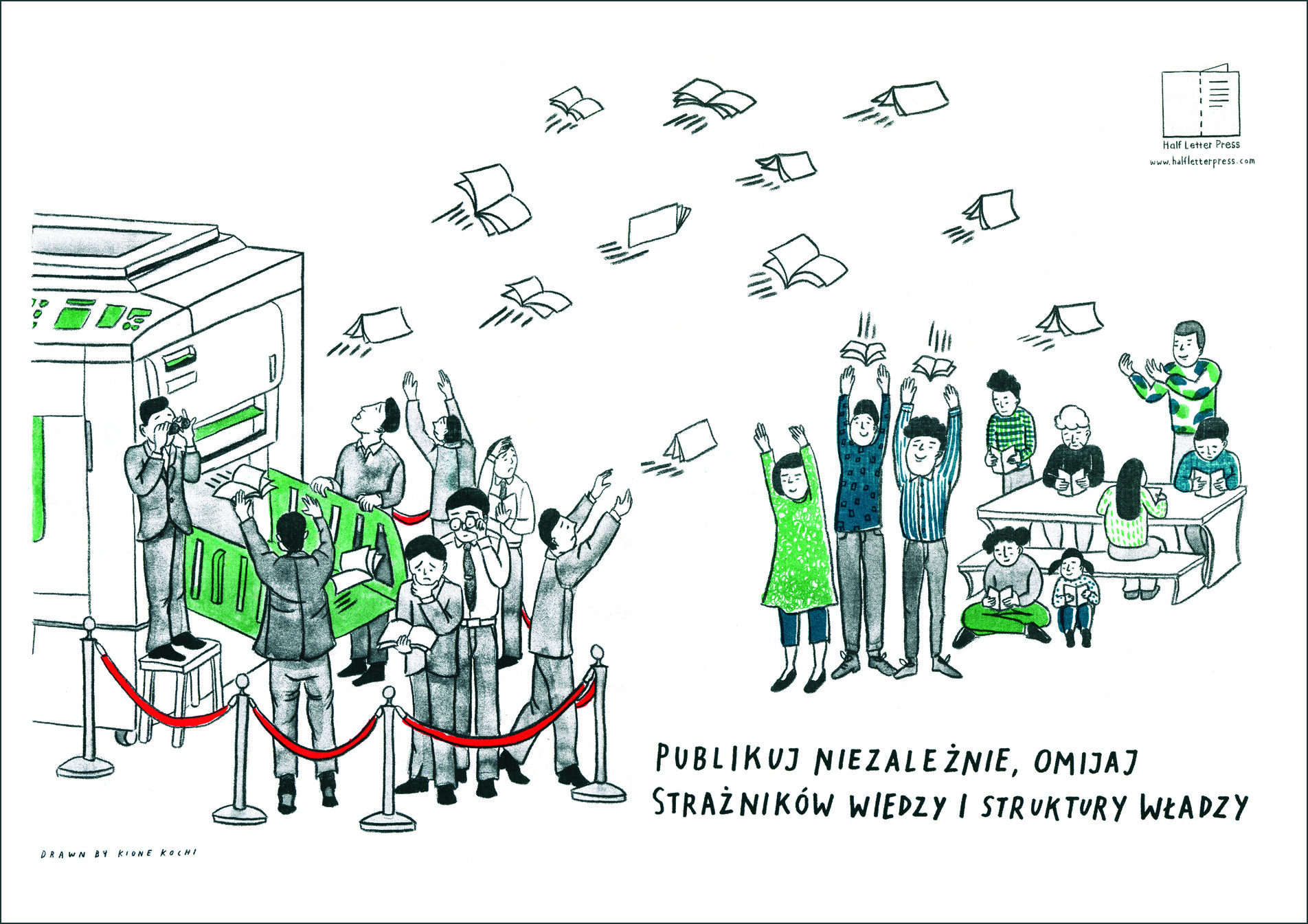 Public Poster with Kione Kochi — 289 148, Silesian Museum, Katowice, Poland, June 26 – until posters disappear from public
We have contributed the poster "Self-Publish to Bypass Gatekeepers and Power Structures" made in collaboration with Kione Kochi. The poster was translated into Polish. 100 copies were printed and put out in the shared city spaces of Katowice.
Here is how the initiative is described:
Nothing is forever, but nothing is impossible either.
The frames of the 289 148 exhibition are blurred, but we can assume that they are synonymous with the administrative borders of the city.
The exhibition comprises announcements in B2 format distributed throughout the urban landscape. These posters may be a tool for mobilisation or persuasion, though it's not entirely impossible that we will use them as carriers of abstract, standalone images. But can an image which is viewed in the public sphere remain abstract?
Not everyone sees the same things, and a painting need not be a murder mystery.
The title of the exhibition, 289 148, is variable, as it depends on the current number of residents of the city. We're making reference in this way to the Numbers Shows organised between 1969-1974 by the art theoretician, curator, and activist, Lucy R. Lippard. She is one of the people who in the last century revolutionised our understanding of what an art exhibition can be, and simultaneously of what a museum is for, and ultimately what do we understand by the words 'work of art' (certainly art can be this or that, but can it be this and that at the same time?).
So we return to elementary questions, but (in our stormy times) we are not in a hurry to find an answer, trying to understand the possibilities offered by our ignorance.
Will we recognise art when we see it, will we want to make use of it? We begin by leaving the museum behind and by stifling two essential elements which allow us to isolate art from the surrounding 'non-artistic' background noise:  a clearly assigned authorship, and the work's uniqueness.
We focus on the ABCs of museums.
From A to B. From B to C. And from C to A, the long way round, via Z.
The exhibition spaces for these posters are shop display windows, fences, mechanics' garages, waiting rooms, school corridors, private flats, allotment gardens, parking lots, city offices, libraries, empty lots etc. The elements which make up the city.
The exhibition will last as long as possible. Until the material runs out and fades away.