Self-Reliance Library & Self-Reliance School — Compound Yellow, Oak Park, IL, May – October
Temporary Services and Compound Yellow present the Self-Reliance Library and initiate the Self-Reliance School.
The Self-Reliance School will host classes, workshops, talks, public events, a book shop, a zine mercado and more from May – October 2017.
Self-Reliance Library (SRL) is an immersive installation consisting of a library of over 80 books, as well as banners and furniture that take influence from ideas found in the library. You can see the full list of books by clicking on the booklet cover below. A link to Installation images of the SRL can be found below in the sidebar.
Compound Yellow is an autonomous site for learning, researching and making that consists of multiple spaces for experimental exhibitions, public art, classes, workshops, film screenings, recording, and events located in Oak Park.
For regular updates, programming, and news, visit the page we made for this initiative:
---

Temporary Services and Half Letter Press — DIY Cultures, Rich Mix London, London, UK, 12-7 PM, May 14 – June 2
DIY Cultures, which will be on 14th May this year, is an annual day festival exploring intersections of art and activism, running since 2013. The programme consists of a zine fair, exhibitions, workshops, contemporary craft, panel discussions, comic illustration, video art and digital animation exploring DIY practice. The event has established itself as a leading national forum for artists-run initiatives and alternative publishing. The event distinguishes itself by by its commitment to Black and people of colour empowerment and centralising marginalised histories and subcultures such as decolonialising initiatives, diaspora stories, prisoner solidarity, radical mental health and Muslim communities under the War on terror. The festival programme has expanded into an accompanying extended exhibition and commissions programme.
---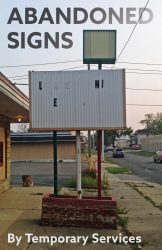 Abandoned Signs — The Museum of Capitalism, Oakland, CA, summer 2017
We are presenting a new collection of images of Public Phenomena called Abandoned Signs. We made a page of all the images of Abandoned Signs that we have taken.
Free copies of our booklet are available during the exhibition.
The Museum of Capitalism is an institution dedicated to educating this generation and future generations about the history, philosophy, and legacy of capitalism, through exhibitions, research, publication, collecting and preserving material evidence, art, and artifacts of capitalism, and a variety of public programming. The museum's programs result from collaborations between a network of researchers, curators, artists, designers, filmmakers, writers, economists, historians, scientists, and non-specialists from all walks of life, including those with direct experience of capitalism. The Museum's inaugural exhibition will appear in Oakland, California in 2017.
---
Prisoners' Inventions drawings — American Made: Mass Production/Mass Incarceration, MICA, Baltimore, MA, April 26 – May 26
American Made is an exhibition about mass incarceration curated by the Exhibition Development Seminar of Maryland Institute College of Art in Baltimore.
We are presenting several drawings our collaborator Angelo made of Prisoners' Inventions that had never been publicly presented before.