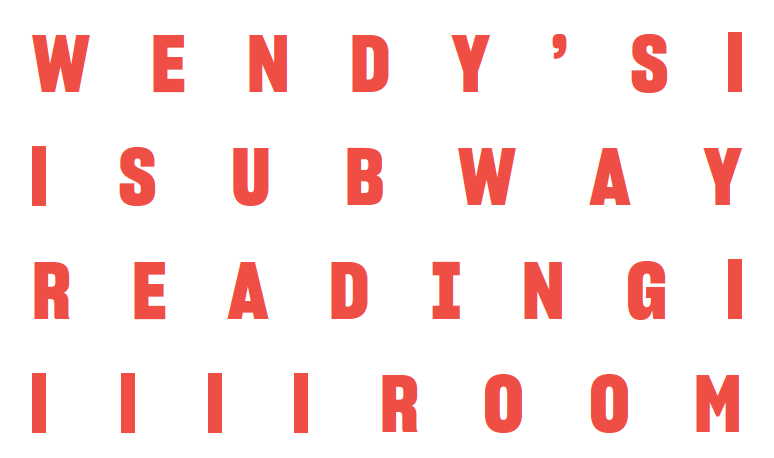 Selected Temporary Services & Half Letter Press Publications — Wendy's Subway Reading Room, BAM Next Wave Art, September 14-December 22
Sharp Lower Lobby, BAM Fisher
321 Ashland Place
Brooklyn, NY 11217
Wendy's Subway returns to BAM for the second year with a newly envisioned Reading Room. The space, as part of Next Wave Art, is located in the BAM Fisher Sharp Lobby and houses a collection of over 300 books, including titles selected by Next Wave Festival artists for their relevance to their shows on the BAM Fisher stage and their artworks on view throughout BAM's campus this fall. Readers will also find a small collection of titles suggested for further reading on other Next Wave Festival performances happening this season.
This year, Wendy's Subway has also invited 25 international, independent, and artist-run libraries and organizations to recommend titles from their own collections, broadly related to the field of performance. These titles expansively reflect the specific collections of each participating library or organization, and it is our hope that their involvement fosters a platform for sharing resources, references, and forms of knowledge across many publics, within a convivial and intimate reading context.
The Wendy's Subway Reading Room is open every day (excluding holidays) from 12 to 5pm, September 14 through December 22, with extended hours before and after evening performances in the Fishman Space. Readers are encouraged to spend time with the non-circulating collection. This limited-edition catalog of the library's holdings is available in the Reading Room and on the Wendy's Subway website.
---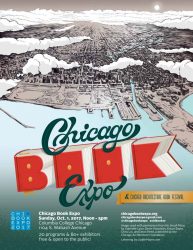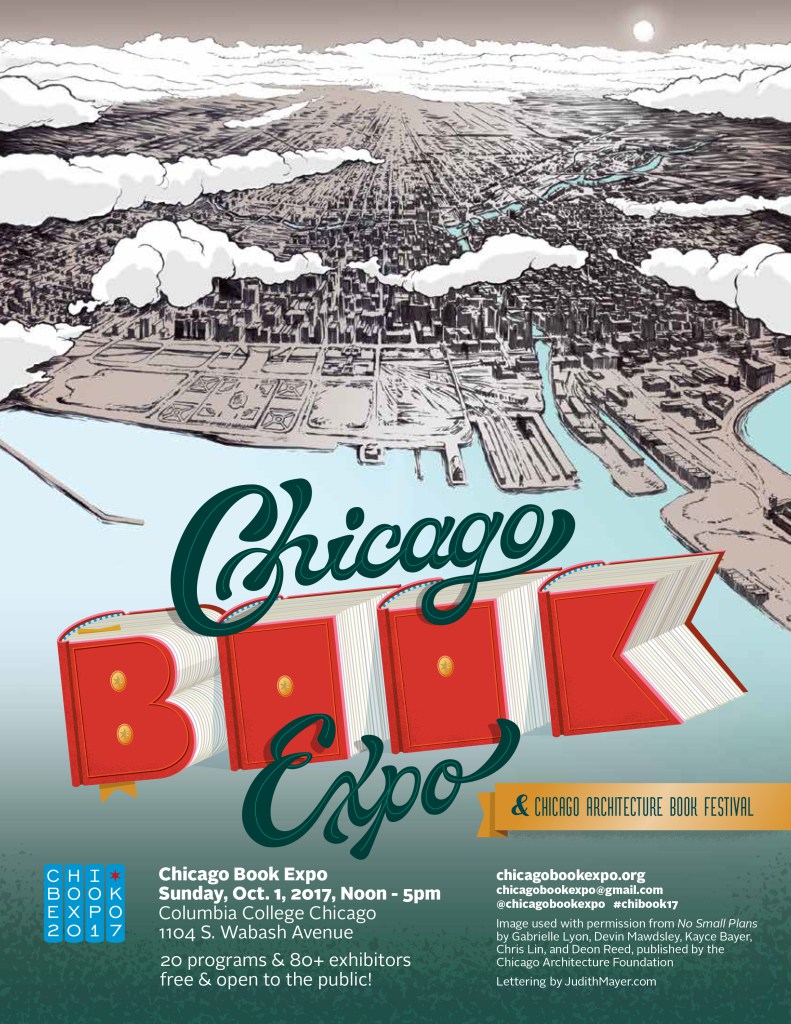 Temporary Services & Half Letter Press — Chicago Book Expo and Chicago Architectural Book Festival, Columbia College, Chicago, IL, 12:00-5:00 PM, October 1
Now in its sixth year, the Chicago Book Expo features 80+ presses and local literary organizations, over a dozen programs, and the first Chicago Architecture Book Festival!
---

Temporary Services & Half Letter Press — Printed Matter's New York Art Book Fair, PS1, NY, September 21-24
We are happy to be returning to NY for this year's book fair. We can't wait to have several thousand conversations about artist books!
---


Temporary Services and Half Letter Press Publications — Self-made: zines and artist books, State Library, Victoria, Australia, August 11 – November 12
This bold exhibition delves into the evolution of do-it-yourself culture, from limited-run artist books to cut-and-paste photocopy fanzines.
Discover science fiction fanzines from the 1940s, ground-breaking 1970s punk zines, Australian underground press publications, and artist books designed to defy tradition and buck the commercial gallery system.
Supported by Visions of Australia and Creative Victoria.
Self-made: zines and artists books
---

Self-Reliance Library & Self-Reliance School — Compound Yellow, Oak Park, IL, May – October
Temporary Services and Compound Yellow present the Self-Reliance Library and initiate the Self-Reliance School.
The Self-Reliance School will host classes, workshops, talks, public events, a book shop, a zine mercado and more from May – October 2017.
Self-Reliance Library (SRL) is an immersive installation consisting of a library of over 80 books, as well as banners and furniture that take influence from ideas found in the library. You can see the full list of books by clicking on the booklet cover below. A link to Installation images of the SRL can be found below in the sidebar.
Compound Yellow is an autonomous site for learning, researching and making that consists of multiple spaces for experimental exhibitions, public art, classes, workshops, film screenings, recording, and events located in Oak Park.
For regular updates, programming, and news, visit the page we made for this initiative:
---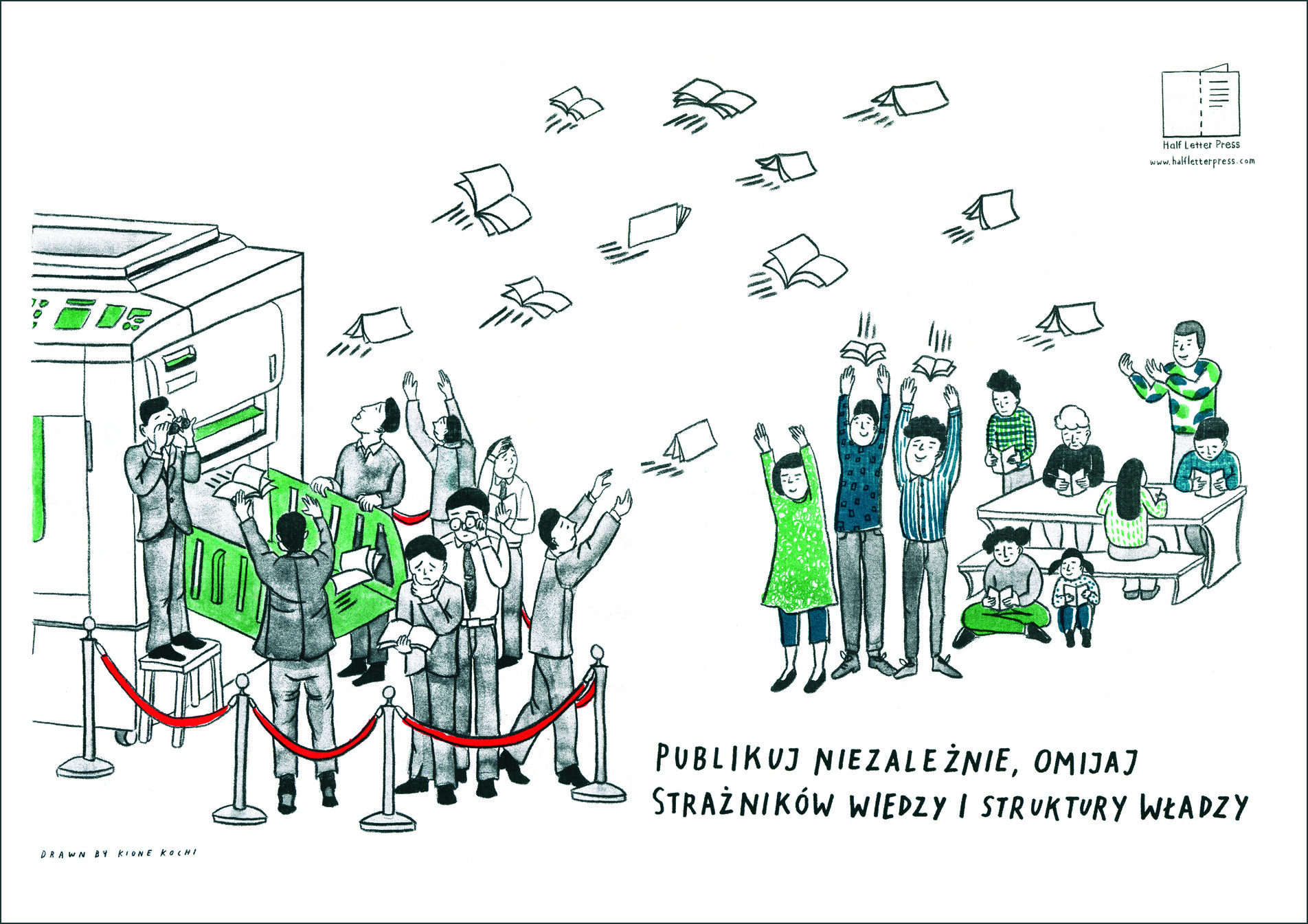 Public Poster with Kione Kochi — 289 148, Silesian Museum, Katowice, Poland, June 26 – until posters disappear from public
We have contributed the poster "Self-Publish to Bypass Gatekeepers and Power Structures" made in collaboration with Kione Kochi. The poster was translated into Polish. 100 copies were printed and put out in the shared city spaces of Katowice.
Here is how the initiative is described:
Nothing is forever, but nothing is impossible either.
The frames of the 289 148 exhibition are blurred, but we can assume that they are synonymous with the administrative borders of the city.
The exhibition comprises announcements in B2 format distributed throughout the urban landscape. These posters may be a tool for mobilisation or persuasion, though it's not entirely impossible that we will use them as carriers of abstract, standalone images. But can an image which is viewed in the public sphere remain abstract?
Not everyone sees the same things, and a painting need not be a murder mystery.
The title of the exhibition, 289 148, is variable, as it depends on the current number of residents of the city. We're making reference in this way to the Numbers Shows organised between 1969-1974 by the art theoretician, curator, and activist, Lucy R. Lippard. She is one of the people who in the last century revolutionised our understanding of what an art exhibition can be, and simultaneously of what a museum is for, and ultimately what do we understand by the words 'work of art' (certainly art can be this or that, but can it be this and that at the same time?).
So we return to elementary questions, but (in our stormy times) we are not in a hurry to find an answer, trying to understand the possibilities offered by our ignorance.
Will we recognise art when we see it, will we want to make use of it? We begin by leaving the museum behind and by stifling two essential elements which allow us to isolate art from the surrounding 'non-artistic' background noise:  a clearly assigned authorship, and the work's uniqueness.
We focus on the ABCs of museums.
From A to B. From B to C. And from C to A, the long way round, via Z.
The exhibition spaces for these posters are shop display windows, fences, mechanics' garages, waiting rooms, school corridors, private flats, allotment gardens, parking lots, city offices, libraries, empty lots etc. The elements which make up the city.
The exhibition will last as long as possible. Until the material runs out and fades away.