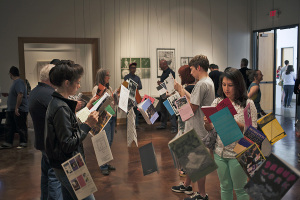 Booklet Cloud —  The House that Heals the Soul, CCA, Glasgow, Scotland, July 22 – September 3
Contributors: The Book Lovers, Beatrice Catanzaro, Curandi-Katz, Sean Dockray & Benjamin Forster, Emily Jacir, My Bookcase, OOMK, Publication Studio Glasgow, The Serving Library, Temporary Services & Nick Thurston
This summer's exhibition at CCA focuses on the political and social status of libraries. Programmed in collaboration with artist Nick Thurston, CCA's exhibition spaces will be opened up to house a selection of library and self-publishing resources alongside artworks that look at various histories of, and approaches towards, the protection and presentation of libraries' collections, infrastructures and their users.
Public libraries have become one of the last remaining spaces where people can gather without expectation or requirement. As the future of libraries and their buildings becomes increasingly precarious, this exhibition aims to expand an understanding of the potential of libraries as sites of resistance, shelter, preservation, creation and restitution, and to do so in a dynamically public way as a functioning library of libraries.
It includes artworks that explore the loss of libraries and books, and how controlling access to them can be a political strategy of occupation. Alongside typical and atypical library resources, the exhibition will also include a series of artworks examining readers' relationships to publications, alternative politics of collecting publications, and technologies for disseminating and archiving them. Digital sharing platforms will also have a presence in the space, and there will be a series of talks by artists and practitioners throughout the show exploring our ever-changing relationships to public sites for knowledge development and exchange. The exhibition will support a dialogue around the importance of the librarian as an interlocutor, artist and curator, as well as giving access to CCA's spaces for visitors to read, view and produce.
Publication Studio Glasgow will move into the gallery spaces as an open-source resource for self-publishing. CCA and the Publication Studio partners will run a series of workshops and inductions, enabling any member of the public to design, print and bind their own book edition.
We welcome proposals from any individual or group who would like to contribute a library collection, gain access to any of the resources listed, host their own event or use the gallery as a space to meet during The House That Heals the Soul. This project marks the beginning of a series of summer exhibitions in CCA's main galleries that will open the rooms up as spaces for meeting and exchange, providing the resources and facilities for more autonomous activities to be led by our communities.
---

Self-Reliance Library & Self-Reliance School — Compound Yellow, Oak Park, IL, May – October
Temporary Services and Compound Yellow present the Self-Reliance Library and initiate the Self-Reliance School.
The Self-Reliance School will host classes, workshops, talks, public events, a book shop, a zine mercado and more from May – October 2017.
Self-Reliance Library (SRL) is an immersive installation consisting of a library of over 80 books, as well as banners and furniture that take influence from ideas found in the library. You can see the full list of books by clicking on the booklet cover below. A link to Installation images of the SRL can be found below in the sidebar.
Compound Yellow is an autonomous site for learning, researching and making that consists of multiple spaces for experimental exhibitions, public art, classes, workshops, film screenings, recording, and events located in Oak Park.
For regular updates, programming, and news, visit the page we made for this initiative:
---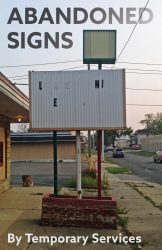 Abandoned Signs — The Museum of Capitalism, Oakland, CA, summer 2017
We are presenting a new collection of images of Public Phenomena called Abandoned Signs. We made a page of all the images of Abandoned Signs that we have taken.
Free copies of our booklet are available during the exhibition.
The Museum of Capitalism is an institution dedicated to educating this generation and future generations about the history, philosophy, and legacy of capitalism, through exhibitions, research, publication, collecting and preserving material evidence, art, and artifacts of capitalism, and a variety of public programming. The museum's programs result from collaborations between a network of researchers, curators, artists, designers, filmmakers, writers, economists, historians, scientists, and non-specialists from all walks of life, including those with direct experience of capitalism. The Museum's inaugural exhibition will appear in Oakland, California in 2017.