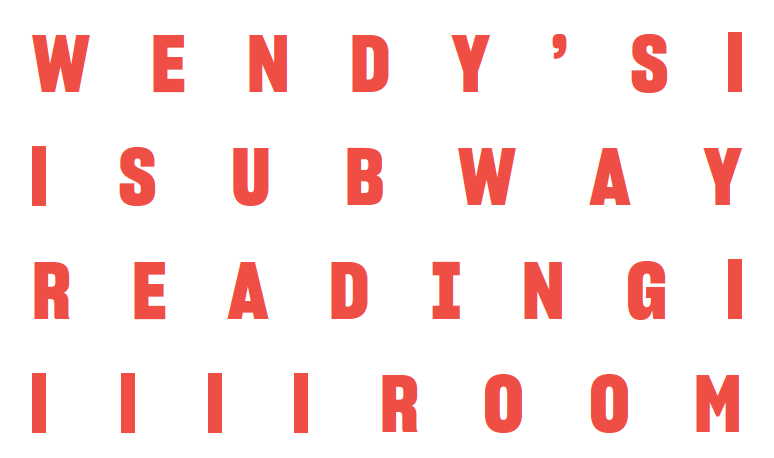 Selected Temporary Services & Half Letter Press Publications — Wendy's Subway Reading Room, BAM Next Wave Art, September 14 – December 22
Sharp Lower Lobby, BAM Fisher
321 Ashland Place
Brooklyn, NY 11217
Wendy's Subway returns to BAM for the second year with a newly envisioned Reading Room. The space, as part of Next Wave Art, is located in the BAM Fisher Sharp Lobby and houses a collection of over 300 books, including titles selected by Next Wave Festival artists for their relevance to their shows on the BAM Fisher stage and their artworks on view throughout BAM's campus this fall. Readers will also find a small collection of titles suggested for further reading on other Next Wave Festival performances happening this season.
This year, Wendy's Subway has also invited 25 international, independent, and artist-run libraries and organizations to recommend titles from their own collections, broadly related to the field of performance. These titles expansively reflect the specific collections of each participating library or organization, and it is our hope that their involvement fosters a platform for sharing resources, references, and forms of knowledge across many publics, within a convivial and intimate reading context.
The Wendy's Subway Reading Room is open every day (excluding holidays) from 12 to 5pm, September 14 through December 22, with extended hours before and after evening performances in the Fishman Space. Readers are encouraged to spend time with the non-circulating collection. This limited-edition catalog of the library's holdings is available in the Reading Room and on the Wendy's Subway website.
---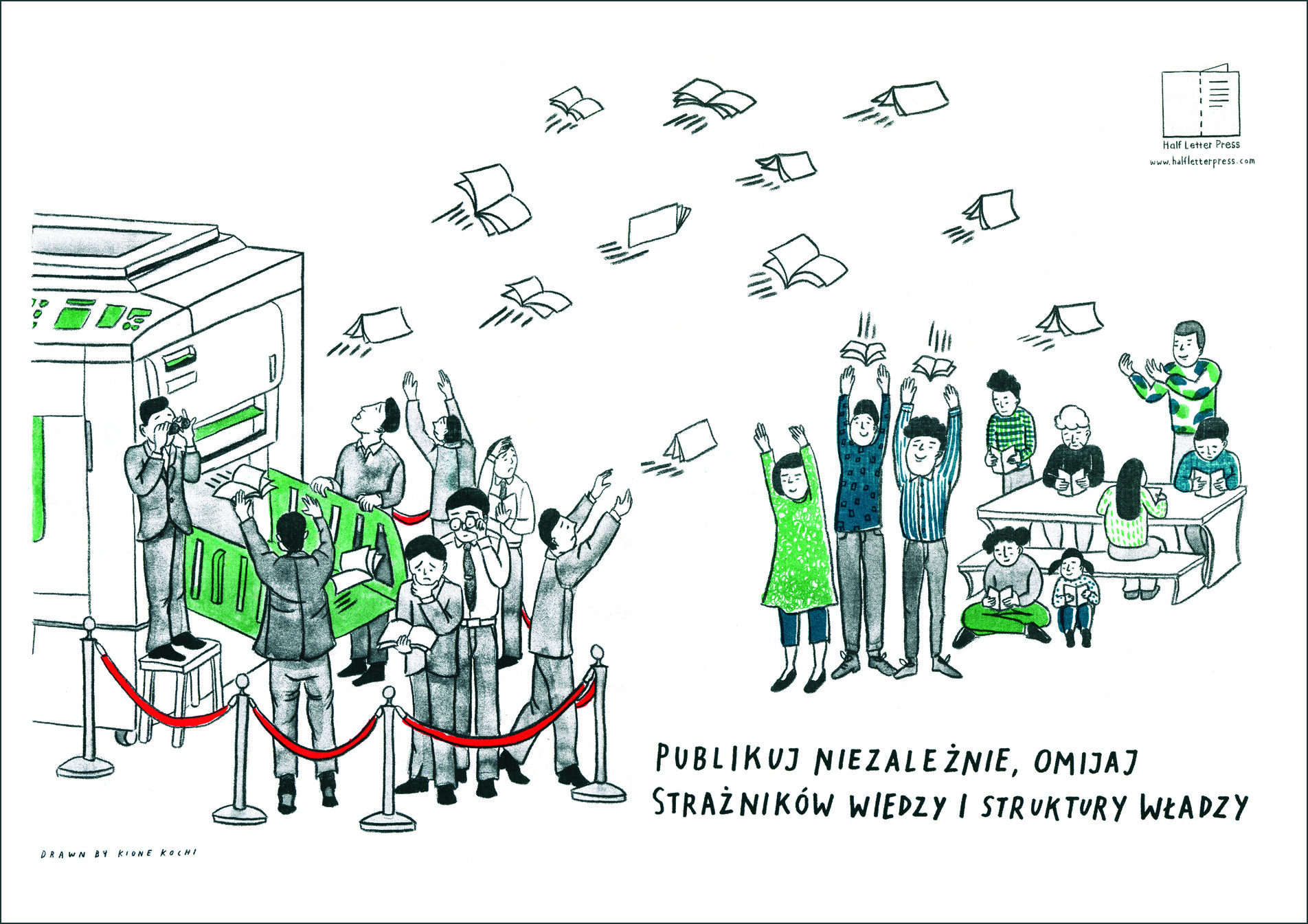 Public Poster with Kione Kochi — 289 148, Silesian Museum, Katowice, Poland, June 26 – until posters disappear from public
We have contributed the poster "Self-Publish to Bypass Gatekeepers and Power Structures" made in collaboration with Kione Kochi. The poster was translated into Polish. 100 copies were printed and put out in the shared city spaces of Katowice.
Here is how the initiative is described:
Nothing is forever, but nothing is impossible either.
The frames of the 289 148 exhibition are blurred, but we can assume that they are synonymous with the administrative borders of the city.
The exhibition comprises announcements in B2 format distributed throughout the urban landscape. These posters may be a tool for mobilisation or persuasion, though it's not entirely impossible that we will use them as carriers of abstract, standalone images. But can an image which is viewed in the public sphere remain abstract?
Not everyone sees the same things, and a painting need not be a murder mystery.
The title of the exhibition, 289 148, is variable, as it depends on the current number of residents of the city. We're making reference in this way to the Numbers Shows organised between 1969-1974 by the art theoretician, curator, and activist, Lucy R. Lippard. She is one of the people who in the last century revolutionised our understanding of what an art exhibition can be, and simultaneously of what a museum is for, and ultimately what do we understand by the words 'work of art' (certainly art can be this or that, but can it be this and that at the same time?).
So we return to elementary questions, but (in our stormy times) we are not in a hurry to find an answer, trying to understand the possibilities offered by our ignorance.
Will we recognise art when we see it, will we want to make use of it? We begin by leaving the museum behind and by stifling two essential elements which allow us to isolate art from the surrounding 'non-artistic' background noise:  a clearly assigned authorship, and the work's uniqueness.
We focus on the ABCs of museums.
From A to B. From B to C. And from C to A, the long way round, via Z.
The exhibition spaces for these posters are shop display windows, fences, mechanics' garages, waiting rooms, school corridors, private flats, allotment gardens, parking lots, city offices, libraries, empty lots etc. The elements which make up the city.
The exhibition will last as long as possible. Until the material runs out and fades away.
---

Selected Temporary Services & Half Letter Press Publications — Not on View: Re/Activating the Archive and its A/Effects, November 11 – January 6, 2018
Co-Curator: Dylan Otterbein – Curatorial Research and Programing
November 11, 2017 through January 6, 2018
Opening reception: November 11, 2017 from 7-10 PM
(Baltimore, MD) Not on View: Re/Activating the Archive and its A/Effects is a group exhibition featuring nine artists, as well as selected texts and ephemera from the newly established REINSTITUTE Research Library & Archive, in an exploration of the critical, social, and artistic implications of re-activating the archive as intervention. This is Dylan Otterbein's debut curatorial exhibition with Guest Spot @ THE REINSTITUTE. Not on View runs from November 11th, 2017 to January 6th, 2018.
When the excluded are made visible, when they demand visibility, it is always ultimately a matter of politics and a rethinking of history. This is often the case with artists collectives…The archive is consuming its host, brandishing all the malicious resentment of the profaned, the philistine, the exile…A materialising dark matter now confronts this so-called future as a grinning archive and antagonistic corpse…[Dark matter] directs our attention towards an ellipsis within the historical record where none is supposed to exist…The archive has split open.  –Gregory Sholette
Not on View re-positions the archive—much like the self-organized practice itself—as a site for counter-narratives of resistance and solidarity. In offering a collection of a/effects and artifacts typically excluded from the institutional archive, Not on View asks its audience to question who decides what is worth keeping and what histories are worth preserving, and to critically consider how we engage with both the archive and its objects as a site of knowledge, truth, power, and protest.
Not on View features the work of Conrad Bakker, Eric Doeringer, Noah Fischer, Kang Seung Lee, Antoine Lefebvre, Kameelah Janan Rasheed, and Paul Soulellis, with selected materials from THE REINSTITUTE Research Archive & Library, including  books, texts, and ephemera  by John Cage, Juan Caloca, Sylvia Federici, Coco Fusco, the Guerrilla Girls, Martin Herbert, David Horvitz, the Journal of Aesthetics & Protest, Miranda July, Sister Corita Kent, Zoe Leonard, Mess Hall, Occupy Museums, John O'Connor, Press Press, Public Collectors, The Reinstitute Press, Gregory Sholette, Temporary Services, W.A.G.E. (Working Artists and the Greater Economy), Kara Walker, Caroline Woolard, and more.
Not on View draws upon THE REINSTITUTE Research Library & Archive at large, the completion of which was made possible through generous contributions from our Supporters.
---

Selected Temporary Services & Half Letter Press Publications — Chicago Art Book Fair, Chicago Athletic Association Hotel, November 16-19
The first Chicago Art Book Fair is dedicated to showcasing emerging directions and diverse legacies within small press arts publishing. The fair features an international group of over 100 arts publishers, small presses, book artists, comics artists, zinemakers and printmakers. The fair will take place over the course of three and a half days from November 16–19, and will also feature satellite programming and after parties. CABF is free and open to the public.
---

Selected Temporary Services & Half Letter Press Publications — Rrréplica—03 Ante la urgencia: ¡autonomía! / In the face of urgency: autonomy!, Casa del Hijo del Ahuizote, Ciudad de México, November 17-19
Meeting / Encounter / Clash of Rebellious / Disobedient / Unruly / Publishers / Printers / Editors / Duplicators / To conform public space / To cultivate the right to dissent / To attend the urgency / To resonate
Rrréplica is a non-profit, fiercely independent initiative. A gathering for the discussion and dissemination of the publishing practices of those who use the electronic stencil-printing technique, known as risography. It's about publishing, conforming public space, cultivate the right to dissent, attend the urgency and resonate.
Casa de El Hijo del Ahuizote is a space, an archive, a publishing project and a museum. Located in what were the workshops of El Hijo del Ahuizote, a legendary satirical newspaper of opposition and resistance to the tyrannical regime of Porfirio Díaz during the late 19th and early 20th century, served as a matrix of the first revolutionary movement in Mexico, led by a group of journalists that soon derived into radical anarchism.
---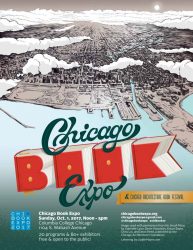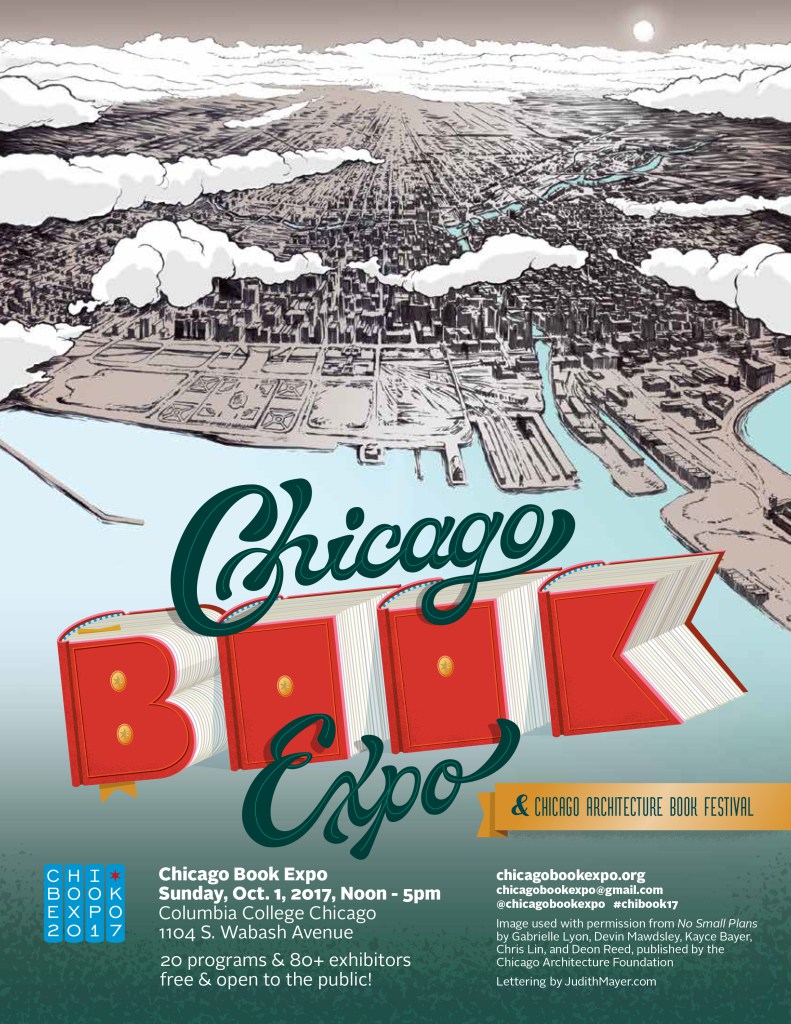 Temporary Services & Half Letter Press — Chicago Book Expo and Chicago Architectural Book Festival, Columbia College, Chicago, IL, 12:00-5:00 PM, October 1
Now in its sixth year, the Chicago Book Expo features 80+ presses and local literary organizations, over a dozen programs, and the first Chicago Architecture Book Festival!
---

Temporary Services & Half Letter Press — Printed Matter's New York Art Book Fair, PS1, NY, September 21-24
We are happy to be returning to NY for this year's book fair. We can't wait to have several thousand conversations about artist books!
---


Temporary Services and Half Letter Press Publications — Self-made: zines and artist books, State Library, Victoria, Australia, August 11 – November 12
This bold exhibition delves into the evolution of do-it-yourself culture, from limited-run artist books to cut-and-paste photocopy fanzines.
Discover science fiction fanzines from the 1940s, ground-breaking 1970s punk zines, Australian underground press publications, and artist books designed to defy tradition and buck the commercial gallery system.
Supported by Visions of Australia and Creative Victoria.
Self-made: zines and artists books
---

Self-Reliance Library & Self-Reliance School — Compound Yellow, Oak Park, IL, May – October
Temporary Services and Compound Yellow present the Self-Reliance Library and initiate the Self-Reliance School.
The Self-Reliance School will host classes, workshops, talks, public events, a book shop, a zine mercado and more from May – October 2017.
Self-Reliance Library (SRL) is an immersive installation consisting of a library of over 80 books, as well as banners and furniture that take influence from ideas found in the library. You can see the full list of books by clicking on the booklet cover below. A link to Installation images of the SRL can be found below in the sidebar.
Compound Yellow is an autonomous site for learning, researching and making that consists of multiple spaces for experimental exhibitions, public art, classes, workshops, film screenings, recording, and events located in Oak Park.
For regular updates, programming, and news, visit the page we made for this initiative:
---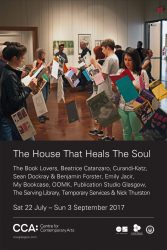 Booklet Cloud —  The House that Heals the Soul, CCA, Glasgow, Scotland, July 22 – September 3
Contributors: The Book Lovers, Beatrice Catanzaro, Curandi-Katz, Sean Dockray & Benjamin Forster, Emily Jacir, My Bookcase, OOMK, Publication Studio Glasgow, The Serving Library, Temporary Services & Nick Thurston
This summer's exhibition at CCA focuses on the political and social status of libraries. Programmed in collaboration with artist Nick Thurston, CCA's exhibition spaces will be opened up to house a selection of library and self-publishing resources alongside artworks that look at various histories of, and approaches towards, the protection and presentation of libraries' collections, infrastructures and their users.
Public libraries have become one of the last remaining spaces where people can gather without expectation or requirement. As the future of libraries and their buildings becomes increasingly precarious, this exhibition aims to expand an understanding of the potential of libraries as sites of resistance, shelter, preservation, creation and restitution, and to do so in a dynamically public way as a functioning library of libraries.
It includes artworks that explore the loss of libraries and books, and how controlling access to them can be a political strategy of occupation. Alongside typical and atypical library resources, the exhibition will also include a series of artworks examining readers' relationships to publications, alternative politics of collecting publications, and technologies for disseminating and archiving them. Digital sharing platforms will also have a presence in the space, and there will be a series of talks by artists and practitioners throughout the show exploring our ever-changing relationships to public sites for knowledge development and exchange. The exhibition will support a dialogue around the importance of the librarian as an interlocutor, artist and curator, as well as giving access to CCA's spaces for visitors to read, view and produce.
Publication Studio Glasgow will move into the gallery spaces as an open-source resource for self-publishing. CCA and the Publication Studio partners will run a series of workshops and inductions, enabling any member of the public to design, print and bind their own book edition.
We welcome proposals from any individual or group who would like to contribute a library collection, gain access to any of the resources listed, host their own event or use the gallery as a space to meet during The House That Heals the Soul. This project marks the beginning of a series of summer exhibitions in CCA's main galleries that will open the rooms up as spaces for meeting and exchange, providing the resources and facilities for more autonomous activities to be led by our communities.
---

Self-Reliance School — ZINEmercado, Compound Yellow, Oak Park, IL, 12-5 PM, August 26
We are really excited that the ZINEmercado folks will be organizing one of the zine fests at Compound Yellow as a part of the Self-Reliance School.
Join us for the ZINEmercado at Compound Yellow, a free one-day Zine Fest organized by Oscar Arriola and Chema Skandal! This year's edition will feature zines by many artists, writers, musicians, and photographers! There will be food and beverages and lots to read with ZINEmercado right next to the Self-Reliance Library!

The participants for this edition are:
Adam Jason Cohen – photography zines
Blake Jones – illustration / comic zines and pins
Brown and Proud Press – art, writing, POC zines
CHema Skandal – illustration zines & prints
Fotoflow Press / Oscar Arriola – graffiti and photography zines
Grant Lewandowski – photography zines
Half Letter Press
Holy Demon Army Distribution – a distro for wrestling zines
Logan Kruidenier – illustration / comic zines
Mike Gamboa – photography zines
Rebel Betty Arte – photography / writing zines

Meet these artists and publishers, learn more about zines, and take home their work!
---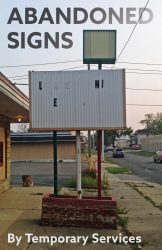 Abandoned Signs — The Museum of Capitalism, Oakland, CA,  June 18 – August 20
We are presenting a new collection of images of Public Phenomena called Abandoned Signs. We made a page of all the images of Abandoned Signs that we have taken.
Free copies of our booklet are available during the exhibition.
The Museum of Capitalism is an institution dedicated to educating this generation and future generations about the history, philosophy, and legacy of capitalism, through exhibitions, research, publication, collecting and preserving material evidence, art, and artifacts of capitalism, and a variety of public programming. The museum's programs result from collaborations between a network of researchers, curators, artists, designers, filmmakers, writers, economists, historians, scientists, and non-specialists from all walks of life, including those with direct experience of capitalism. The Museum's inaugural exhibition will appear in Oakland, California in 2017.
---

Temporary Services and Half Letter Press Publications — Zine Mercado: Logan Square Independent Zine Fest, Comfort Station, Chicago, IL, 11 AM – 6 PM, August 20th
Join us for the 2nd annual ZINEmercado at Comfort Station in Logan Square! This year's edition will be larger and feature zines by several dozen artists, writers, musicians, and photographers. We'll also feature live music by Wet Wallet, and DJ sets by Rebel Betty, BillyTheKid, Bumbac Joe, and King Hippo!
Zine tablers this year include:
Alamo Igloo Press with Keith & Gina Herzik
Banana Sticker
The Bettys
Blood Fruit Printworks
Brown and Proud Press
Charles H. Kerr Publishing
Corey Hagberg
Cul de Sac Press
David Alvarado
Flatlands / Fltlnds Prss
Fotoflow Press
Half Letter Press
Holy Demon Army Distro
Joe Tallarico
Lupe Garza-Martinez
Michael Morrill
Mike Gamboa
Nathan Pearce
Ocho Manos Press
Rebel Betty Arte
Tara Zanzig
Tom Guenther
Tony Recktenwald
Venadito
Vice Versa Press
YouMedia @ Chicago Public Library
and more!
Admission is free.
---

Temporary Services and Half Letter Press — DIY Cultures, Rich Mix London, London, UK, 12-7 PM, May 14 – June 2
DIY Cultures, which will be on 14th May this year, is an annual day festival exploring intersections of art and activism, running since 2013. The programme consists of a zine fair, exhibitions, workshops, contemporary craft, panel discussions, comic illustration, video art and digital animation exploring DIY practice. The event has established itself as a leading national forum for artists-run initiatives and alternative publishing. The event distinguishes itself by by its commitment to Black and people of colour empowerment and centralising marginalised histories and subcultures such as decolonialising initiatives, diaspora stories, prisoner solidarity, radical mental health and Muslim communities under the War on terror. The festival programme has expanded into an accompanying extended exhibition and commissions programme.
---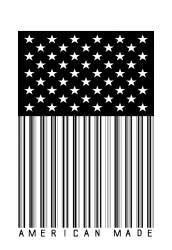 Prisoners' Inventions drawings — American Made: Mass Production/Mass Incarceration, MICA, Baltimore, MA, April 26 – May 26
American Made is an exhibition about mass incarceration curated by the Exhibition Development Seminar of Maryland Institute College of Art in Baltimore.
We are presenting several drawings our collaborator Angelo made of Prisoners' Inventions that had never been publicly presented before.
---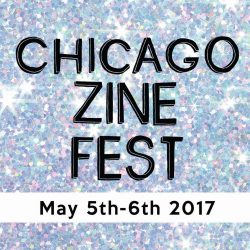 Temporary Services and Half Letter Press — Chicago Zine Fest 2017, Chicago, May 5th-6th
We will have a booth again this year at the CZF. Marc will there with our publications and plenty of his Public Collectors ones as well. Stop by and check out one of our favorite self-publishing gatherings.
---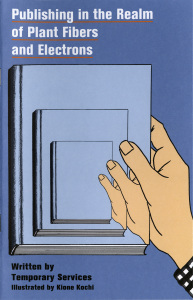 Book Discussion — Hungry for Stories #4—Publishing in the Realm of Plant Fibers & Electrons, Read/Write Library, Chicago, 2:00 – 3:00 PM, April 30
Read/Write Library welcomes Marc Fischer of Temporary Services to discuss their booklet 'Publishing in the Realm of Plant Fibers and Electrons' from publisher Half Letter Press.
Hungry for Stories is designed to raise discussion around the culture and expression we value as a city through diverse, contemporary Chicago books. With the selection of wildly different forms, genres and voices from across the city, we hope to grow a community committed to reading outside of their comfort zones.
This discussion is free for Hungry for Stories subscribers and their guests, $10 for the public. To learn more and subscribe for future books and discussions, visit: http://readwritelibrary.org/hungry-for-stories-chicago-book-club
About 'Publishing in the Realm of Plant Fibers and Electrons'
"This is an idiosyncratic guide to self-publishing. We think that self-publishers should craft their own hybrid publishing and distribution solutions. This booklet, we hope, is an aide for those curious about the process and who may want to start doing their own publishing.
Temporary Services has been actively thinking about, making, talking about, selling, and giving away publications for over 16 years. We have written or said things in interviews and lectures about our publishing, but we have never sat down to craft a long-form essay about our efforts and where they fit in the larger world of artist books, artist publishing and book making. This booklet is an attempt to articulate our ideas about publishing, particularly in light of the current post-digital environment. It was published to be given away during the life of our temporary print shop called Publishing Clearing House."
914 N. California
Walton Entrance
Chicago, IL 60622 — map
---
Temporary Services — Self-publishing for Activism, Gray Center for Arts, University of Chicago, Chicago, 6 PM, Thursday, April 13
How can self-publishing be used as a tool to address, challenge and fight against social injustice? In what ways is self-publishing being used in social movements today to inform, educate and bring about change? Taking inspiration from cultural and political activist John La Rose, cartoonist Naji al Ali, the magazine Gidra, and groups such as See Red Women's Workshop, the panel discussion aims to explore how artists and activists across the globe are using self-publishing to address urgent issues today.
Panelists:
Leila Abdelrazaq (author and artist), Marc Fischer (Temporary Services), Tempest Hazel (independent curator), Sheika Lugtu (cartoonist and researcher) and members of OOMK share their perspectives and discuss the different ways that artists and activists in their communities are self-publishing for activism. The session is introduced by Yesomi Umolu, Logan Center Exhibitions Curator.
---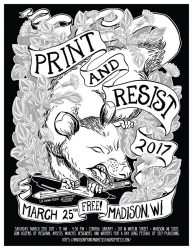 Temporary Services and Half Letter Press — Madison Print & Resist, Madison Public Library, Madison, WI, 11:00 AM – 4:30 PM, March 25
Madison Print & Resist 2017 is a day-long festival of political print media, zines, experimental publications, and workshops related to the world of art, do-it-yourself culture, and political action. We're looking for subversively creative print/media artists including zine makers, printers, poster-makers, and other self-published artists and writers to share their work with the Madison area community.
---
Temporary Services and Half Letter Press — Zine and pop-up bookshop,The Rangefinder Gallery at Tamarkin Camera, Chicago, IL, 4-8 PM, March 10
Several zine and book makers will be present to sell publications at The Rangefinder Gallery at Tamarkin Camera in Chicago.
Vendors will include:
Public Collectors
Temporary Services/Half Letter Press
Matthew David Crowther of Half Moon Projects
Joseph Wilcox
Carlos Morales
Nathan Pearce of Same Coin Press
and more.
---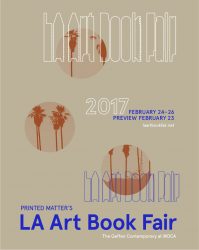 Temporary Servcies and Half Letter Press — Printed Matter's LA Art Book Fair, The Geffen Contemporary at MOCA, Los Angeles, February 23-26
We have a table at this year's fair. Brett will be at the fair on our behalf. We will have several new publications to present.