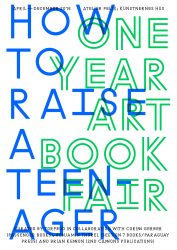 12 publications by Temporary Services & Half Letter Press — One Year Art Book Fair, organized by Torpedo, Kunstnernes Hus, Oslo, Norway, December 7-18
We have 12 of our publications included in the December slot of this year-long book fair organized by Torpedo. It takes place in Oslo at the Kunstnernes Hus [Artists' House].
The OYABF is a unique project that extends Torpedo's efforts to promote and distribute artists' books and small-press publications. In a series of monthly events, artists and publishers are invited to display their books, posters, projects-in-process, artworks or other exhibition material which forms part of their production. The OYABF aims to emphasise specialization and individuality, and to create a situation in which visitors can explore a complete body of work in depth.
The selection of artists and publishing projects invited to OYABF have diverse strategies, interests and motivations. The art-book publisher can be an artist, a collective, a public art organisation, a small press, an art writer, an institution, a graphic designer, poet, critic or curator. Around 40 exhibitors have been invited and will be announced throughout the year. Each month's curated exhibition will be activated by parallel events, talks, discussions and presentations.
---
Temporary Services and Half Letter Press — Rrréplica, Casa de Hijo del Ahuizote, Mexico City, December 2-4
Meeting / Encounter / Clash of Rebellious / Disobedient / Unruly Publishers / Printers / Editors / Duplicators.
About publishing / To conform public space / To cultivate the right to dissent / To attend the urgency / To resonate.
Rrréplica is a gathering for discussion and dissemination of publishing practices of those who use electronic stencil-printing technique, known as risography or mimeographic printing.
Rrréplica's intention is to form a space where to think about the future strategies of circulation of content using low-cost technologies such as replicable models of meaningful production. Publish as the power of sharing and cooperation. Publish to generate spaces for dialogue and transformation.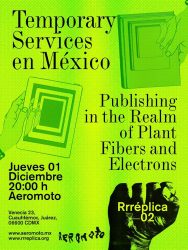 There will be an exhibition of Temporary Services publications at Aeromoto held in conjunction with the book fair.
---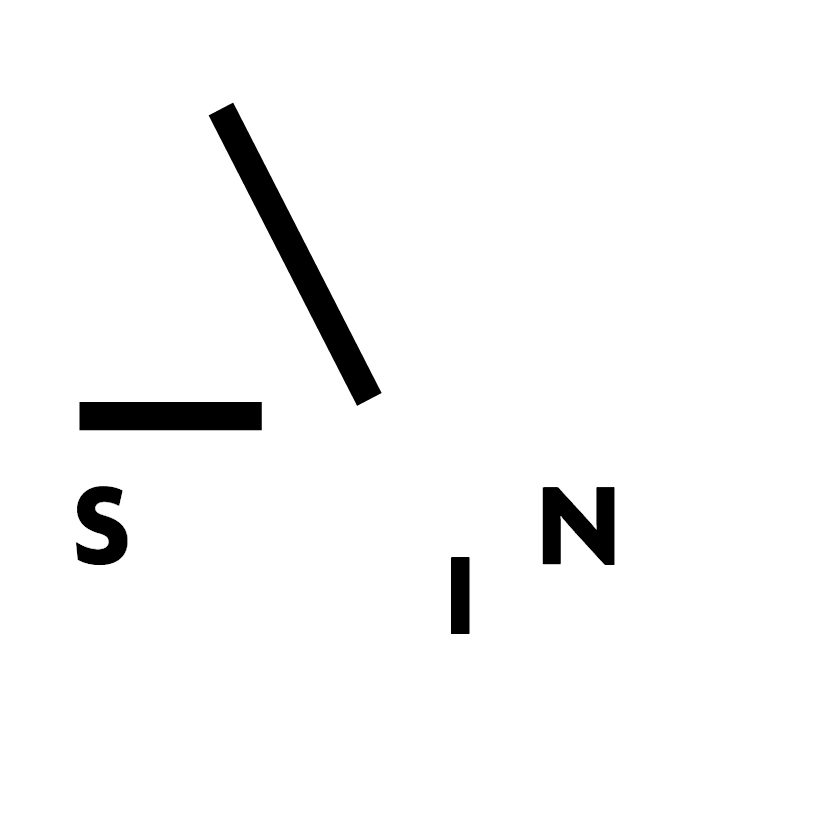 Temporary Services and Half Letter Press — SPRINT—Independent Publishers and Artists' Books Salon Milano '16, Milan, Italy, November 25-27
Join us from Friday 25th to Sunday 27th November 2016 in Milano
for _\|/_ 4° Edition!
26~27.11 | 13.00—20.00 | Non-Profit Fair @ O' in company of ↝
0-100 Milano | ADAMANT/Rada Koželj Como | ALESSANDRO MENSI Milano | AKV Berlin | ARCHIVE BOOKS Milano/Berlin | ATLAS PROJECTOS Lisboa/Berlin | ATTO Milano with SUDARIO Albano di Lucania | BLAUER HASE Venezia | BLISTERZINE by NASTYNASTY—Milano | BTOMIC-GHOST & TALKINASS La Spezia | CAMILLA CANDIDA DONZELLA Milano | DELEMA BOOKS with PAPER RAD New York | DIORAMA EDITIONS Milano | DOMINICA Los Angeles | DRAW DOWN New Haven | ECOCORE London | FOLDER BOOKSHOP Milano | FUZAO STUDIO Milano | GALLERIA OPULENZA with GIORGIO DI SALVO Milano | GENDA Milano/Shanghai | GIRLS LIKE US Amsterdam | GRAM Milano | JUDITH ERWES London | KABUL Italia | KALEIDOSCOPE Milano | MAREN KARLSON Berlin | MOLLY RICHARDSON London | NERO Roma | NOBODY'S BUSINESS Wandering | NUMERO 10 Paris | ORLO Ferrara/Melfi | POMEGRANATE PRESS Philadelphia/Orlando | PRINTED WEB by PAUL SOULELLIS New York | PUBLIC COLLECTORS Chicago | RAWRAW EDIZIONI Milano | RICOCHET.CC Buenos Aires | RORHOF Bolzano | RUMORE NERO Milano | SEAN DE COUX Eindhoven | SHELTER PRESS Rennes | SKINNERBOOX Jesi | STEFANO REBOLI Milano | STOLEN BOOKS Lisbon | SUSANNE BÜRNER Berlin | TEMPORARY SERVICES/HALF LETTER PRESS Chicago/Aburn | TILE Milano | TLTRPreß Berlin | TUNICA New York | WITTY KIWI Torino | YES I AM WRITING A BOOK Milano | YET MAGAZINE Lugano | Special Guest ↝ IDIOLETTA Milano/Bologna—Concerning Poetry and Art
Saturday 26.11 | 23.00—04.00
Fundraising Party HELP _\|/_ TO GROW
BALLROOM ↝ DJ SET BY ALIENI ~ ASHASHA
@ KO CLUB Via Resegone 1, Entry 5€
26~27.11 | 11.00—18.00
RISOGRAPH WORKSHOP—for selected applicants only
by Pierrick Brégeon and Clément Rouzaud (EUROSTANDARD-CH) Assisted by Elena Radice, host by studio ATTO
APPLY HERE ↝ www.sprintmilano.org/riso
26~27.11 | 13.00—20.00
SHAME TATTOO—by appointment only
By Camilla Candida Donzella, host by Studio Mattias Guerra
BOOK YOUR DATE ↝ www.sprintmilano.org/shame-tattoo
————————–————————–————————–————-
SPRINT _\|/_ Independent Publishers and Artists'Books Salon —Aims to involve in a crossing and sustainable way a selection of subjects and artists among the most interesting in the international independent publishing scene, featuring experiences or productions, dealing freely with different formats, languages, contents with a program that combines talks, workshops, exhibitions, performance. Every edition is extending collaborations, committed to foster people and paths. The first episode took place in Milan in 2013.
An idea by O' non profit association
Curated and designed by Dafne Boggeri
---
12 Contributors, 5 Publications, 5 Years
Author: Temporary Services, Eds.; contributors: see below
Publisher: Chicago and Fort Wayne: Half Letter Press, 2016
Pages: 40
Dimensions: 5 1/2″ x 8 1/2″
Cover: soft cover
Binding: staple bound
Process: Risograph and offset
Color: 3 color and full color offset
Edition Size: 500
ISBN: 978-0-9818023-4-3
There is no shortage of independent artist book-making and self-publishing happening right now, but critical writing about artist books isn't keeping up with production. Can we briefly stop to think about what people are actually making, in the midst of the sea of small edition and hard to find titles? In an effort to generate more reflective and critical thought about artist books, we asked friends in the field to write about 5 titles from the last 5 years. We hope to turn this into an annual series—our own attempt to capture some of what is most compelling from the scene—and take stock of what recent titles are important to the people that care about this kind of work. — Temporary Services
Contributors: Banu Cennetoglu | BAS, Draw Down Books, Abdul Dube, Jen Hofer | Antena, Karin de Jong | PrintRoom, Julia Klein | Soberscove Press, Emily Larned | Impractical Labor, Antoine Lefebvre, Stephen Perkins, David Senior | MoMA Library, Eva Weinmayr | AND publishing, George Wietor | Issue Press
12 Contributors, 5 Publications, 5 Years: Printed Copy at Half Letter Press; Archival PDF at Half Letter Press; Screen Resolution PDF; Links to all the contributors' web sites
---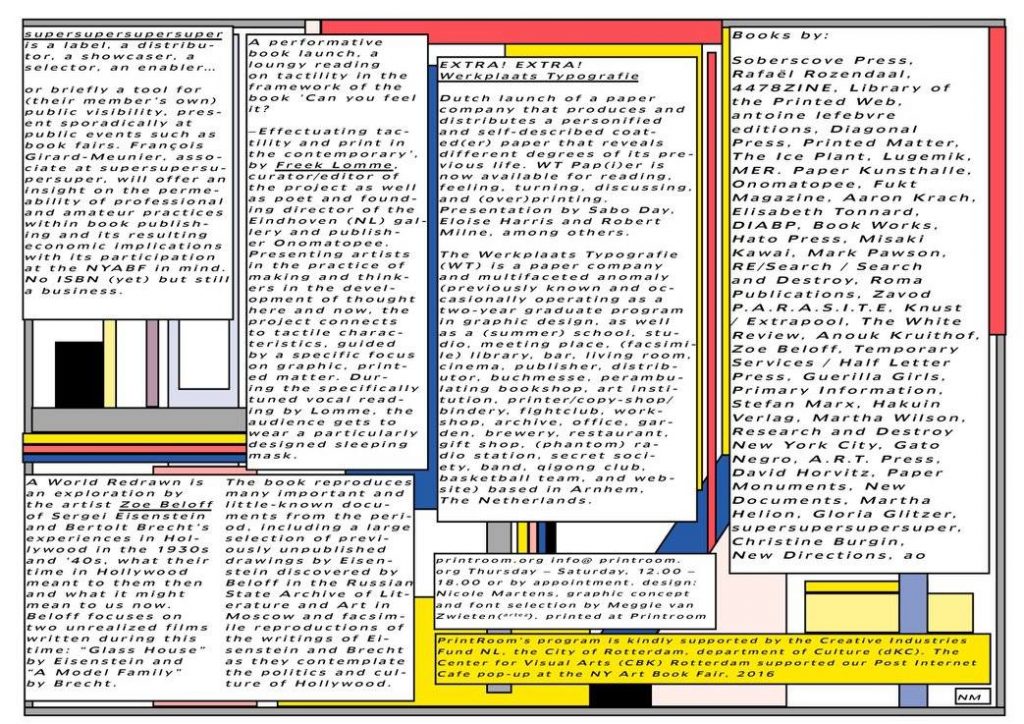 Temporary Services & Half Letter Press publications — PrintRoom's Pick from the NY Art Book Fair 2016, PrintRoom, Rotterdam, Netherlands, October 14
Join us for an evening with performances, talks drinks and snacks to celebrate the harvest of this year!
Friday, October 14, 7 – 10 PM
doors open at 7 pm, program starts at 7.30 pm
*sneak sonic preview at 9.30 pm!!*
PrintRoom joined the NY Art Book Fair organised by Printed Matter and hosted by MoMA Ps1, from September 11 – 18 2016. It  featured 370 booksellers, antiquarians, artists, institutions, and independent publishers from 28 countries—and was attended by more than 35,000 people.
Our Post Internet service was there to run an internal mail system among publishers. We attended the weekend long series of events, talks, lectures and met up with publishing friends. We looked carefully at the presented books and made a selection for PrintRoom.
Books by:
Soberscove Press, Rafaël Rozendaal, 4478ZINE, Library of the Printed Web, antoine lefebvre editions, Diagonal Press, Printed Matter, The Ice Plant, Lugemik, MER. Paper Kunsthalle, Onomatopee, Fukt Magazine, Aaron Krach, Elisabeth Tonnard, DIABP, Book Works, Hato Press, Misaki Kawai, Mark Pawson, RE/Search / Search and Destroy, Roma Publications, Zavod P.A.R.A.S.I.T.E, Knust / Extrapool, The White Review, Anouk Kruithof, Zoe Beloff, Temporary Services / Half Letter Press, Guerilla Girls, Primary Information, Stefan Marx, Hakuin Verlag, Martha Wilson, Research and Destroy New York City, Gato Negro, A.R.T. Press, David Horvitz, Paper Monuments, New Documents, Martha Helion, Gloria Glitzer, supersupersuper, Christine Burgin, New Directions, ao
The Post Internet project is a collaboration between Eleanor Vonne Brown / X Marks the Bökship and Karin de Jong/PrintRoom
---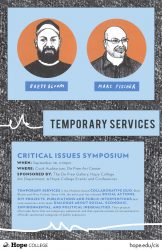 Temporary Services — Critical Issues Symposium, Hope College, Holland, MI, September 28
CRITICAL ISSUES SYMPOSIUM
WHEN: September 28, 2:30pm
WHERE: Cook Auditorium, De Pree Art Center
SPONSORED BY: The De Pree Gallery, Hope College Art Department, & Hope College Events and Conferences
TEMPORARY SERVICES is the Midwest-based COLLABORATIVE DUO, Brett Bloom and Marc Fischer. Since 1998, the artist pair has initiated SOCIAL ACTIONS, DIY PROJECTS, PUBLICATIONS AND PUBLIC INTERVENTIONS that raise awareness and create DIALOGUE ABOUT SOCIAL, ECONOMIC, ENVIRONMENTAL, AND POLITICAL INEQUALITIES. Their projects often take forms that are temporary, ephemeral, and that operate outside of conventional or officially sanctioned categories of public expression.
---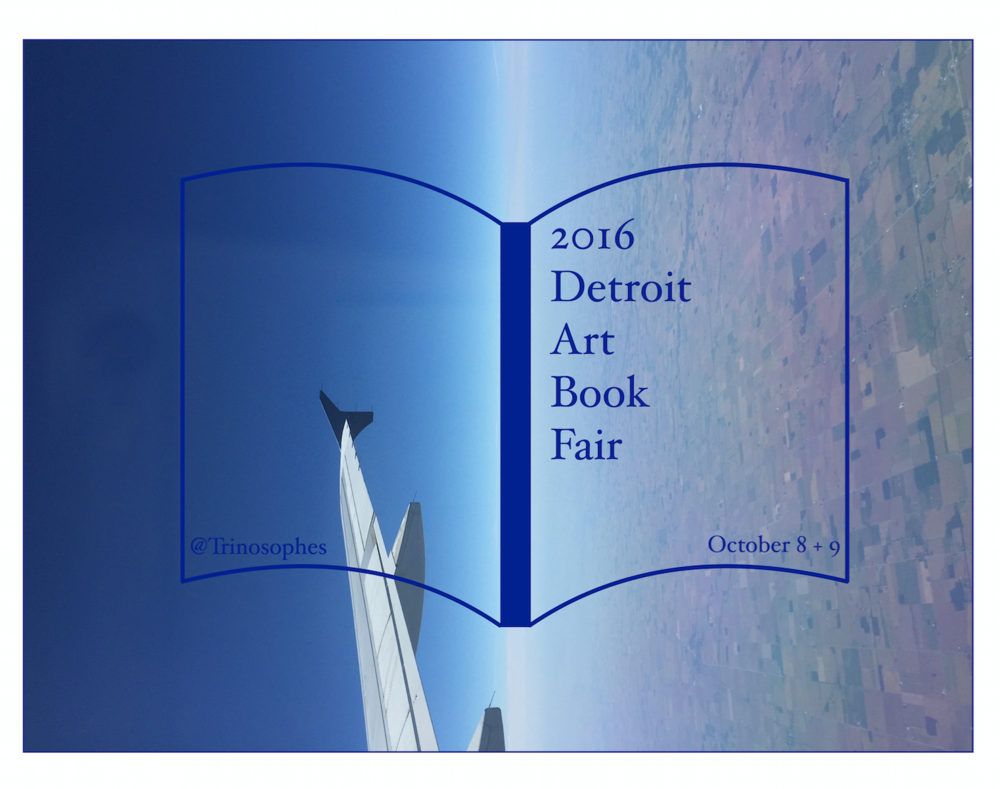 Temporary Services and Half Letter Press — Detroit Art Book Fair, Trinosophes, Detroit, MI, October 8 – 9
This was our first year participating in Ditto Ditto's book fair in Detroit. We were very happy to be there and to get familiar with a bunch of publishers we had not met before.
---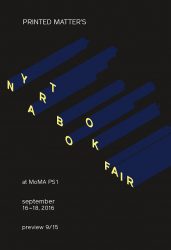 Temporary Services and Half Letter Press — Printed Matter's New York Art Book Fair, PS-1/MoMA, NY, September 16-18
We participated in the Friendly Fire section of the fair again this year. Many thanks to Max Schumann for including us.
---

Half Letter Press Posters with Kione Kochi — The Fine Art of the Risograph, The Chicago Design Museum, Chicago, IL, Thursday, June 23
This is a one evening showcase of Chicago based artists that use Risographs to print their publications. This event has been organized by Hallagans Business Machines, which services Risographs and provides great support for folks in the area using the machines.
When: Thursday June 23rd
Where: 108 N. State St. 3rd Floor of Block 37
When: 4 – 7PM
---
Framing The Artists: Artists & Art In Film & Television — Presentation, Swiss Institute, New York, 7:00 PM, May 4, 2016
On the occasion of FADE IN: INT. ART GALLERY – DAY,  Temporary Services will present a video from their 2005 project "Framing The Artists: Artists & Art in Film & Television" and Temporary Services group member Marc Fischer will read "film reviews" from their publication of the same name."Fictional representations of art and biographical films about dead artists are common in mainstream media, despite the lack of concern with living visual artists and their projects. So what do these representations reveal to us about artists and their work? Many depictions center on artists' unusual behavior, love affairs, or self-destruction through drugs and alcohol. Jokes about not being able to understand modern art are endless. Very few biographies of actual or fictive artists seriously attempt to consider the artist's creative process in a nuanced way. Framing The Artists is an overview of many examples of these characterizations. Our reviews are but a few examples of portrayals of artists and their work in film and television. We watched hundreds of hours of video and concede that our research barely scratched the surface." —Temporary Services
---

Half Letter Press Posters with Kione Kochi — Making Use: Life in Postartistic Times, Museum of Modern Art, Warsaw, Poland, February 19 – May 1, 2016
The so-called coefficient of art is present in high concentration in many realms of activity — it can be found in alternative economies, street protests, diversion advertising, food cooperatives and urban gardening, critical tourism, and the curricula of flying universities. In such cases, life is permeated by a sensibility that is characteristic of art: a conceptual surplus, thinking in terms of form, or endless games with imagination — political, economic, and scientific. It is not a new phenomenon, let alone a tendency or style in art.
The exhibition Making Use: Life in Postartistic Times addresses one of the fundamental postulates of twentieth-century avant-garde movements — the mutual penetration or even fusion of art and everyday life. The Polish art theorist Jerzy Ludwinski wrote in 1970s in his essay "Sztuka w epoce postartystycznej" ["Art in the Postartistic Times"], "It is highly likely that today we are no longer dealing with art. We simply overlooked the moment when it transformed into something entirely different, something that already escapes our capacity to name it. Beyond any doubt, what we are dealing with today has a greater potential."
An engagement with the status and competences of the individuals and collectives who work with what has been thus described as the postartistic age animates this exhibition. In a world that requires a redefinition of the individual's obligations to the community and the new global challenges of migration, economic crisis, armed conflicts, and environmental threats — multifarious questions emerge. How can artistic competences achieve an impact on reality? Do they always have to materialize as artworks? What role can the museum play in a situation where art radiates to non-artistic environments, and in so doing, loses the characteristics that distinguish it as art?
The project "Making Use: Life in Postartistic Times" is indebted to three phenomena known from the history of twentieth century art which have remained topical and universal until the present day. The first consists in attempts to question the borders of art institutions with a view to enriching the everyday with poetic qualities or pursuing the goal of a radical social change. The second is the migration of artists from the field of art to other areas of reality: utopian communes, social political movements, social work — popular especially during the periods of social turbulence, such as the turn of the 1970s and the first decade of the twenty-first century. The third is the creation of new institutional environments beyond the scope of the traditional gallery and museum network and the art market.
The point of departure for this exhibition is the collective writings of the theorist Stephen Wright, who postulates a deconstruction of "conceptual edifices" that have provided the foundations of institutionalized art since the nineteenth century. As counter to this edifice, Wright proposes a model of art that implements its own potential — imagination-driven and conceptual — through the process of making use. Such postulates operate on a 1:1 scale, akin to a map that begins to overlap with the actual territory that it represents. Wright is looking for strength in the weakness of art; the theorist disputes Kantian "purposeful purposelessness", the need to replicate existing systems, the rigours of ownership and authorship, and the haughtiness of so-called "expert" culture.
The exhibition "Making Use: Life in Postartistic Times" will develop over time, reaching its ultimate form on the closing date, May 1, 2016. The exhibition will feature reports about the activities of over seventy artists, collectives, social movements and patainstitutions from different parts of the globe: Aaron Burr Society, Adrian Kolarczyk, Andrzej Haręza, Anja Rüegsegger, ASMR / Anna, Arabian Street Artists / Heba Amin + Caram Kapp + Stone, At Work Collective, Biennale de Paris, Brandalism / Jonathan Barnbrook Studio, Brett Bloom, Brud, Bureau d'études, Carlos Espinosa Arancibia, Cecylia Malik, Center for Land Use Interpretation, Center for PostNatural History, Centrum, Chris Onesto, Chto Delat / Nikolay Oleynikov, Compass / Brian Holmes + Rozalinda Borcila, Contingent Movements Archive, Daniel Rycharski, Debtfair, e-flux, Estar(ser) / Order of the Third Bird, Electronic Disturbance Theatre/b.a.n.g. lab, Etcétera, Feral Trade / Kate Rich, Forensic Architecture / Charles Heller + Lorenzo Pezzani, Greenpeace Polska, The Guantanamo Bay Museum of Art and History, GULF Labor, Hugo Vidal, Iconoclasistas, Institute for Human Activities, Institute for Model Nations, Isola Art Center, Janez Janša + Janez Janša + Janez Janša, Jesper Alvaer, Joanna Rajkowska, Jonas Staal / New World Summit, Jerzy Ludwiński, Jerzy Rosołowicz, Kamila Szejnoch, Kein mensch ist illegal, Les UX., Liberate Tate, Loompanics Unlimited, Ludovic Chemarin ©, Luther Blissett, Manual Labours / Sophie Hope + Jenny Richards, Museum of American Art, Museum of Arte Útil, Muzeum Społeczne / Krzysztof Żwirblis, Myvillages / Company, N55, Niewidzialne Miasto, Ogród Botaniczny Uniwersytetu Warszawskiego, Omer Krieger, Peter von Tiesenhausen, Precarious Workers Brigade, Public Works, Raivo Puusemp, Reverend Billy & the Stop Shopping Choir, Robin Hood Minor Asset Management Cooperative, Rolling Jubilee Fund, Jewish Renaissance Movement in Poland, S.a.L.E Docks, Salvage Art Institute, San Precario, Shigeru Ban, Standing Man, Temporary Services, That's Painting, Third Text / Rasheed Araeen, Tools for Action, Włodzimierz Borowski, Zentrum für Politische Schönheit.
---

Temporary Services & Half Letter Press — Chicago Zine Fest, April 30, 2016
Chicago Journeymen Plumbers' Local Union 130, U. A.
Stephen M. Bailey Auditorium
1340 West Washington Blvd.
Chicago, IL 60607
---

Temporary Services & Half Letter Press — PMF VII, the Seventh Annual Publications & Multiples Fair, Baltimore, MD, April 9 -10, 2016
---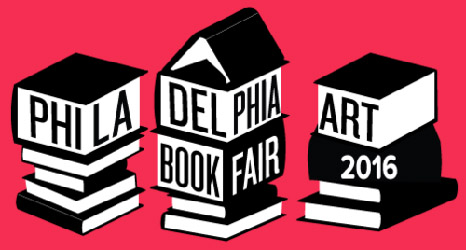 Temporary Services & Half Letter Press — Philadelphia Art Book Fair, April 1 & 2, 2016
Marc will be at the fair on our behalf.
The Philadelphia Art Book Fair is a two-day event that features a range of exhibitors from photography and art book publishers, small and large, to individual artists and institutions, as well as lectures and book signings from key artists and bookmakers.
The Annex on Filbert
830 Filbert Street
Philadelphia, PA 19107
Presented by Philadelphia Photo Arts Center & The Print Center
---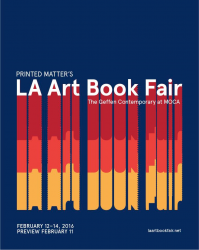 Temporary Services & Half Letter Press — Printed Matter's LA Art Book Fair, Feburary 12-14, LA MoCA, Los Angeles
We are happy to be attending this year's fair in Los Angeles.