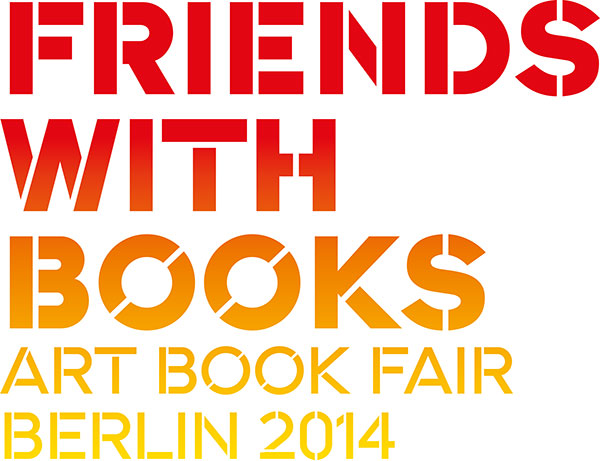 Temporary Services and Half Letter Press will be present — Friends with Books: Art Book Fair Berlin 2014, Café Moskau, Karl-Marx-Allee 34, Berlin, December 13 & 14, 2014
Saturday, December 13, 11am-–7pm & Sunday, December 14, 11am–7pm,
FREE ENTRY
Location: Café Moskau I Karl-Marx-Allee 34 I 10178 Berlin Germany
Directions:
U 5, Station Schillerstraße (directly across the street), or
U- and S-Station Alexanderplatz (7 minutes walking distance)
Friends With Books: Art Book Fair Berlin 2014 opens on Saturday, December 13th,free and open to the public.
The fair is Europe's premier festival for artists' books and periodicals by artists. In 2014, a conference, series of talks, panel discussions, and presentations will explore the cutting edge of art publishing today.
Friends With Books: Art Book Fair Berlin 2014 is hosted by Café Moskau
---

Publishing Clearing House – Proximity of Consciousness: Art and Social Action, Sullivan Galleries, The School of the Art Institute of Chicago, September 20 – December 20, 2014
ABOUT PUBLISHING CLEARING HOUSE:
Strangely, in our 16 years of working together, we had never done a project that was just focused on making publications. When people find out that we run Half Letter Press, they often ask us where our press is located. We have to tell them that we actually work with other printers to make everything. While we probably won't be making offset printed and perfect bound books in our own facility any time soon, we have purchased our own Risograph duplicator (a.k.a RISO) and a booklet stapling and folding machine—both of which were used to make parts of this booklet.
Publishing Clearing House is an initiative that will be a temporary, fully functioning print shop. Temporary Services—with Kione Kochi, Kristian Johansson, and Leah Mackin—will work with invited collaborators to produce new booklets and printed works during the run of the show, sharing and launching publications.
In banking and finance, clearing denotes all activities from the time a commitment is made for a transaction until it is settled. In Publishing Clearing House, clearing denotes all activities from the time a commitment to an author is made, until the publication is designed, printed, stapled, folded and distributed. Making a clearing is also about creating a space for meeting and making processes visible, open and transparent.
For this effort, we have invited a diverse range of individuals, groups, and organizations with an emphasis on Chicago the Midwest, and artists, activists and authors from marginalized and disadvantaged populations. This includes juveniles and the incarcerated, as well as those who represent or articulate narratives counter to dominant cultural norms. Visitors will be able to meet members of Temporary Services and some collaborating authors on many days of the exhibition, and watch the mechanics of the print shop as works are developed and produced. We will make the entire process of making a book, which is always socially engaged in some manner, more visible than it usually is.
Here is a page for the initiative that gives further information, images, links, and access to the publications we make for PCH.
---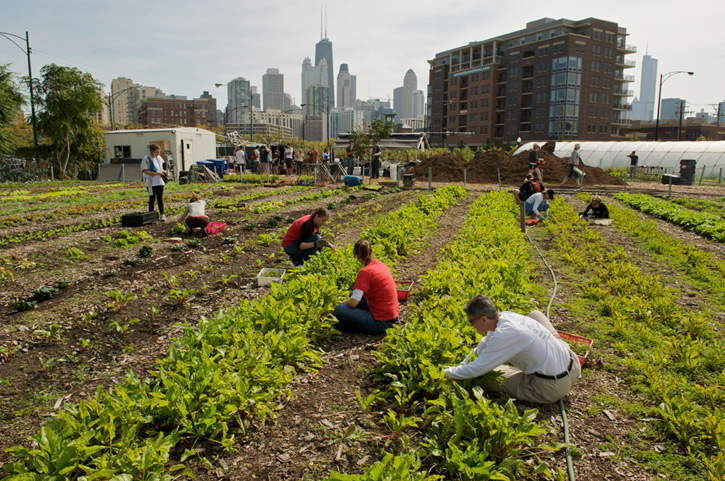 We will be attending – A Lived Practice, The School of the Art Institute of Chicago, Chicago, IL, November 6 – 8, 2014
An international conference on art and social practice organized by SAIC's Department of Exhibitions and Exhibition Studies.
Can art practice help us to cultivate a life practice?
This driving question seeks to take up the age-old question of what role can art play in making meaning in our lives, while probing more contemporary concerns about the artist as community practitioners and social change-makers.
Over an intensive weekend, artists, art students, and those considering the role of art in their own life practice will join artists and thinkers to contemplate why art is a meaningful way to live. Featured participants include: Lewis Hyde, poet, essayist, translator, cultural critic, and author of The Gift and Trickster Makes This World; Ken Dunn, philosopher, recycler, gardener, and founder of the Chicago Resource Center and City Farm; Ernesto Pujol, social choreographer, performance artist, and former monk whose embodied practice is a way of living and teaching; Crispin Sartwell, philosopher, journalist, educator, and author of The Art of Living: Aesthetics of the Ordinary in World Spiritual Traditions; and Wolfgang Zumdick, philosopher, curator, educator, and author of Death Keeps Me Awake: Joseph Beuys and Rudolf Steiner, Foundations of their Thought.
A full program and registration information will be released in early fall.
Curated by Mary Jane Jacob with Kate Zeller, this conference is held in conjunction with the exhibition A Proximity of Consciousness: Art and Social Action at the School of the Art Institute of Chicago's Sullivan Galleries (September 20 – December 20, 2014), and the publication of a four-volume series on Chicago's history of social practice since the 1880s: "Art Against the Law," "Immersive Life Practices," "Institutions and Imaginaries," and "Support Networks" distributed by the University of Chicago Press.
Support for this symposium is provided in part by Salzburg Global Seminar and Goethe-Institut Chicago, as well as SAIC's academic consortium partners: Columbia College Chicago, DePaul University, Northwestern University, University of Chicago, and University of Illinois at Chicago.
---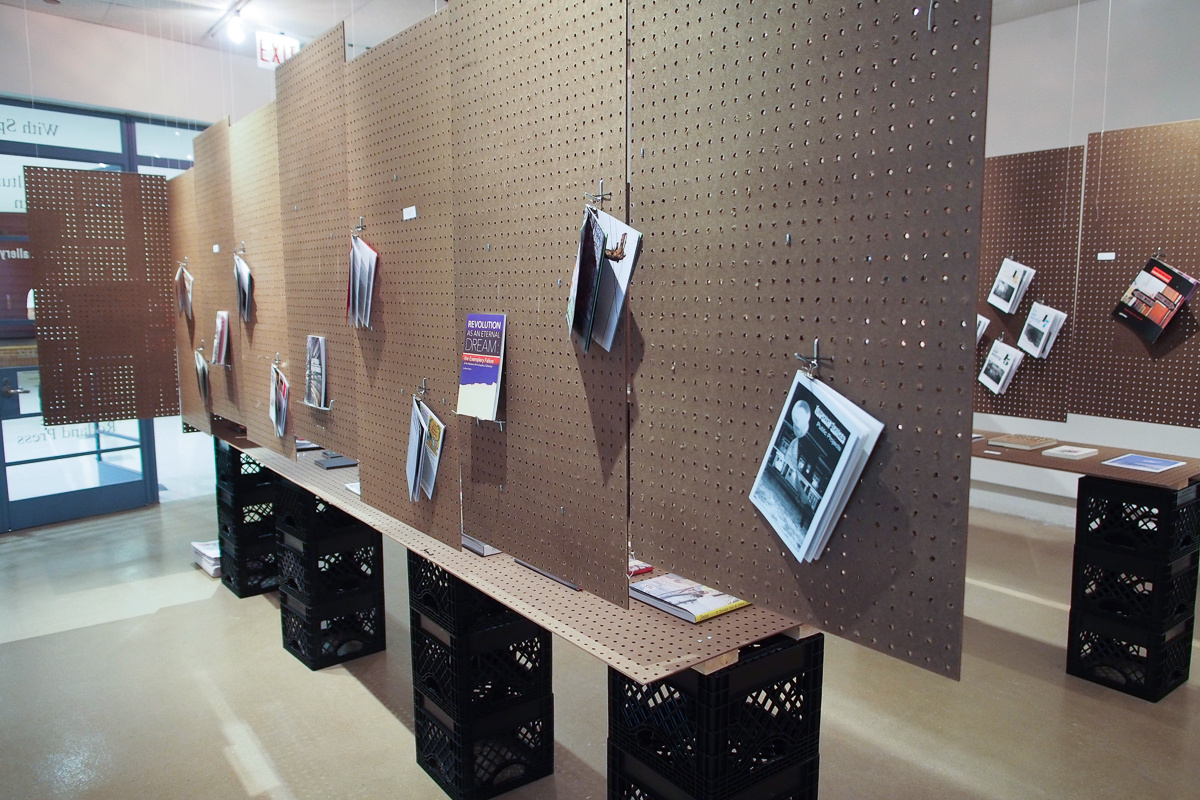 Our publications + contribution to the publication – Publisher! Publisher!, NEIU Art Center Gallery, Chicago, IL, June 13 – July 25, 2014
With special guests:
Booklyn (NYC)
Cantab Publishing (Chicago)
Esopus (NYC)
Justseeds Artists' Cooperative (Pittsburgh/All-over)
K48/Scott Hug (NYC)
Megawords (Philly)
Office of Culture and Design (Philippines)
& Pens Press (LA)
Pre Libri (Japan)
Publication Studio (Portland, OR)
Rotland Press (Detroit)
Francsec Ruiz (Spain)
Siglio (LA)
Temporary Services (Chicago/Copenhagen)
Torpedo (Norway)
Ugly Duckling Presse (NYC)
Work Press, (St. Louis)
Project Essay:
Who Publishes the Publishers?
I could write pages and pages about why I like books, ranging from the unprecedented historical importance of the day the codex and printing press met, to the countless innovative ways artists and writers have found to fill these discrete, indexical containers.
Don't get me wrong, I'm not a luddite, but I fret about the design problems inherent in our glowing rectangles, the shortcomings of the hypertext scroll, the tyranny of the search term, and the corporate and ideological systems hidden under the surfaces of our information age. In my opinion, old-technology books often elegantly sidestep these new-technology problems. However, more interesting than the content delivery wars is what happens when creatives move in and start playing with book technology.
Of course, creative hacking of book technology has been around for as long as there have been books. A sampling of artist's books can give a sense of the variety of bibliophilic interventions through time, from the truly eccentric (William Blake), to the avant-garde (Futurists, Vorticists, Constructivists, Dada, Surrealism), to intellectual deconstruction (Concrete Poetry, COBRA, Dieter Roth, Ed Ruscha), to the boldly experimental (John Cage, Fluxus, Yoko Ono, Johanna Drucker, Claire Van Vliet), to the slow explosion of contemporary artists books.
And this brief list doesn't take into account the compelling worlds of zines, underground comics, experimental writing, poetics, etc. The contemporary scene of hard text publishing is a thriving world of people modeling alternative textual experiences, documenting important and mundane events, and creating room for thought experiments. And what is most interesting is that the divide between the publishers and the makers is closing; the content creators are the publishers. This is not vanity publishing; rather, publishing has become an important part of an art practice. It's a method for getting the work out of the gallery or the bookstore and into the hands of a diverse audience, as well as a means to circulate ideas in a community of makers. It's about putting something in someone else's hands.
Q: Seriously, though, that sounds cool and avant-garde and everything, but who has time to sit and read a book anymore?
A: I'm glad you asked; that question is really the impetus for Publisher! Publisher!. In conceiving of this exhibition I wanted to celebrate the work of a handful of small press publishers, using their talent and diversity to speak for the larger community of book publishers working today.
I also aimed to create a space that invites the audience to spend a few minutes doing what I most want to do: slow down and read a book.
And I wanted to create a publication that would have a life after this exhibition closes.
---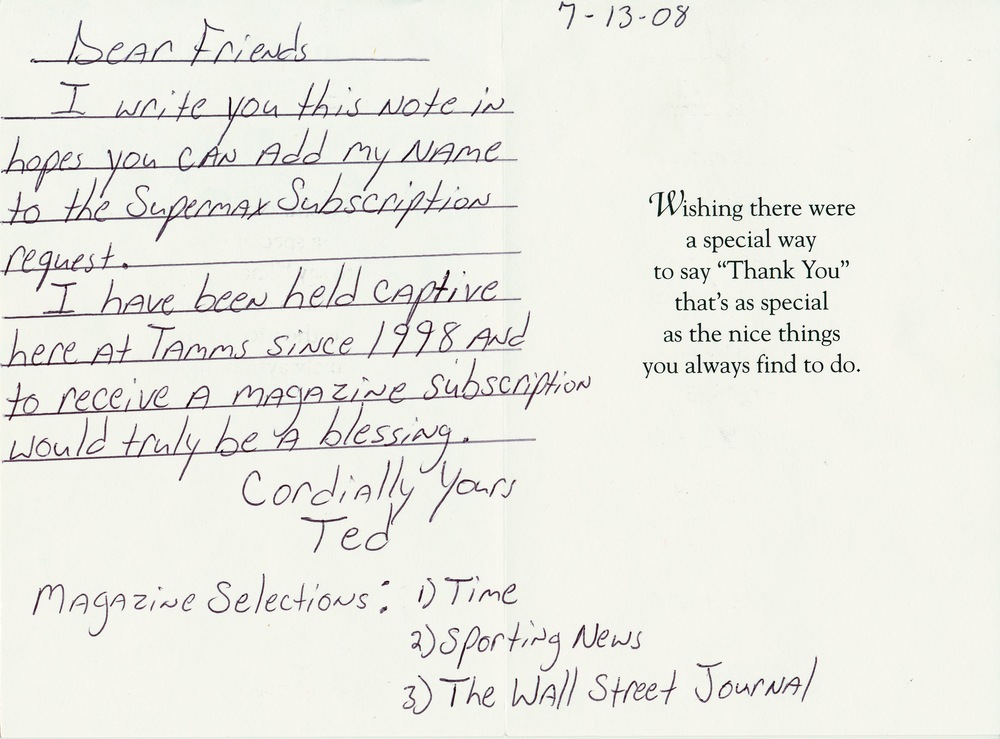 Supermax Subscriptions – TO SHOOT A KITE, Curated by Yaelle Amir, Cue Art Foundation, NY, July 5 – August 2, 2014
This exhibition was the winning selection of the 2013 Open Call for Curatorial Proposals. This program provides one deserving curator the necessary time and resources to realize an innovative project, with the aim of encouraging curatorial research in tandem with exhibition planning. The proposal was unanimously selected by a jury comprised of Suzanne Kim, Director of Exhibitions, SmackMellon; artist Pablo Helguera; and artist and 2013 Guggenheim Fellow Laura Parnes.
ARTISTS: Julie Green, Ashley Hunt, Lucky Pierre, Prison and Neighborhood Arts Project (P+NAP), Sarah Ross, Dread Scott, Jackie Sumell, Tamms Year Ten, and Temporary Services.
In prison-speak, a 'kite' represents notes or letters and 'to shoot a kite' means to send a message. The projects included in this exhibition represent the work of a select group of artists who have set out to relay the severe conditions of inmates and expose this broken system. In so doing, they are reframing the narrative surrounding the incarcerated—providing a platform for public expression and advocating for change both from within and out of the prison system. Each project takes on a different form—from documentation and data visualization to offering services and advocacy—+that provides a link between the incarcerated and the outside world, portraying their conditions, and personalizing the abundant yet anonymous data about the prison system.
Catalogue includes essays written by Yaelle Amir, Ashley Hunt, and Lilly Lampe.
---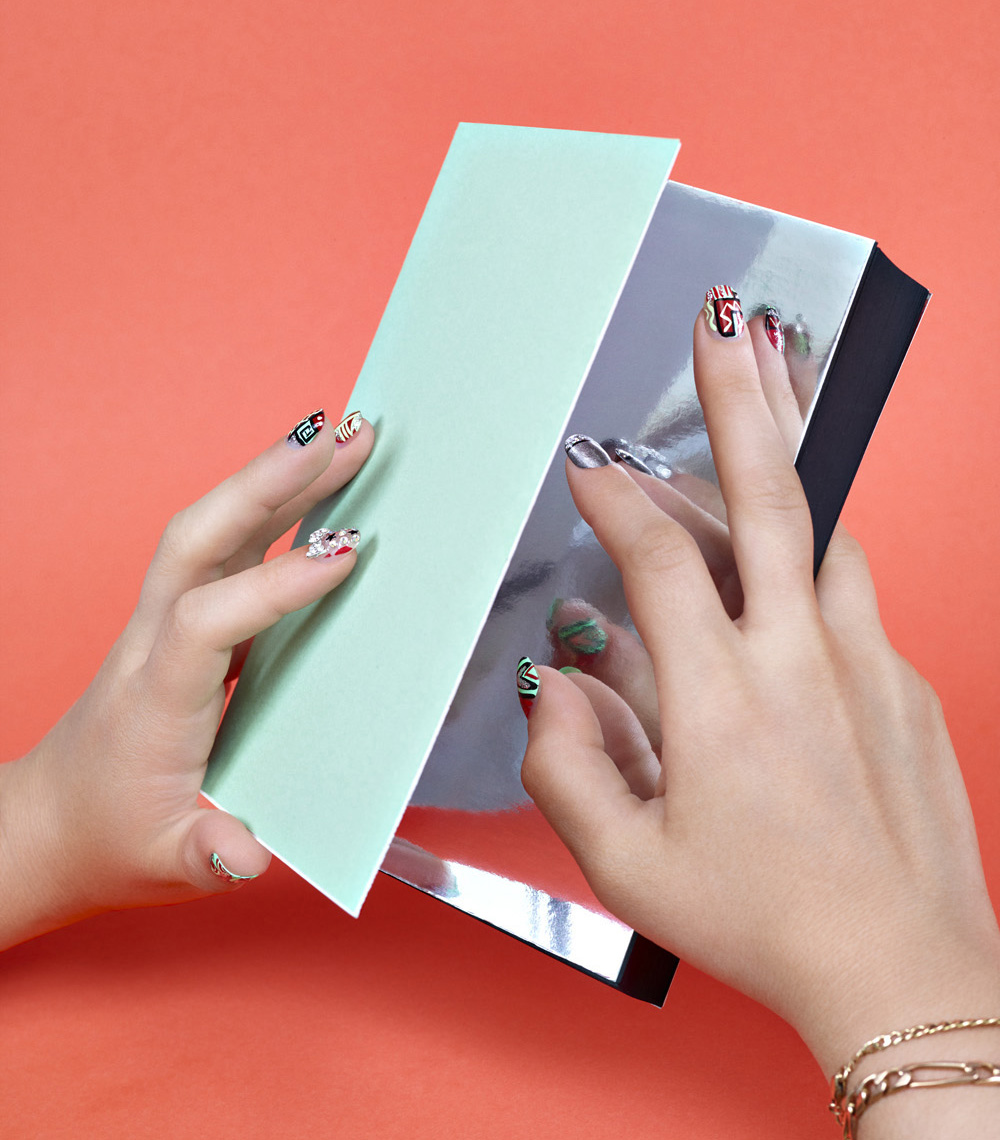 Our publications – MEDIUM COOL Art Book Fair, Chicago, IL, Sunday, August 10, 2014, 10 AM – 8 PM
Prairie Production
1314 W Randolph St
Chicago Il
60607
info@medium-cool.net
---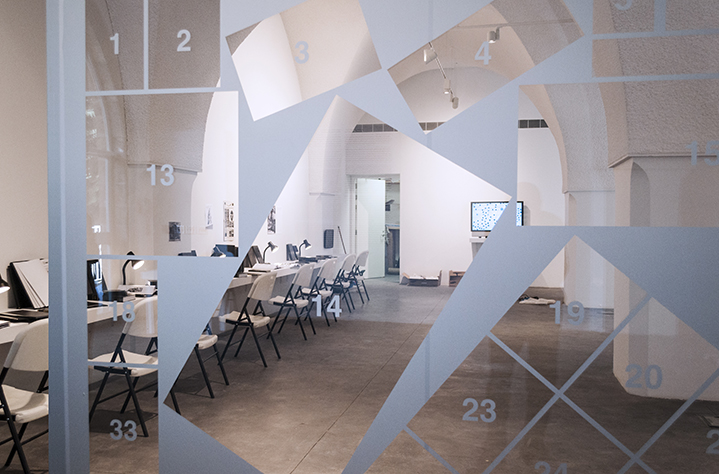 Our Publications – Critical Machines, AUB Art Galleries, American University Beirut, Beirut, Lebanon, March 6 – June 26, 2014
Artists in the Exhibition: Art & Language, Burak Arikan, Freee art collective, Janah Hilwé, Khalil Rabah, Vadim Zakharov
And
A Bookshelf with critical machines by: André Breton, Critical Art Ensemble, Marcel Duchamp, Andrea Fraser, Heresies Collective, William Hogarth, György Galántai and Júlia Klaniczay (Artpool), Kenneth Goldsmith, Hans Haacke & Pierre Bourdieu, Pablo Helguera, Garnet Hertz, Wassily Kandinsky, Allan Kaprow, Hassan Khan, Andrei Monastyrsky, William Morris, Walid Raad, Ad Reinhardt, Temporary Services, Gregory Sholette, Nasrin Tabatabai and Babak Afrassiabi and others
Curator: Octavian Esanu
---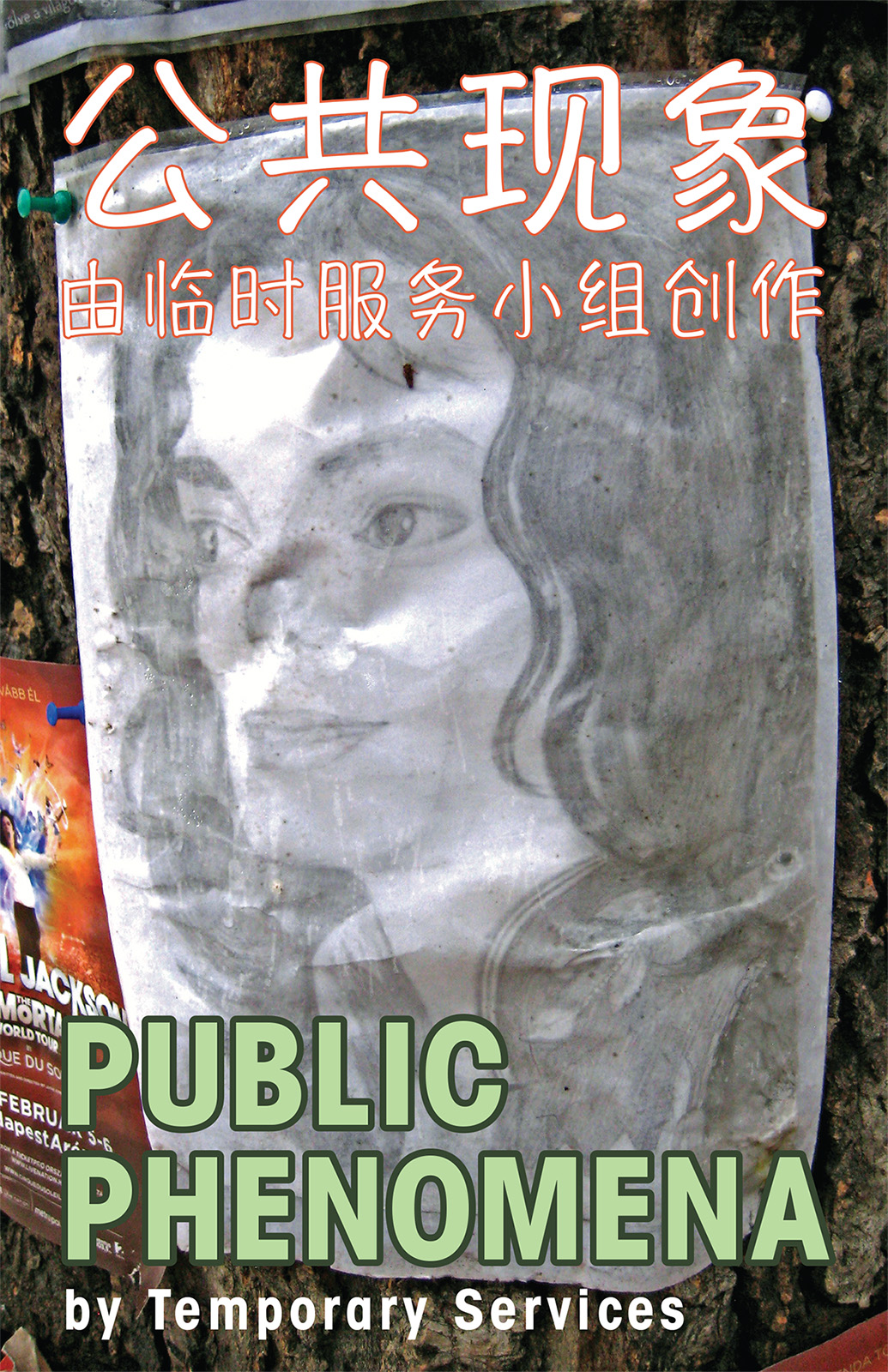 Our Publications – The Second CAFAM (Central Academy of Fine Arts Museum) Bienniale, The Inivisible Hand: Curating As Gesture, Beijing, China, February 28 – April 20, 2014
We are in the section of the Biennale called "Game Theory" curated by Angela Jerardi.
FROM THE PR ABOUT THE BIENNALE:
The title of the Biennale—The Invisible Hand—refers to Adam Smith's metaphor describing the self-regulating behavior of the marketplace. In the context of the six respective exhibitions the metaphor is extended to intimate something of the histories, methodologies, and theories that inform curating, without leaving visible traces of their impact.
While they offer a variety of interpretations of the overarching theme, Smith's presence is directly acknowledged in artistic gestures of political, social, sexual, and imaginative resistance to dominant modes of liberal politics and capitalist economics.
At the same time, the museum is revealed as a theater of objects, which despite the mechanisms of display and interpretation yet enact their own tales. Its dense acreage of its storage areas is additionally understood as humanity's cellar, the contents of which mirror our histories, while temporary displays in the galleries only reflect our prevailing ideologies. Curatorial and the artistic gestures of selecting, arranging, organizing, and displaying overlap and collide. Modes of classification favored by modern museology are usurped by artistic acts of selection and sorting which eschew order in favor of rupture.
Through the exhibition and its associated conference and publication, the Biennale will thus highlight and promote the role of curating as a practice that constructs knowledge as part of an expanded ecology, which is integrated with academic education and social practice.
---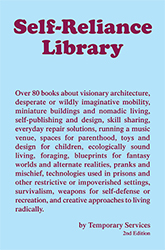 Self-Reliance Library – Beyond The Paint: Philadelphia's Mural Arts, Pennsylvania Academy of the Fine Arts, Philadelphia, PA, November 15, 2013 – April 6, 2014
We are presenting our Self-Reliance Library in this exhibition. Here is what we have written about the library:
Over 80 books about visionary architecture, desperate or wildly imaginative mobility, miniature buildings and nomadic living, self-publishing and design, skill sharing, everyday repair solutions, running a music venue, spaces for parenthood, toys and design for children, ecologically sound living, foraging, blueprints for fantasy worlds and alternate realities, pranks and mischief, technologies used in prisons and other restrictive or impoverished settings, survivalism, weapons for self-defense or recreation, and creative approaches to living radically.
The exhbition surveys the history of Mural Arts Program's past 30 years of activity. We have not worked directly with MAP, but the work we do is being displayed to give a broader context to what they do and the wide field of cultural work that engages various communities and audiences.
Our booklet for this exhibition is our 100th! If you come to the exhibition at PAFA, you can get a paper copy of the booklet we made for free. Copies of high resolution PDFs and paper versions of the booklet are available from Half Letter Press.
Click the image below to get a gallery of installation views:

We have organized two events to compliment the Self-Reliance Library's inclusion in this exhibition: A discussion with the Prometheus Radio Project Sunday, March 23rd, 2-4pm In the age of the internet and social networking, what lessons can be learned from community organizing through community radio? How does this medium stay relevant and become the cornerstone of a community? Join the Prometheus Radio Project for a discussion of their 15 years of work in the field of community radio, and what lies ahead for the next wave of stations that will go on the air in 2014. Based in Philadelphia, the Prometheus Radio Project builds participatory radio as a tool for social justice organizing and a voice for community expression. To that end, we demystify media policy and technology, advocate for a more just media system, and help grassroots organizations build communications infrastructure to strengthen their communities and movements.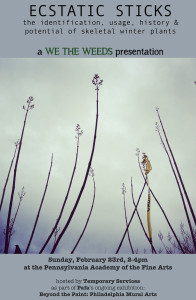 WE THE WEEDS presents ECSTATIC STICKS: how to identify and appreciate plants in their dormant stage Sunday, February 23rd, 2-4pm Beneath the icy cloak of winter, Philadelphia plant life quietly hatches a plan for spring. Look closely at any stick, switch or branch, and you will see buds, nodes, scars and other indicators of the lush and vibrant forms that lay ahead. Join WE THE WEEDS botanical arts duo Zya S. Levy and Kaitlin Pomerantz for a presentation and workshop on the exuberant, though latent, potential of the stick: a plant's final, woody appendage and storehouse for explosive new growth. This event will include an introduction to winter botany, hands-on stick anatomy and identification. Event will take place indoors. Free and open to the public. ABOUT WE THE WEEDS: WE THE WEEDS is a botanical arts and outreach project aimed at expanding knowledge of the wild plants of Philadelphia, headed by artist Kaitlin Pomerantz and botanist Zya Levy. The project encompasses a variety of artistic interventions highlighting the presence of the natural world within the manmade landscape. Past projects include ethnobotanical tours, art installations, culinary and sensory plant experiences, participatory science experiments, school and public outreach— all aimed at illuminating the uses, historical and cultural significances of spontaneous wild urban flora (weeds!). WE THE WEEDS has completed projects for Practice Gallery, the City of Philadelphia Mural Arts Program, the Asian Arts Initiative, and was selected as a finalist for the Philly Stake Grant. Visit wetheweeds.tumblr.com to learn more.

Pennsylvania Academy of the Fine Arts
---

Temporary Services and Half Letter Press – Chicago Zine Fest, March 14 -15, 2014
The Chicago Zine Fest is an independent event creating an outlet for small press and independent publishers to showcase their work. Our goal is to make DIY zine-making accessible, highlight the talents of self-published artists, and give independent artists a chance to interact, and swap skills through tabling, community events, and workshops.
---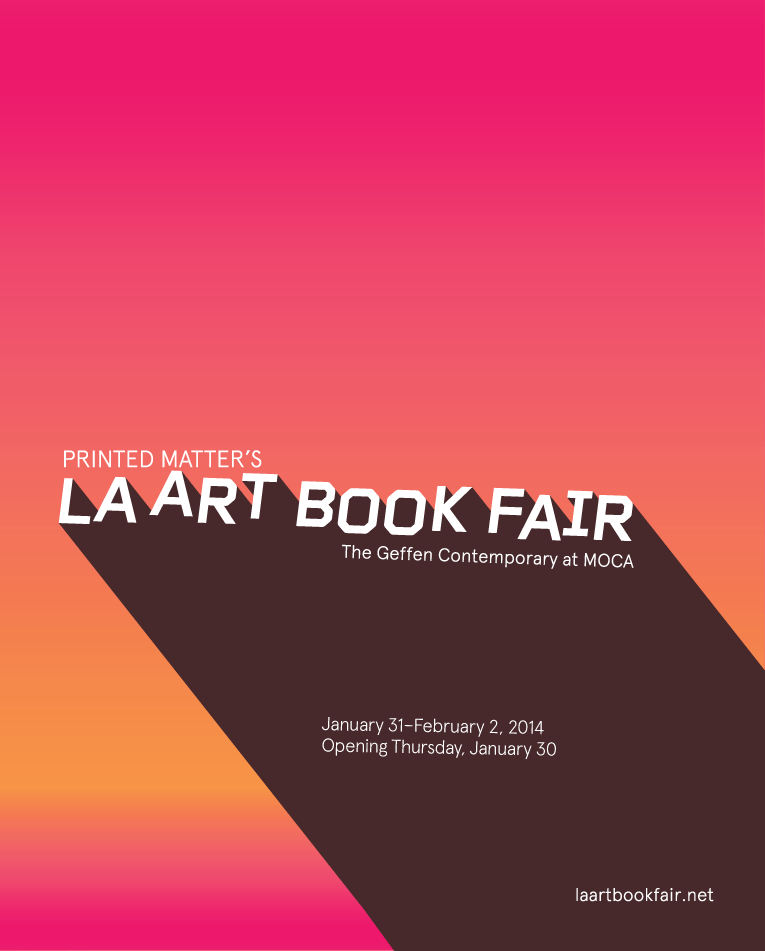 Temporary Services / Half Letter Press – LA Art Book Fair, The Geffen Contemporary at MOCA, Los Angeles, CA, January 31 – February 2, 2014
We are participating in this year's book fair. Stop by our booth and say hello.