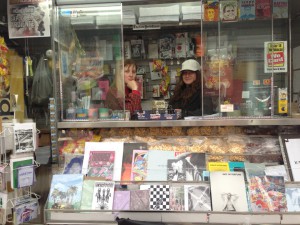 Our Publications – Petrella's Imports, NYC, Begun in April, 2013
At Bowery and Canal
Description:
In the last ten years the New York City newsstand has experienced a massive transformation, undertaken with relative ease. The move extends from a municipal belief that older newsstands cluttered the city streets and were incongruous with a tourist culture in need of reinvigoration. The contemporary solution is a more uniform glass and steel construction built by a single contractor, in a single style. It has now gradually replaced those operated by sole proprietors, whose unique stands often reflected a heightened level of individual taste and character.
One of New York City's oldest and most celebrated newsstands was known as "Petrella's Point". It was located at the intersection of Bowery and Canal. Owned and operated by Adam Petrella, for 30 years, its brash red exterior coating and hand painted directions to nearby subways and neighborhoods were well known to those familiar with the area. As a personality, Mr Petrella was a neighborhood fixture, conversing with patrons and often handing out his own drawings of Marilyn Monroe and Bruce Lee to passersby. In 2004, "Petrella's Point" was removed and replaced by a stand of the newer design.
On this original site, Petrella's Imports (2013) is conceived as a hybrid reconstitution at a time when the originary purpose of the newsstand as 'source of information' wanes. Petrella's Imports aims to both reimagine the offerings of these nodes of distribution, providing a different solution to their utile problem.
An initiative by artists Anne Libby, Elise McMahon and Sophie Stone, Petrella's Imports works with a large number of creative collaborators in order to assemble a surrogate inventory of items (magazines and newspapers as well as postcards, prepackaged food, umbrellas and cigarettes) found typically at commercial newsstands.
---

Supermax Subscriptions – Ongoing project since 2008
GREAT NEWS! Tamms has been closed!!!
Supermax Subscriptions seeks to connect the surplus of well-traveled citizens to a population that never goes anywhere: prisoners in American supermax prisons.
As most of you know, frequent flyer miles often expire before it is possible to save enough of them for a free airline ticket, seating upgrade, or other costly prize. Supermax Subscriptions asks people with these surplus miles to exchange small quantities of unused miles for magazine subscriptions to supermax prisoners. For as few as 300 miles, you can give the gift of a yearly magazine subscription to a prisoner with little or no reading material.
The first goal of Supermax Subscriptions is to provide every prisoner in Tamms C-MAX supermax prison with at least one magazine subscription. Men in Tamms are in their cells 23-24 hours a day in permanent solitary confinement. The men have been there for years on end, many for ten years. They have no communal activity, no phone calls, no programs, no education, no work, no librarian, and virtually no reading (mostly children's books). A magazine subscription is one way to give these men your support. Your gift will not be taken for granted.
This project is a collaborative effort by Tamms Poetry Committee, Laurie Jo Reynolds, Sarah Ross, Temporary Services, and you!
Airlines: Check these airlines to sign up for a mileage awards plan, check your travel mile balance and to find out how to redeem miles for magazine subscriptions: AMERICAN AIRLINES, DELTA, STAR ALLIANCE, UNITED, other airlines may apply. You are also welcome to purchase magazines if you don't have any frequent flier miles.
Overview of Prisoners' First Amendment Rights:

---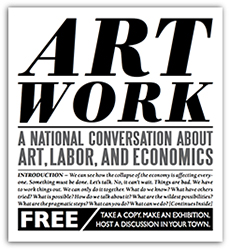 Art Work (newspaper) – My Gallery is the World Now ⁄ Books and Ideas after Seth Siegelaub, Center For Book Arts, New York, NY, October 4, 2013 – December 14, 2013
Our Art Work newspaper will be on display at this exhibitions.
Organized by Michalis Pichler, Independent Curator & Artist.
This exhibition features work by Seth Siegelaub, gallerist, curator, researcher, activist and editor of conceptual art publications in the 1960s and early 70s, and will investigate the recent work by contemporary artists that restages and creates related new bookworks. Sieglaub organized important exhibitions presented in the form of an artist's book. Even though Siegelaub is probably still one of the most underestimated art players of 20th century, in the last few years there have been a growing number of contemporary artists who refer to him and the publications he produced between 1968 and 1971. The exhibition will feature both original bookworks and catalogues published by Seth Siegelaub, some presented through the Seth Siegelaub Online Archive recently established by Primary Information. Also on view are explicitly related contemporary bookworks, which directly refer to past Siegelaub projects, including work by The Banner Repeater, Arnault Desjardin, Eric Doeringer, Maria Eichhorn, "greatest hits", la biblotheque fantastique, Emmanuel Herve/Florence Loewy (ed.), Steven Leiber (ed.), Doro Boehme/Daniel Mellis (ed.), Jonathan Monk, Rollo Press, Stefan Schuster/Barbara Buchmaier (ed.), Derek Sullivan and several other artists.
---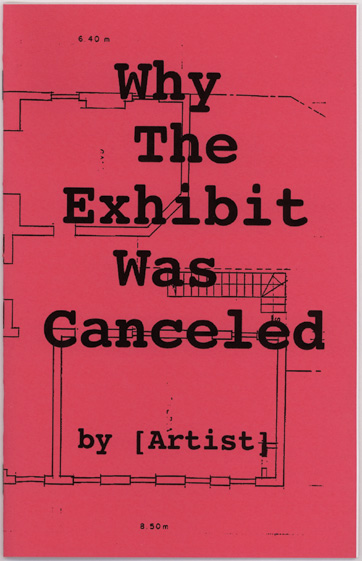 Why The Exhibit Was Canceled (booklet) – Canceled: Alternative Manifestations and Productive Failures, Freedman Gallery, Center for the Arts, Albright College, Reading, PA, October 10 – November 17, 2013
This exhibition presents canceled or otherwise prohibited exhibitions that now exist as publications or in other formats. These publications document the process and politics of cancelation, exist as an alternative manifestation of the exhibit, act as a critique of the forces that called for its cancelation, or may be an admission and exposition of an ultimately productive failure. The book form is highlighted as a crucial means of disseminating documentation and information on a wide and accessible scale, potentially in ways that are more historically stable, and more effective, than the original exhibition would have been. Through utilizing printed matter, the included artists and curators have found alternative routes through which the politics surrounding the presentation and creation of art become at least as relevant as the work itself. Curated by Lauren van Haaften-Schick with a full-color catalog that includes a curatorial essay with contributions by several artists.
---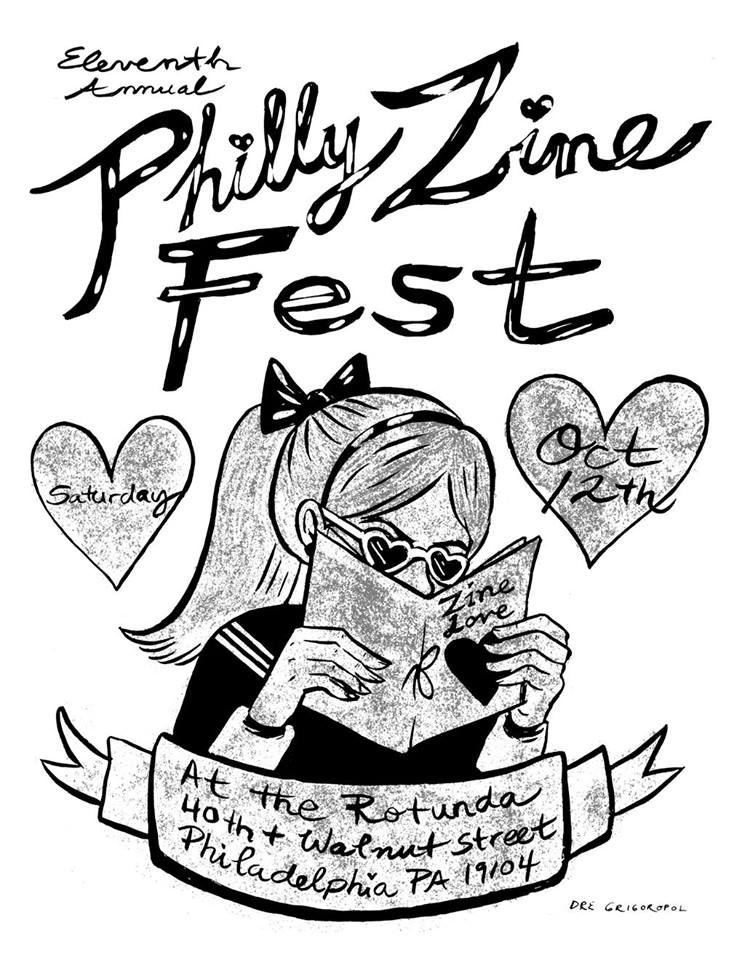 Our Publications – Philly Zine Fest, October 12, 2013
The Fest showcases local artists and zinesters, as well as zine distros, bringing DIY, radical, whimsical, and artistic small press publications to the public. Ranging from bike repair to poetry to crafts, the Zine Fest is a great place to go to learn new things, connect with local writers, and get involved with creating new forms of accessible media.
The Zine Fest is held at:
The Rotunda
4014 Walnut Street
Philadelphia, PA 19104
---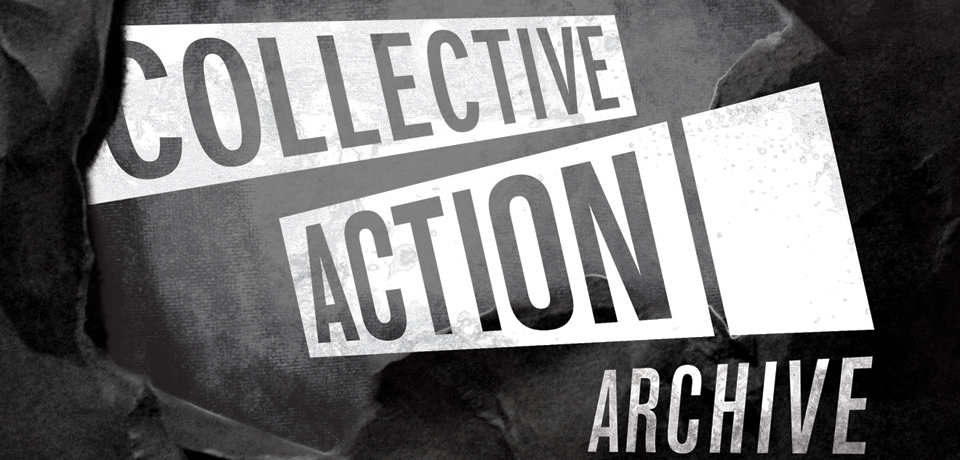 Our publications – Collective Action Archive, The Passage Gallery, SUNY, Purchase, NY, September 6-29, 2013
ABOUT THE PASSAGE GALLERY EXHIBITION:
The Collective Action archive began in 2012 with Franklin Street Works' call for materials, which was sent to more than 90 socially engaged artist collectives for the exhibition "Working Alternatives: Breaking Bread, Art Broadcasting and Collective Action" (October 27, 2012 – January 13, 2013). The Collective Action theme was inspired by Gregory Sholette's writing on the Political Art Documentation/Distribution (PAD/D) archive in his book Dark Matter: Art and Politics in the Age of Enterprise Culture). PAD/D materials—now housed at the MOMA PS1 archives in Queens, New York—include a variety of printed items and photographs from socially and politically active collectives working in the 1980s. For the "Working Alternatives" exhibition, the curators considered what a call for materials (similar to art historian Lucy Lippard's PAD/D call in 1979) would yield. What could these new materials, gathered together, tell us about the strategies and organizational structures of politically active artist collectives more than 30 years later?
For the Purchase College redux, every collective in the archive will be on display simultaneously, with the majority of the items in the Collective Action Archive being featured. In addition to the greater breadth, the exhibition includes new items sent to Franklin Street Works in the last four months. Interpretive labels and a comprehensive gallery handout will augment the materials, contextualizing the work of these socially active artists who tackle topics ranging from fair artist compensation, to environmental responsibility and reproductive rights.
Collectives included in this exhibition are: ABC No Rio, Artists Against Apartheid, Big Tent, Conflict Kitchen, Critical Making, Fierce Pussy, Floating Lab Collective, Futurefarmers, Guerrilla Girls, Guffey Hollow, Howling Mob Society, Illegal Art, Just Seeds, Kitchen Sink, Knifeandfork, Lucky Pierre, M12 Studio, Meme Rider Media Team, National Bitter Melon Council, Okay Mountain Collective, Paper Tiger TV, Philly Stake, Preemptive Media, Publication Studio, Regional Relationships, Second Front, Students of the African Diaspora, subRosa, Temporary Services, The Pinky Show, W.A.G.E., and Work Progress Collective.
---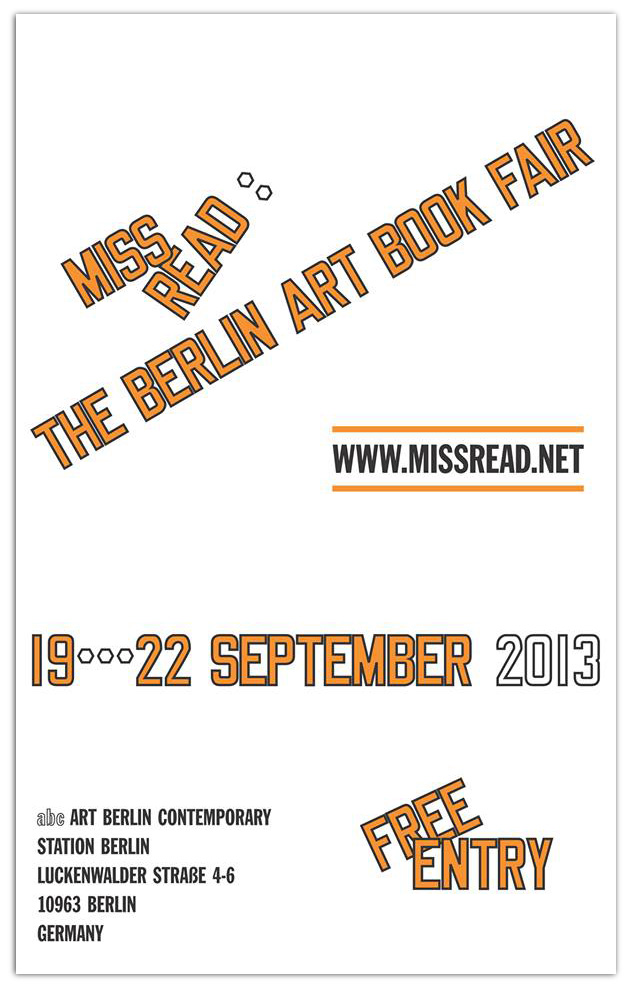 Temporary Services & Half Letter Press – Miss Read: The Berlin Art Book Fair, September 19-22, 2013
MISS READ: The Berlin Art Book Fair is conceived and organized by argobooks, Michalis Pichler and KW Institute for Contemporary Art.
Advisor: AA Bronson
Location:
abc art berlin contemporary
Luckenwalder Strasse 4-6
10963, Berlin
Germany
Free Entry
---
Temporary Services & Half Letter Press – New York Art Book Fair, September 19-22, 2013
Printed Matter presents the eighth annual NY Art Book Fair, from September 20 to 22, at MoMA PS1, Long Island City, Queens. A preview will be held on the evening of Thursday, September 19.
Free and open to the public, the NY Art Book Fair is the world's premier event for artists' books, catalogs, monographs, periodicals, and zines. Last year, the fair featured 283 booksellers, antiquarians, artists, and independent publishers from twenty-six countries, and was attended by more than 25,000 people.
Location: MoMA PS1,
22-25 Jackson Avenue at 46th Avenue,
Long Island City, NY
---
Temporary Services & Half Letter Press – Medium Cool: Art Book Fair, Chicago, August 11, 2013
Sunday, 12-8 PM
Prairie Production
1314 W. Randolph St.
Chicago, IL
From the organizers of the fair:
Medium Cool is an art book fair in Chicago that aims to engender new conversations and relationships, both within the city and abroad. A book fair is a means of dispersion and a social event. At an art opening, you can gaze briefly at a work that often costs more than your net worth; at book fair you can buy a book—often from the person who made it—take it home, and read it. You can also place it on your coffee table or lend it to a friend. Books are an interactive technology and book fairs are a social network. At the present moment there are very few places in Chicago to buy art books and printed matter, though a tremendous and enthusiastic audience exists. While the city is in need of a permanent space for this, Medium Cool has merit in being a one day only event, bringing together a multitude of artists, designers, writers, publishers, collectors, enthusiasts, and dilettantes, local and visiting.
---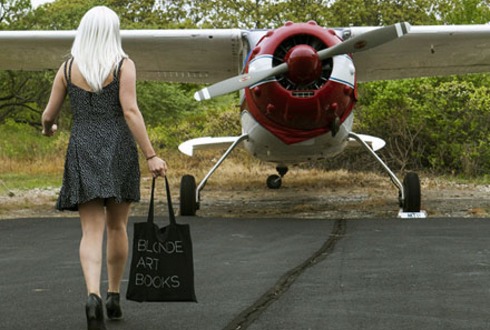 Our publications – Blonde Art Books, The Hyde Park Art Center, Chicago, July 18, 2013, 5:30-8:00 PM
New York-based BLONDE ART BOOKS will present a table of art books and zines as part of its summer tour. Throughout the event, local publishers and artists will be presenting new publication projects alongside a wide range of materials, including art books and zines that have been featured on blondeartbooks.com and/or collected from cities along the tour. Guests are invited to bring 1–2 copies to display and participate in an informal show and tell.
---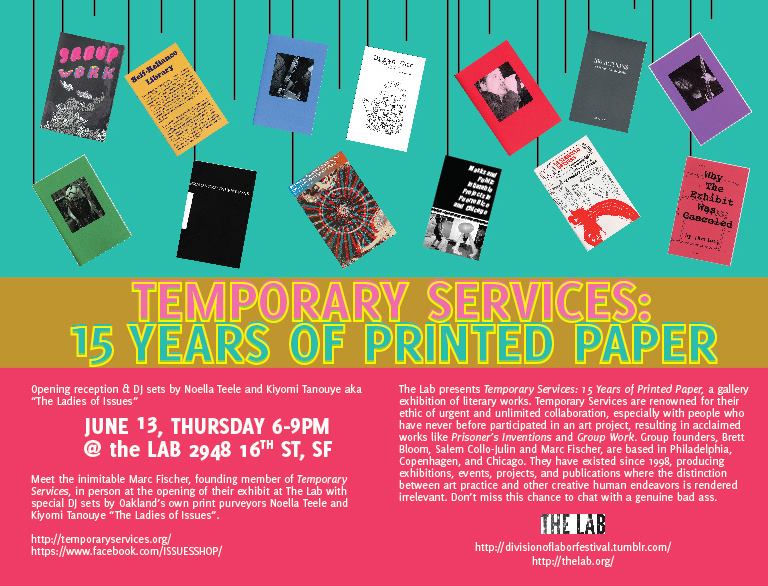 15 Years of Printed Paper – Division of Labor Festival, The Lab, San Francisco, June 13-28, 2013
We are presenting an extensive number of our publications in one of our booklet clouds. A reception is being held for its presentation on June 13, 6-9 PM.
The Lab is an interdisciplinary arts organization supporting the development and presentation of new visual, performing, media, sonic and literary art. Of particular interest is work which crosses boundaries, encourages evolving artistic and social dialogue between artists and audiences, and develops the culture and community of the San Francisco Bay Area. Founded in 1984 by a group of interdisciplinary artists. The Lab presents approximately forty live events and ten to fifteen solo and group exhibitions per year.
Division of Labor presents a diverse community of performers in the genres of improvised music, experimental instrumentation and composition, electronic music performance, interdisciplinary performance, literary and media art. The Festival will include seven evenings of performances between June 15th and June 28th, 2013. Each evening will feature three or four artists or artist groups.
A primary goal of the festival is to provide an affordable and accessible venue and develop new audiences for this challenging new work by presenting more established artists alongside emerging talent. Division of Labor will showcase the breadth of the Lab's acclaimed experimental performance programming and feature local, national and international artists.
---
Temporary Services & Half Letter Press publictions – The Zine Pavilion, American Library Association conference, Chicago, June 28 – July 1, 2013
We will have publications on display at The Zine Pavilion in addition to tabling and having many of our publications for sale.
The Zine Pavilion is a space on the exhibit floor at ALA Annual to display zines, meet zine librarians, and talk about how zines can fit in your library.
---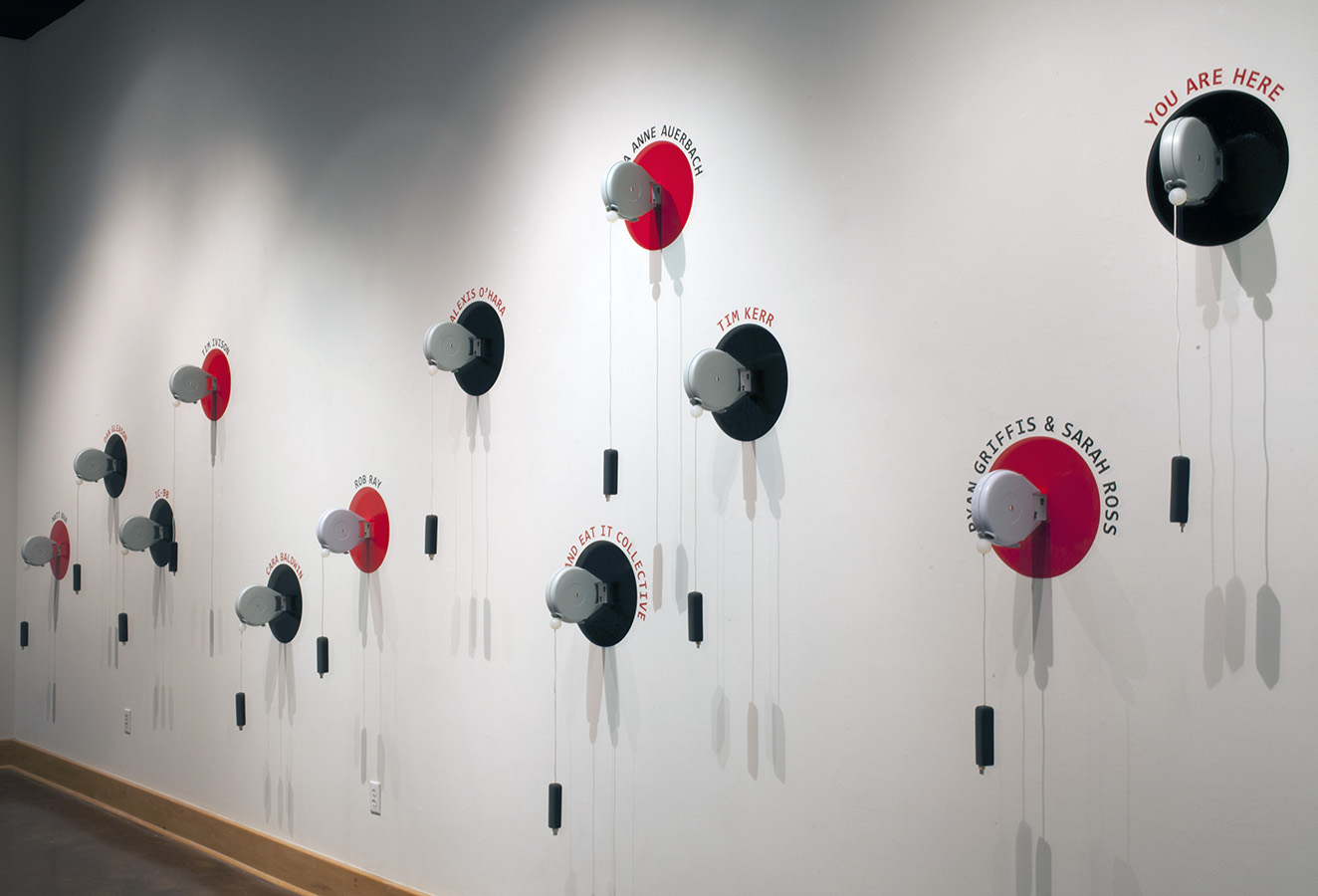 Solo exhibition — Temporary Services: Socialized Media – Designated Drivers, Interactive Records and a Booklet Cloud, Texas State University, San Marcos, TX, March 19 – April 12, 2013
For their exhibition at The University Galleries, Temporary Services presents three works: Designated Drivers, Interactive Records, and a Booklet Cloud.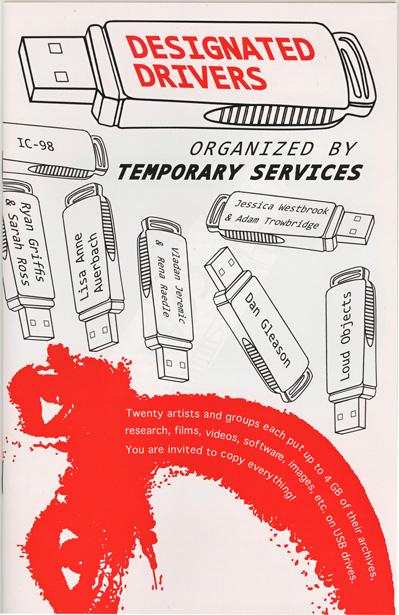 For Designated Drivers, Temporary Services invited an international selection of twenty people and groups to each fill one four-gigabyte USB flash drive with material of their choosing. The invited participants for Designated Drivers have included mountains of material, much of which cannot be found duplicated online. During the exhibition, visitors will be able to load their own drives or laptops (or use a host computer and CDrs or DVDrs) with any of the material they would like from each of the flash drives mounted on the wall. File types include: MP3, JPEG, PNG, AIFF, TIFF, PSD, WORD DOCs, PPT, MPEG, PDF, AVI, and more.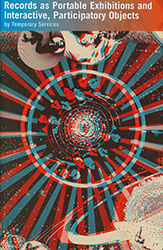 Interactive Records is a collection of vinyl LPs that are designed in ways that champion participation, action, and a level of involvement beyond listening. Some of the records are packaged like portable exhibitions. This exhibition will mark the first showing of this collection that Temporary Services has been assembling for several years.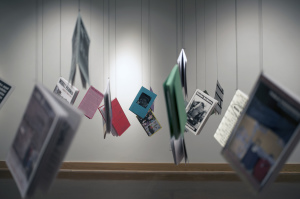 Self-publishing is a central component of Temporary Services' work and Booklet Cloud is a survey of some of the over 90 publications that the group has made in the past 14 years. As is the practice of the group, a new free booklet will be produced for this exhibition.
Public & Mobile Phenomena — Architectural Association School of Architecture, London, February 22 – March 23, 2013
We are presenting two collections of photographs: Public Phenomena and Mobile Phenomena. This is the first solo presentation of our work in London. It was organized by Tim Ivision.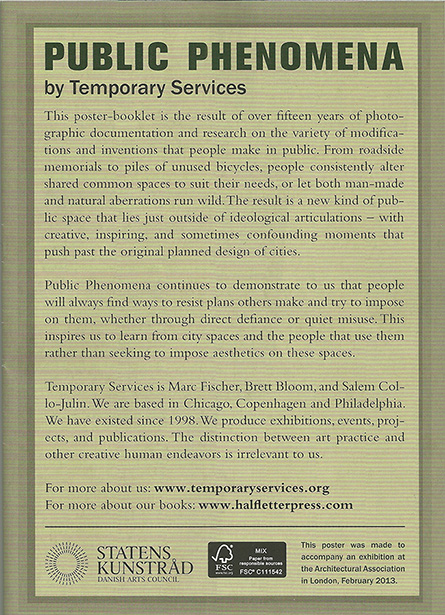 We published a new double-sided, large format poster-booklet that we will distribute for free at the exhibition.
We will be giving a talk about our work at AA, on Saturday, February 23rd, at 11:00. Come by for pastries and coffee.
Several of our publications are available in the AA book store.
Architectural Association School of Architecture
---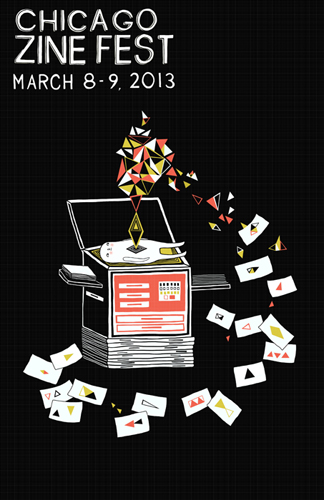 Our publications — Chicago Zine Fest, March 8 – 9, 2013
Marc Fischer will be in attendance at the CZF this year.
The Chicago Zine Fest is an independent event creating an outlet for small press and independent publishers to showcase their work. Our goal is to make DIY zine-making accessible, highlight the talents of self-published artists, and give independent artists a chance to interact, and swap skills through tabling, community events, and workshops.
---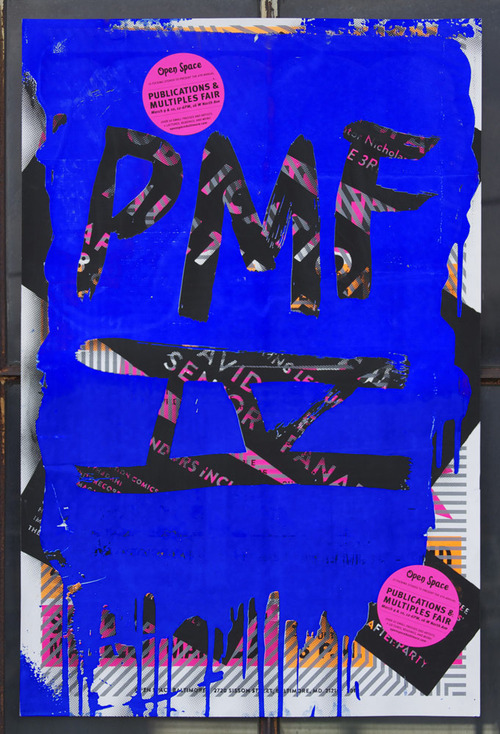 Our publications — Publications and Multiples Fair, Open Space, Baltimore, March 9 – 10, 2013
This annual event is a celebration and survey of artist publications, prints, objects in multiple and much more. We are sending a bunch of our publications to Baltimore for it.
---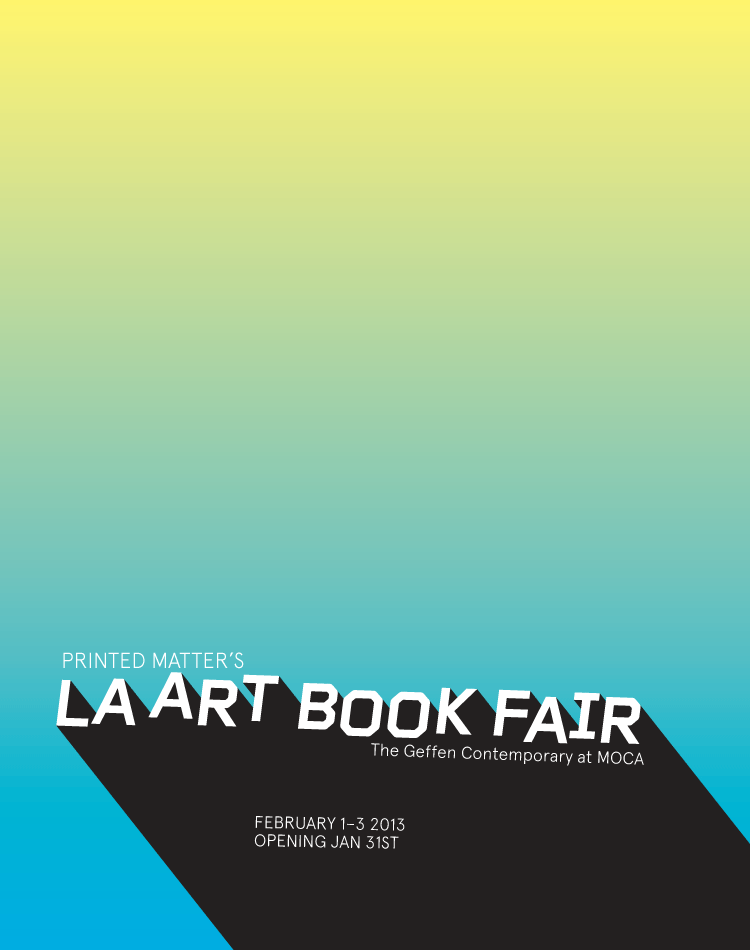 Our publications — Printed Matter's LA Art Book Fair, The Geffen Contemporary at MOCA, Los Angeles, February 1−3, 2013
Printed Matter presents the first annual LA Art Book Fair, from February 1-3, at The Geffen Contemporary at MOCA. An opening will be held on the evening of Thursday, January 31.
Free and open to the public, the LA Art Book Fair is a unique event for artists' books, art catalogs, monographs, periodicals, and zines presented by 220 international presses, booksellers, antiquarians, artists, and independent publishers from twenty-one countries.
The LA ART BOOK FAIR is the companion fair to the NY ART BOOK FAIR, held every fall in New York. Over 20,000 artists, book buyers, collectors, dealers, curators, independent publishers, and other enthusiasts attended the NY ART BOOK FAIR in 2012.
Hours and Location
The LA ART BOOK FAIR is free and open to the public.
Preview: Thursday, January 31, 6−9 pm
Friday, February 1, 11−5 pm
Saturday, February 2, 11 am−6 pm
Sunday, February 3, 12 am−6 pm
---
Public Conversation — PSU MFA Art and Social Practice Conversation Series, Portland, OR, January 30, 2013
Salem will be presenting our work as a part of this series at Portland State University.
The PASPWACS is a brand new series of presentations by people and organizations related to Art and Social Practice including artists, non-profits, writers, and architects. The presentations are free and open to the public and take place on Wednesdays at 1 pm at Field Work, an off-site social practice classroom and civic space at 1101 SW Jefferson Street, Portland, Oregon. The conversations are streamed live and archived as podcasts. The presentations function as extended Q and A sessions with an expectation that participants and listeners will educate themselves in advance about the work of the presenters. The series is coordinated by PSU associate professor Harrell Fletcher and run by the graduate students of the PSU Art and Social Practice MFA program.
---
Panel Discussion — Publishing and Self−Publishing in Contemporary Art Scope and potential of publishing, Kunsthaus Graz, Graz, Austria, January 15th, 2013, 7 PM
Panel discussion in the context of the exhibition Cittadellarte. Sharing Transformation with:
Matteo Lucchetti and Judith Wielander (Visible)
Reinhard Braun (Camera Austria)
Marc Fischer (Temporary Services)
Brian Kuan Wood (e-flux journal)
Moderated by: Katrin Bucher Trantow
In English
What does it mean to facilitate art by publishing? What forms of artistic participation can be initiated in journals or books?
And what does the digital revolution mean for the book, for art criticism and for the practice of self-design?
Using various examples such as the magazine and artists' edition of Camera Austria, or the extremely successful print-on-demand art magazine e-flux, the possibilities of publishing on and with art are discussed. Innovative artistic practices are presented here and debated, which are based on publishing issues and stand out from the conventional categories of the art system.
Visible (where art leaves its own field and becomes visible as something else) is a research project that connects and gives support to socially engaged artistic practices from different cultural backgrounds. In collaboration with the curators, the collective publishes a part of the exhibition catalogue Cittadellarte. Sharing Transformation, taking as a starting point this podium discussion on the theme of Publishing and Self-Publishing in Contemporary Art.
---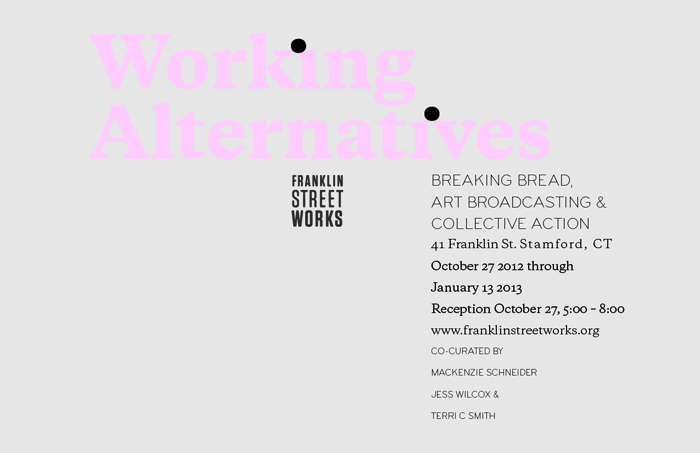 TS and HLP Publications — Working Alternatives: Breaking Bread, Art Broadcasting and Collective Action, Franklin Street Works, Stamford, CT, October 27, 2012 – January 13, 2013
The archive of artist collectives is inspired, in part, by Political Art Documentation/Distribution (PAD/D) and materials from that archive will be included in the archive room's installation.