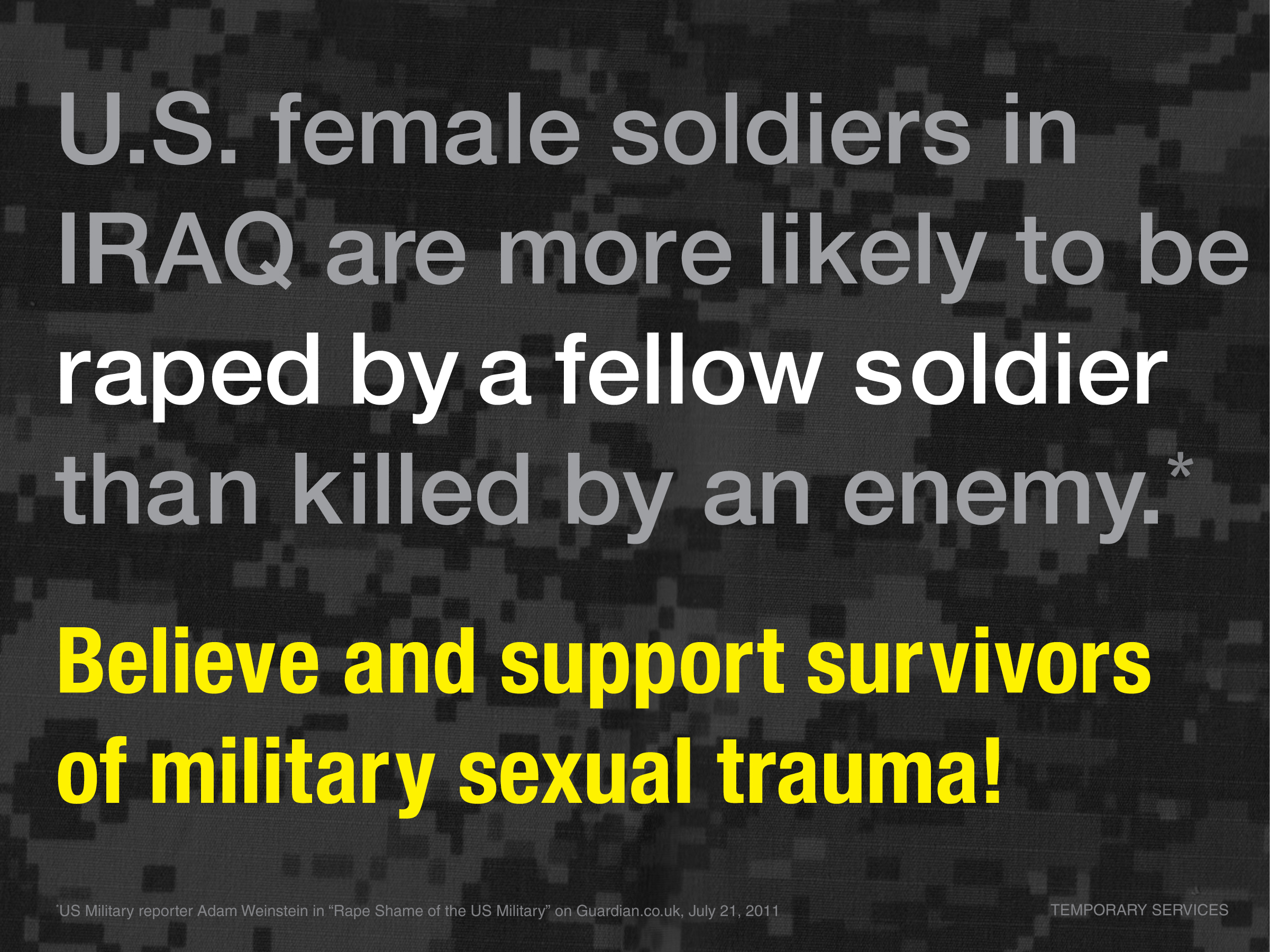 Poster In Support of Sexually Assaulted Soldiers – Included in "War Is Trauma" Portfolio, Multiple Exhibitions throughout 2011 & 2012
We made the poster above to be included in this portfolio co-organized by Booklyn, Justseeds, and Iraq Veterans Against War (IVAW)
Ongoing exhibitions & presentations: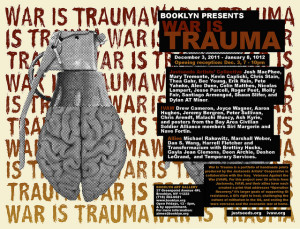 • War is Trauma, rum46, Aarhus, Denmark, November 2, 2012
• Right to Heal Tour: Atlanta, AFSC Georgia Peace Center, Atlanta, GA, April 25th, 2012
• War is Trauma & Operation Recovery Organizing at Fort Hood, Austin, TX, April 20, 2012
• Combat Paper Project, DryHootch, Milwaukee, WI, April 4, 2012
• War is Trauma, Bushwick Print Lab, Queens, NY, March 13, 2012
• Speakeasy, Charlotte Street Foundation, Kansas City, KS, April 6 – May 13, 2012
• War Is Trauma, Booklyn, Brooklyn, NY, December 3, 2011 – January 8, 2012
• War is Trauma, Northwestern University, Evanston, IL, November 29, 2011
About:
War Is Trauma is a portfolio of handmade prints produced by the Justseeds Artists' Cooperative in collaboration with the Iraq Veterans Against the War (IVAW). This portfolio transpired out of a street poster project, from November 2010, which a number of Justseeds artists provided graphics for "Operation Recovery" – the IVAW campaign meant to stop the redeployment of traumatized soldiers. Posters were pasted in public, replacing many corporate advertisements, to focus public attention towards the issues not being discussed – GI Resistance, Post Traumatic Stress Disorder (PTSD), sexual assault of women in the military, and Traumatic Brain Injury (TBI). The action led to another collaboration between Justseeds and IVAW – an "Operation Recovery" booklet published by Printed Matter in NYC and currently – the War is Trauma print portfolio. For this project over 30 artists from Justseeds, IVAW, and their allies have each created a print that addresses "Operation Recovery," its larger goals of supporting GI resistance, a GI's right to heal, challenging the culture of militarism in the US, and ending the wars overseas and the economic war at home. A total of 130 portfolios have been created, that equals 130 exhibitions as a starting point. Exhibitions that bring different people together – veterans, civilians, refugees from Iraq and Afghanistan, and others to dialogue on issues that matter.
The prints are housed within a handmade paper cover from the Combat Paper Project – paper whose source material derives from military uniforms that veterans have cut into small piece, mixed with water, and pulped into paper as part of the healing process. Drew Cameron of the CPP writes, "The batch that I made for the portfolio is mostly created from Army Combat Uniforms that we were worn with the Stryker battalions out of Fort Lewis, WA. These are the same guys who rolled out of Iraq early back in July 2010. I also added Egyptian cotton to strengthen it. I like to imagine that the mill workers who made the cloth I used were the same one's rising up last spring."
War is Trauma features prints by:
(Justseeds) Josh MacPhee (Brooklyn), Mary Tremonte (Pittsburgh), Kevin Caplicki (Brooklyn), Chris Stain (Queens), Thea Gahr (Portland, OR), Bec Young (Pittsburgh), Erik Ruin (Philadelphia), Pete Yahnke (Albuquerque), Alec Dunn (Portland, OR), Colin Matthes (Milwaukee), Nicolas Lampert (Milwaukee), Jesse Purcell (Montreal), Roger Peet (Portland, OR), Molly Fair (Brooklyn), Santiago Armengod (Mexico City), Shaun Slifer (Pittsburgh), Dylan AT Miner (E. Lansing)
(IVAW) Drew Cameron (Army Veteran, Vermont), Joyce Wagner (Marine Veteran, Pittsburgh), Aaron Hughes (IL Army National Guard Veteran, Chicago), Jeremy Bergren (Marine Veteran, North Carolina), Peter Sullivan (IL Army National Guard Veteran, Chicago), Chris Arendt (MI Army National Guard Veteran, Michigan), Malachi Muncy (TX Army National Guard Veteran, Texas), Ash Kyrie (WI Army National Guard Veteran, Wisconsin), and posters from the Bay Area Civilian Soldier Alliance members Siri Margerin and Nave Fortin.
(Allies) Michael Rakowitz (Chicago), Marshall Weber (Booklyn Artists Alliance, Brooklyn, NY), Dan S. Wang (Madison, WI), Harrell Fletcher and Transformazium with Brettiny Hucks, Gayla Jean Clemons, Deon Archie, Deshon LeGrand (Portland, OR / Braddock, PA), Temporary Services (Chicago, Philadelphia, Copenhagen)
War is Trauma is co-sponsored by the Justseeds Artists' Cooperative (a decentralized artist collective consisting of 26 printmakers in the US, Canada, and Mexico), Iraq Veterans Against the War (a veterans organization that has over 61 active chapters, including six on military bases, and a membership of over 1,700 veterans and active duty service members across the US, Canada, Europe, and Iraq), and Booklyn (an artists-run, non-profit, organization that specializes in providing educational institutions: artist/activist archives, limited edition and unique artists books, and works on paper. Booklyn also focuses on providing resources and alternative distribution networks for innovative, sustainable and socially conscious art projects.)
 Please download, print & post the portfolio! 
---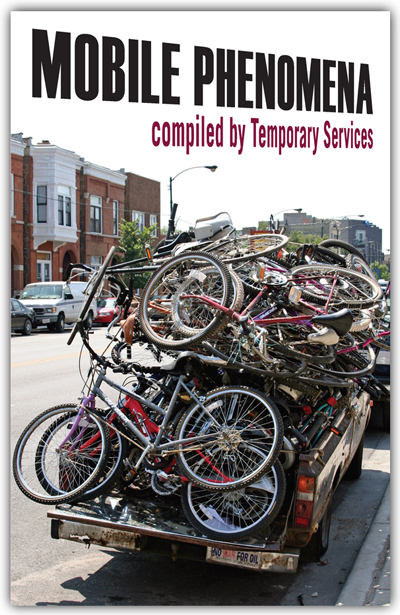 Mobile Phenomena – Half Letter Press, Chicago, IL, October 2012
What do artists book libraries built into airstream trailers, bar bikes, and giant windmill blades on wheels have to do with the bypassing traditional forms of social mobility? How can we use mobile projects to reimagine urban and rural spaces that are normally closed to creative gestures and public services?
Mobile Phenomena is a new collection of over eighty-five photographs and two interviews. It is the result of years of research on common instances of mobile phenomena that impact people and their uses of shared city and rural spaces. In this book you will find bookmobiles, mobile forms of commerce, inventive mobile art projects, mobile structures created for use during protest, and some strange applications of mobility that defy easy description,categorization, or whose function could not be readily discerned. Mobile Phenomena can unhinge the expected roles we take in shared city spaces. Mobile structures can become a new norm when they work. It is our hope that this book can be an inspiration to other citizens, artists, activists, nomads, and anyone who is interested in escaping the constraints of their location, culture, or other factors that make realizing one's desires difficult.
Mobile Phenomena includes contributions by: Courtney Dailey, Alexis Petroff, Joseph Robertson, Jen Hofer, Eric Steen, Christian Ettinger, Platform, Liberate Tate, The Center For Tactical Magic, and Nils Norman.
---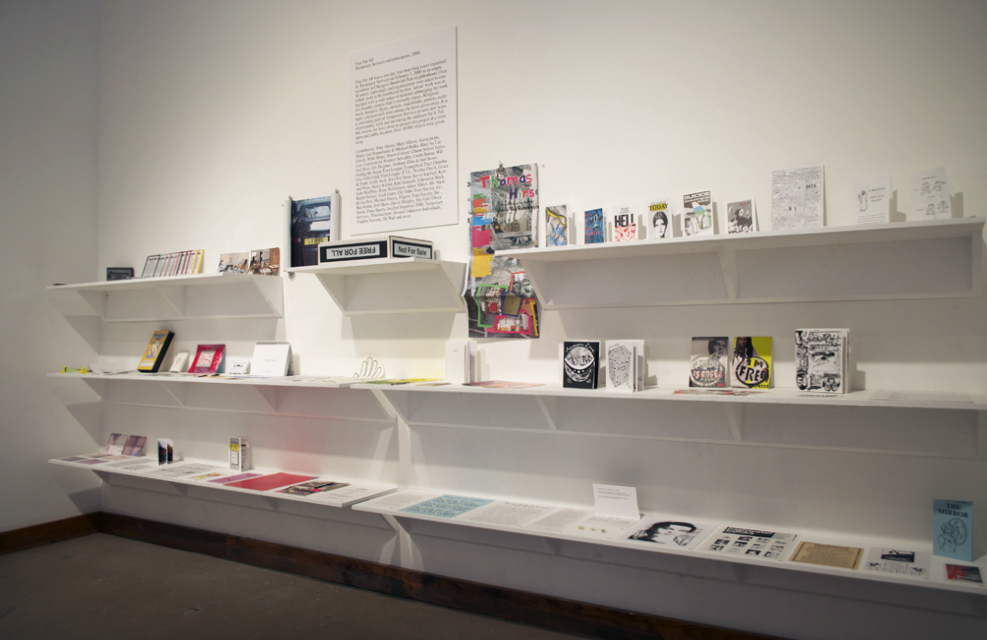 Free For All – twain, organized by The Art Foundation, Grey Matters Gallery, Dallas, TX, October 27- December 15, 2012
We are presenting Free For All in this exhibition.
The Art Foundation presents twain, an examination of the alter ego as an artistic method of expansion and safe haven.
Concerned with the increasing burden of reputation as a stultifying constraint upon artists, the exhibit allows its artists to take-up an artificial duality, promoting unfulfilled desires by negating a recognizable identity through the person of the alter-ego. This anonymity of the true individual leaves objects and embedded concept free from qualifying associated status.
Capitalizing on this highly democratic method of exhibiting, The Art Foundation has invited a range of internationally recognized artists, art groups, and writers to participate in the exhibition, many of whom will remain anonymous. Specific works will: engage reflections on both local and international issues, address the phenomena of the alter-ego's persona eclipsing the artist's original identity, allow for the permissive recreation of works previously authored, promote dubious legitimacy, and highlight the written word as contextual subterfuge.
---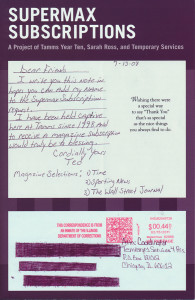 Supermax Subscriptions – Required Reading: Printed Material as Agent of Intervention, Center For Book Arts, New York, October 3 – December 15, 2012
Our collaborative effort with Tamms Year Ten and Sarah Ross, called Supermax Subscriptions (scroll to the bottom of the page for more information), is included in yet another great exhibition put together at The Center for Book Arts in NYC!
Here is the poster booklet we made for the exhibition:  Supermax Subscriptions
Required Reading: Printed Material as Agent of Intervention presents fifteen projects that range from published books and correspondence to performance and video documentation, and are meant to challenge a political or social issue. The works in this exhibition demonstrate the ability of printed materials to act as symbols of ideologies and beliefs. They are used by the participating artists as social agents intervening in public space to expose an audience to new opportunities and alternative concepts. In a culture where visual noise is inescapable, printed matter provides an opportunity to pause, grasp, ruminate, and pass along. We use it to educate ourselves and others, to create a gash in a stagnant situation, articulate a new context, and imagine our society as it can and should be. Exhibition includes work by: Amy Balkin; AREA Chicago (Samuel Barnett, Euan Hague, Jayne Hileman, Dave Pabelllon, Daniel Tucker, and Rebecca Zorach); Yevgeniy Fiks; Pablo Helguera; Marisa Jahn; Packard Jennings; Jen Kennedy and Liz Linden; Matt Kenyon with Doug Easterly; Steve Lambert; Lize Mogel with Mara Cherkasky, John Cloud, and Ryan Shepardt; Queerocracy and Carlos Motta; Occupied Newspapers (The Boston Occupier, The Occupied Times of London, The Occupied Oakland Tribune, Occupy Pittsburgh Now, and The Occupied Wall Street Journal); Sheryl Oring; Dread Scott; and Temporary Services with Tamms Year Ten and Sarah Ross.
Organized by Yaelle Amir, Independent Curator
---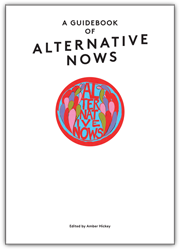 "Independence Proceeds from Interdependence" – A Guide Book of Alternative Nows, edited by Amber Hickey, Los Angeles: Journal of Aesthetics & Protest, 2012
We contributed a short text to this collection of contributions by some really great people.
34 visionary creative thinkers and makers contributed to this book which illuminates ways of devising more socially, economically, and ecologically just versions of now.
Contributors:
Alex Kemman (The Valreep Collective), Annie Sprinkle and Beth Stephens, Artist Bailout Collective, Billy Mark, Cheyenna Weber (SolidarityNYC), Antonio Scarponi (Conceptual Devices), Critical Art Ensemble, Ethan Miller, Fallen Fruit (David Burns, Matias Viegener, and Austin Young), Georg Hobmeier and Tommy Noonan, Howling Mob Society, Jeanne van Heeswijk, Jenny Cameron, Johannes Grenzfurthner (Monochrom), Marc Herbst and Christina Ulke (Journal of Aesthetics and Protest Editorial Collective), Justseeds Artists' Cooperative, Ken Ehrlich and Kate Johnston, Llano Del Rio Collective, New Social Art School, Platform, Rori Knudtson (School of Critical Engagement), Santiago Cirugeda (Recetas Urbanas), Sasha Costanza-Chock, SPURSE, swearonourfriendship, T.J. Demos, Temporary Services, The Laboratory of Insurrectionary Imagination, Precarious Workers Brigade, The Vacuum Cleaner, The Yes Men, TradeSchool.coop, UrbanFarmers, Watts House Project.
Journal of Aesthetics and Protest
---

TS and HLP Publications – The practical function of 12 networked publications with 4 books, 2 posters and 1 chart at the gallery, Christophe Daviet-Thery, Paris, September 14 – October 21, 2012
Exhibition curated by Emanuele De Donno.
This exhibition and publication is part of a series of FREEbook exhibitions and projects focusing on democratic and open practices of artist's publishing.
Agency, Danielle Aubert/Maia Asshaq, Ariella Azoulay, A Constructed World, Joseph Beuys, John Cage, Critical Art Ensemble, Jeremy Deller, Vegetali Ignoti, Ben Kinmont, Gert Van Kesteren, Sol LeWitt, Bruno Munari, Richard Prince, Raqs Media Collective, Temporary Services, Stephen Willats, Erwin Wurm.
"The practical function of 12 networked publications" will open on Saturday, September 14, as a part of a "FREEbook" event, which will focus on democratic and open practices of artists' publishing. The exhibition, which has been conceived as an active process that will
produce a catalogue, includes small publications, booklets, excerpts, files, and reproductions of the books displayed following the instructions of the artists; it is a program to create and incorporate a medium.
The arrangement is a basic layout composed of 4 bookshelves that visitors can browse, 3 tables in the middle, 1 text on a wall, a wooden displayer with four "totally connected" artist's books, two posters, one chart.
This platform is an 'open' structure, an in-progress medium, with sheets, plates, pictures and notes. It will also include an up-datable and changeable publishing system, as well as a working site for a "free book".
---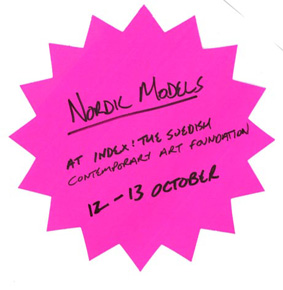 Our publications – Publish and be Damned: Nordic Models, Index: The Swedish Contemporary Art Foundation, Stockholm, Sweden, October 12-13, 2012
Publish and be Damned: Nordic Models is a two-day convention that brings together independent publishers and distributors from Denmark, Finland, Iceland, Norway and Sweden. The project is conceived by Index – The Swedish Contemporary Art Foundation in collaboration with London-based organization Publish and be Damned. The convention unfolds as a conference and a fair, which will be accompanied by workshops open to members of the public. Books, fanzines, magazines and critical journals from diverse Nordic cultural scenes will be presented alongside other international publications from the archives of Publish and be Damned. The convention examines whether "Nordic models" in artist–led and grass-roots self-publishing culture are emerging. On the one hand it seeks to identify shared methods for staging and debating the intersection of text-based visual art with literature, poetry, theory, philosophy and translation. On the other, it focuses on the socio-political, economic, cultural and technologic working conditions of the participants in order to explore how their specific perspectives respond to local and international contexts defined by free-market and/or informal economies of exchange.
FAIR: Saturday, 13 October, 3 – 9 p.m. Index's gallery space is made available to the invited publishers and distributors from Aarhus, Bergen, Copenhagen, Gothenburg, Helsinki, Malmö, Oslo, Reykjavík, Tromsø and Turku to sell and trade their printed matter. The fair is an opportunity for visitors to discover and purchase titles not easily accessible otherwise, and to meet in person a range of producers often invisible. It also offers a meeting point for publishers and editors to foster new partnerships and a social community.
Participants: Pork Salad Press (Copenhagen), Half Letter Press & Temporary Services (Copenhagen/Chicago), continent journal (Copenhagen), Sideprojects (Aarhus), Napa Books (Helsinki), OK Do magazine (Helsinki), Iconoclast Publications (Turku), Útúrdúr press (Reykjavík), Torpedo Press (Oslo), Ctrl+Z Publishing (Bergen), Kuk & Parfyme (Tromsø/Oslo), Kome til deg i Tidende (Oslo), OEI Editor (Stockholm), In Edit Mode Press (Malmö), SITE magazine (Stockholm), WITNAS (Gothenburg), B-B-B-Books (Stockholm), DRUCKSACHE (Stockholm), Geist magazine (Stockholm).
Indwx– The Swedish Contemporary Art Foundation
---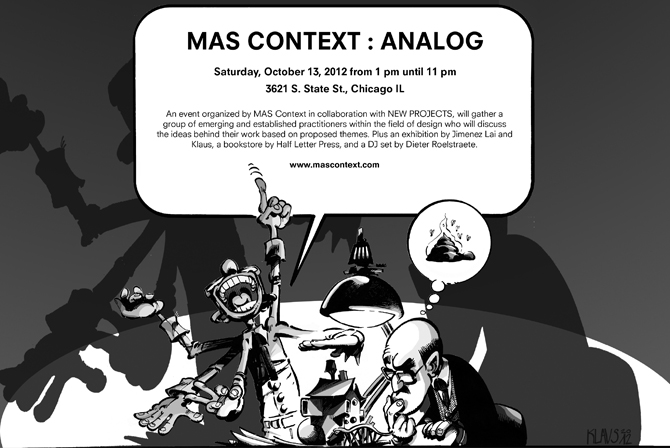 Half Letter Press and Temporary Services talk – MAS Context, New Projects, Chicago, IL, October 13, 2012
Please join us on Saturday, October 13th, 2012, to enjoy the second edition of MAS Context : Analog, our one-day event of presentations, exhibitions and an onsite bookstore in Chicago. The event is organized along with NEW PROJECTS.
MAS Context : Analog will gather a group of emerging and established practitioners within the field of design who will discuss their work based on proposed themes. The event will include presentations by artists, academics, architects, urban designers, graphic designers and industrial designers.
Speakers include Jimenez Lai, Sean Lally, David Brown, Christopher Baker, John Pobojewski, Sara C. Aye & George Aye, Andrew Clark, David Sieren, Ed Marszewski, Marc Fischer, Claire Werner and Sam Vinz, and Dieter Roelstraete.
The event also includes "Architectural Narratives," an exhibition of the work of Jimenez Lai and Klaus, and an onsite bookstore by Half Letter Press, a publishing imprint and an experimental online store initiated by Temporary Services.
The presentations will be followed by a closing party that will include a DJ set by Dieter Roelstraete.
For a complete schedule of events click the link below.
---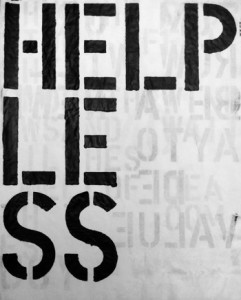 Re-Creations Booklet Series – HELP/LESS, Printed Matter, New York, July 14 – September 19, 2012
For our summer exhibition, Printed Matter is hosting an ambitious instore exhibition entitled HELP/LESS, organized by artist Chris Habib. The store-wide show includes over 180 books that explore the fluidity of authorship in artists' books and multiples. Join us for an opening this Bastille Day at Printed Matter, Saturday, July 14th, 5-7 PM.
Including original artworks, book objects, prints and a tremendous selection of artists' books, HELP/LESS looks to the various modes and methods of appropriation in contemporary art, including: plagiarism, re-authorship, identity subversion, copyism, substration, redaction, curation from the Commons, collective authorship, forgery, theoretical translation, narrative appropriation and reprography. The books gathered in the show represent many of the significant works that have, by choice or not, framed the conversation about fair use, derivation and the nature of contemporary practice. In the spirit of the books, ephemera and multiples it presents, HELP/LESS re-considers the exhibition space as an object to upset. It considers its viewers and featured artists accomplices.
An extensive browsing library reproduced for the occasion will make the majority of books available for handling, with many available for sale.
Over the course of the exhibition Printed Matter will host a series of artist-led workshops on-site, inviting the audience to become collaborators and conspirators in the generation, propagation and perpetuation of new work addressing pre-existing works. The participatory workshop marathon readings, mock trials, live-typing and book bootlegging will utilize common threads of re-photography, redaction, physical manipulation of mass-market trade titles, and collective authorship/group appropriation to create new works and interrogate existing projects. In addition, two ongoing performative 'transmissions' will run the course of the exhibition, a Window Fax Project and revisionist Video Page-Through broadcast via Google Plus where Habib will modify a stack of photos live, both of which will offer a continuous look at reproductions of scarce books.
Workshops will be led by Greg Allen, Hester Barnard, Judith Barry, Eric Doeringer, Chris Habib, Joe Hale, Kenny Goldsmith, Piracy Project (Eva Marie Weinmayr and Andrea Francke), Brian Singer, Temporary Services, Marshall Weber, and Ofer Wolberger. Attendance to these sessions is limited, and will require RSVP. Please email news@printedmatter.org for more information, or look for a full schedule of events next week.
---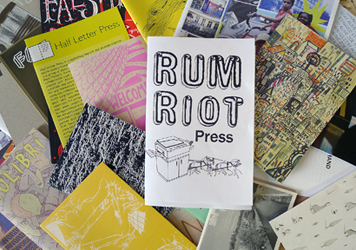 Assorted booklets – Rum Riot Press, SPACE Gallery, Portland, ME, July 20 – August 23, 2012
We have contributed several of our booklets to this exhibition and ongoing zine library.
Organized by Printeresting Rum Riot Press is a small press exposition of artist's publications including work from over sixty artists, designers, and publishers from around the world. Rum Riot Press explores how DIY and small press publishing can foster communication and offer an alternative to mainstream media sources. This show coincides with a major resurgence in self-publication, which is a mode of communication that offers agency to anyone willing to participate. Given the current small press explosion, now seems like a good time to marry the mistakes of the past with the possibility of the present. [Read more on SPACE Gallery's website]
---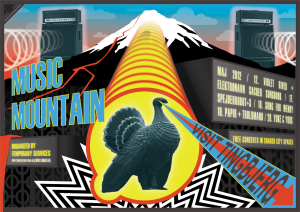 Music Mountain – Visit Tingbjerg, A contemporary art festival in Tingbjerg, Copenhagen, May 11 – June 23, 2012
We are launching a brand new project called Music Mountain. We have invited 7 bands for 5 concerts in the shared public spaces of Tingbjerg. Please click the link below to go to the pages we made for this project. It has the full details of what went on.
The festival was organized by Matthias Borello and Kenneth Balfelt.
It includes the following groups and individuals:
Camilla Berner, Charlotte Haslund-Christensen, Det 4. Kontor, Frans Jacobi & Claus Handberg, Gåafstand, HuskMitNavn, Jakob Jakobsen, Jes Brinch, Kathrin Böhm, Kerstin Bergendal and Vladimir Tomic, Kim Young Kilde, Maj Horn, Marianne Jørgensen, Morten Dysgaard, Parfyme, Søren Thilo Funder, Temporary Services, Thorbjørn Reuter Christiansen, Ultra Grøn, Wiebke Grösch & Frank Metzger, Wooloo
---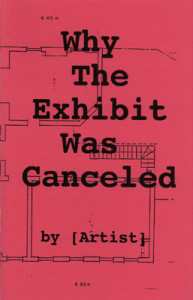 Booklet: Why The Exhibit Was Canceled – Canceled: Alternative Manifestations and Productive Failures, The Center for Book Arts, NY, April 18 – June 30, 2012
Our booklet Why The Exhibit Was Canceled is included in this exciting exhibition. Copies of the booklet will be available for free or you can download it by clicking on the title above.
Organized by Lauren van Haaften-Schick, Independent Curator
This exhibition will present canceled or otherwise prohibited exhibitions that now exist as publications or in other formats. These publications document the process and politics of cancellation, exist as an alternative manifestation of the exhibit, act as a critique of the forces that called for its cancellation, or they may be an admission and exposition of an ultimately productive failure. In the context of the Center for Book Arts, Canceled highlights the book form as a crucial means of disseminating documentation and information on a wide and accessible scale, potentially in ways that are more historically stable, and more effective than the original exhibition would have been. Through utilizing printed matter, these artists and curators have found alternative routes by which the politics surrounding the presentation and creation of art become at least as relevant as the work itself.
---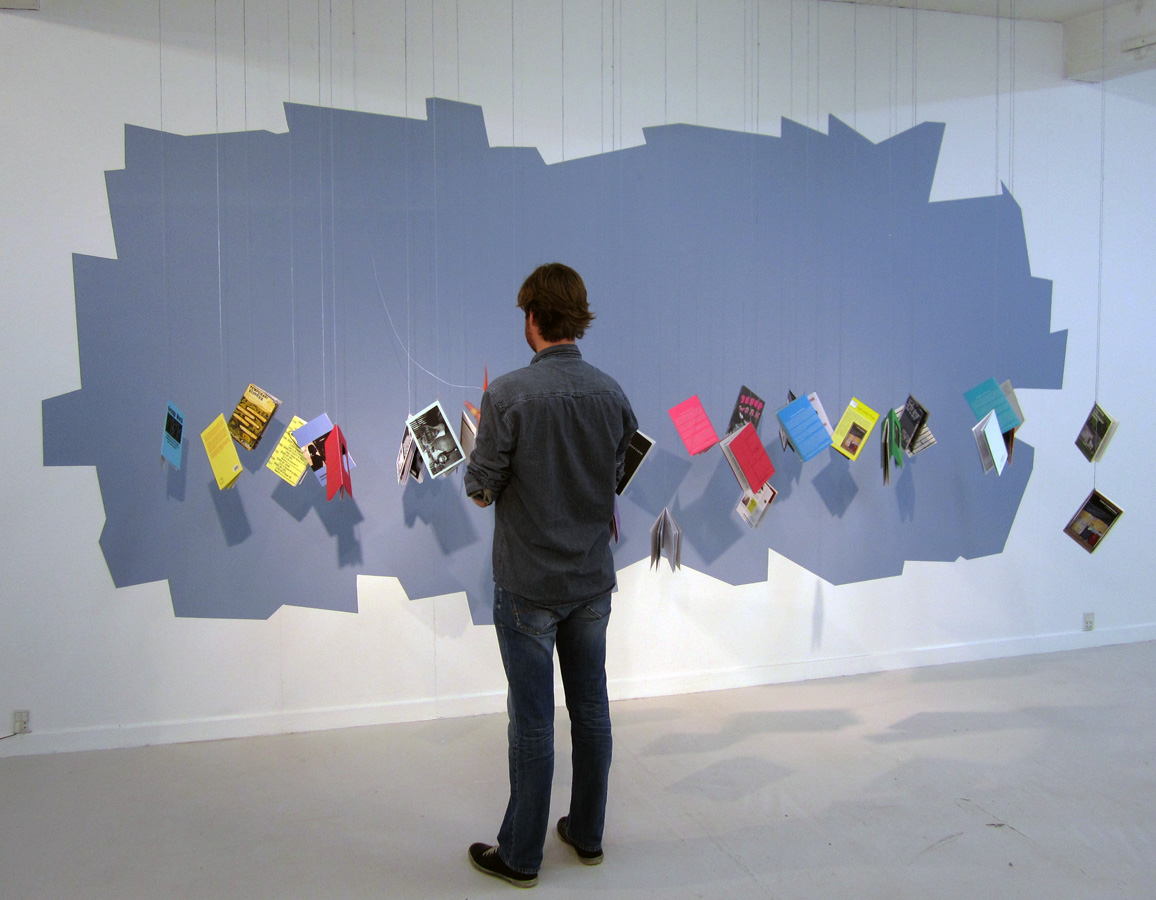 Temporary Services and Half Letter Press publications – Kunstpublikationer, Overgaden, May 11-27, 2012
May 11, 2012
An annual art book fair including performance, magazine launches and much more, and everyone is welcome.
---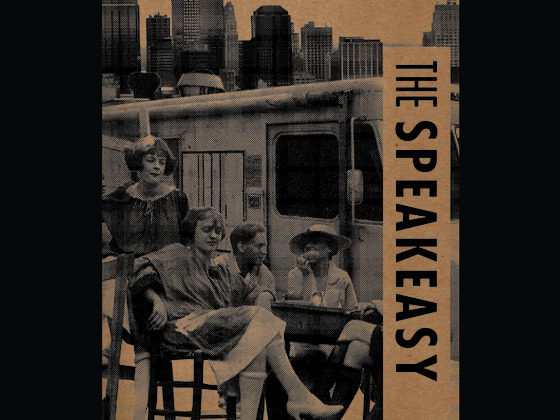 Various Contributions & Talk – The Speak-Easy, Charlotte Street Foundation, Kansas City, KS, April 6 – May 13, 2012
We will be presenting the "War Is Trauma" portfolio organized by Booklyn, Justseeds and IVAW. Marc will be talking about our work on April 13.
Organized by Kansas City-based artists Sean Starowitz and Andrew Erdrich, The Speakeasy aims to create a center within our emerging cultural corridor for the kind of increasingly prevalent creative work that New York-based artist and writer Gregory Sholette describes as dedicated to the "imaginative exploration of ideas, the pleasure of communication, the exchange of education, and the construction of fantasy, all within a radically defined social-artist practice."
Opening Reception: Friday, April 6, 6-9pm
Location: La Esquina/ 1000 W 25th St. KCMO 64108
Exhibition Runs: April 6- May 13, 2012
Special Events: (see the Speakeasy's complete calendar at thespeak-easy.org)
"BBQ Migration" featuring Eric May's E-Dogz truck – April 6, 6-9pm
Presentation + Discussion with Marc Fischer of Temporary Services – April 13, 6-9pm
Curated Reading organized by Jordan Stempleman – April 27
BREAD! micro-granting dinners each Sunday evening (excepting Easter)
Panel Discussions on topics including Creative Labor – April 7, 21st Century Philanthropy – April 18 + Non-Profit vs. Non-Non-Profit models for arts + cultural centers – April 29
Live Music by Gamelan Kenta Kasturi – April 14, Grisly Hand with Howard Iceberg + the Titanics – April 21, and Umberto + This Is My Condition – May 5
Featuring a bar (serving sandwiches, coffee, and drinks) that doubles as a podium for lectures, a communal table for meals and conversations, a reading and research room, display areas, and space for creating, The Speakeasy will function as an "evolving, experimental temporary cultural center. " Within this conducive environment will unfold events, panel discussions, conversations, lectures, collaborations, object production, and more, presented by and including a diverse roster of participants from Kansas City and elsewhere.
Among the featured visiting participants are Eric May (Chicago, IL), Temporary Services (Chicago, IL), and Wes Janz (Muncie, Indiana). Kansas City participants include CartWheel, Julia Cole, Tori Abernathy, Alex Pope/Vagabond, La Cucaracha, Phresh Prints Co-op, and Field Trip Publishing.
---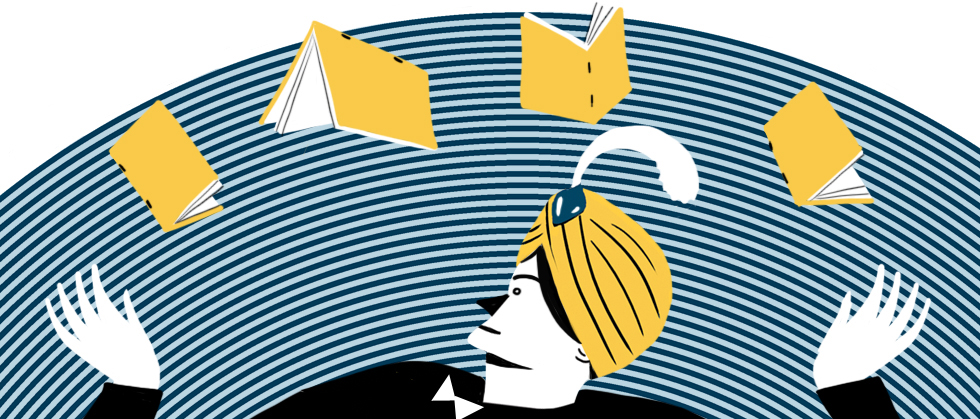 Temporary Services and Half Letter Press tabling and talking – Chicago Zine Fest, Conaway Center, Columbia College, Chicago, IL, March 10, 2012
We will be tabling on Saturday. Marc will be on a panel that same day, March 10, on the 8th floor of 1104 S. Wabash Ave.
4:00 – 5:00 Distributing and Marketing Your Zine
A panel discussion featuring Ayun Halliday (Zinester's Guide to NYC), Marc Fischer (of Temporary Services) and Amy Leigh (of twelveohtwo distro) centered around how zinesters market and distro their zines. Ways of getting zines out, seen and read. To be moderated by Loop Distro's Billy Da Bunny.
---
Text – Call and Response, Triple Canopy, online, February 1, 2012
Call and Response: Sounds, sights, and stanzas from then and now. An #OWS survey.
We contributed a short text for this excellent online publication.
---
Text – Meslekler Kitabu // Book of Professions, organized by Oda Projesi, online, March 9, 2012
We contributed a short text to this collection about art and personal economies. Here is an excerpt from the introduction:
Oda Projesi is currently realizing a project which explores the ways in which people inhabiting the art world sustain their livelihoods and the ways in which they relate these methods to their own art practice. How does the artist make her/his labor live in various media and how does s/he transform it? We have been collecting biographic information from the invited participants in the last two years. We took two basic questions as a starting point:
– What kind of work do you do in order to sustain your life?
– How do you relate the work you do to your artistic practice/production?