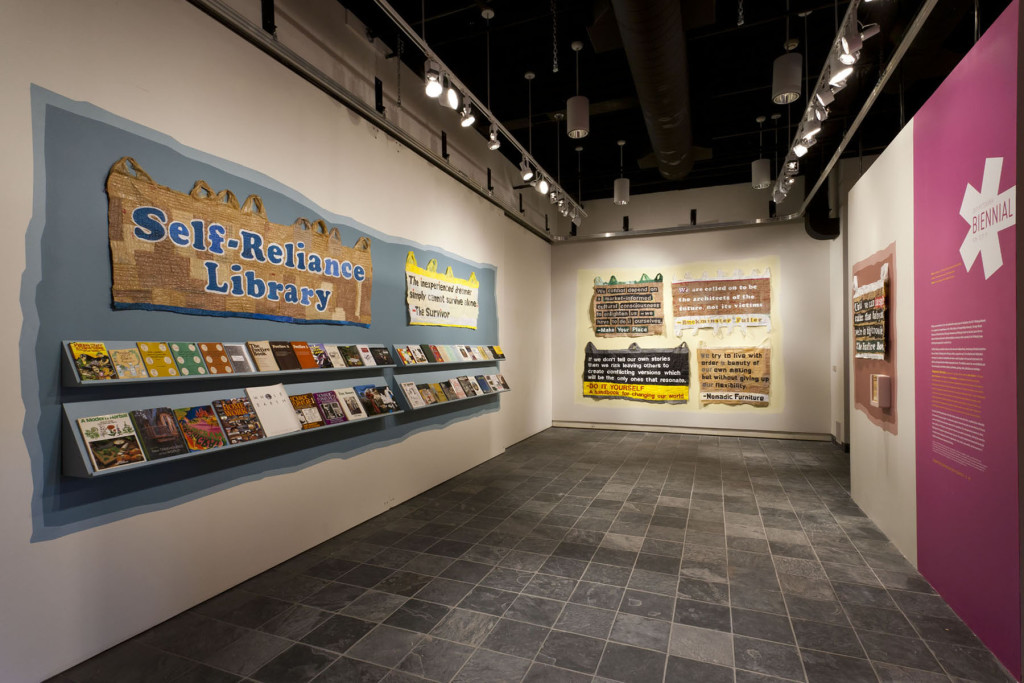 Self-Reliance Library – Pittsburgh Biennial, Miller Gallery, Carnegie Mellon University, Pittsburgh, September 16 – December 11, 2011
Setting a new precedent for city-wide collaboration among major art institutions, the 2011 Pittsburgh Biennial is co-organized by Carnegie Museum of Art, Miller Gallery at Carnegie Mellon University, The Andy Warhol Museum, and Biennial founders Pittsburgh Filmmakers and Pittsburgh Center for the Arts. Each of the five partner institutions will present a distinct exhibition of work by artists connected to the Pittsburgh region, reflecting each organization's curatorial focus.
The Miller Gallery at CMU's presentation, organized by gallery director Astria Suparak, features artists who work collaboratively, harmonizing individual perspectives, ideas, and talents. Embodying self-sufficiency within a cooperative spirit, the collectives and collaborators encourage us to reassess our assumptions and values, reveal the global in the local and the personal in the political, and imagine alternate realities and possible futures. The exhibition unveils four new installations and includes sculpture, printmaking, painting, video, publications and workshops.
Artists: Justseeds, Lize Mogel, Sarah Ross, and Ryan Griffis, subRosa, Temporary Services, Transformazium
Organizer: Astria Suparak, Director, Miller Gallery at Carnegie Mellon University
Image above courtesy of Miller Gallery at Carnegie Mellon University
 Miller Gallery at Carnegie Mellon University 
---

Keynote Address — HOMEWORK: Infrastructures & Collaboration in Social Practices, Windsor, Ontario, October 17-22, 2011
We are giving a keynote address at this gathering. Salem will be representing us.
Broken City Lab writes of the gathering:
HOMEWORK: Infrastructures & Collaboration in Social Practices is four-day residency, two-day conference, and collaboratively-written publication aimed at generating conversation around the following:
alternative infrastructures,
radical collaboration,
social practice,
art implicated in social change,
neighborhood-level activities,
city-wide imaginations,
site-specific curiosities,
tactical resistance,
new models for art education and research.
Facilitated by Broken City Lab, HOMEWORK calls on artists, scholars, writers, thinkers, and doers interested in any of the above to join us in Windsor, Ontario on October 21 and October 22, 2011.
---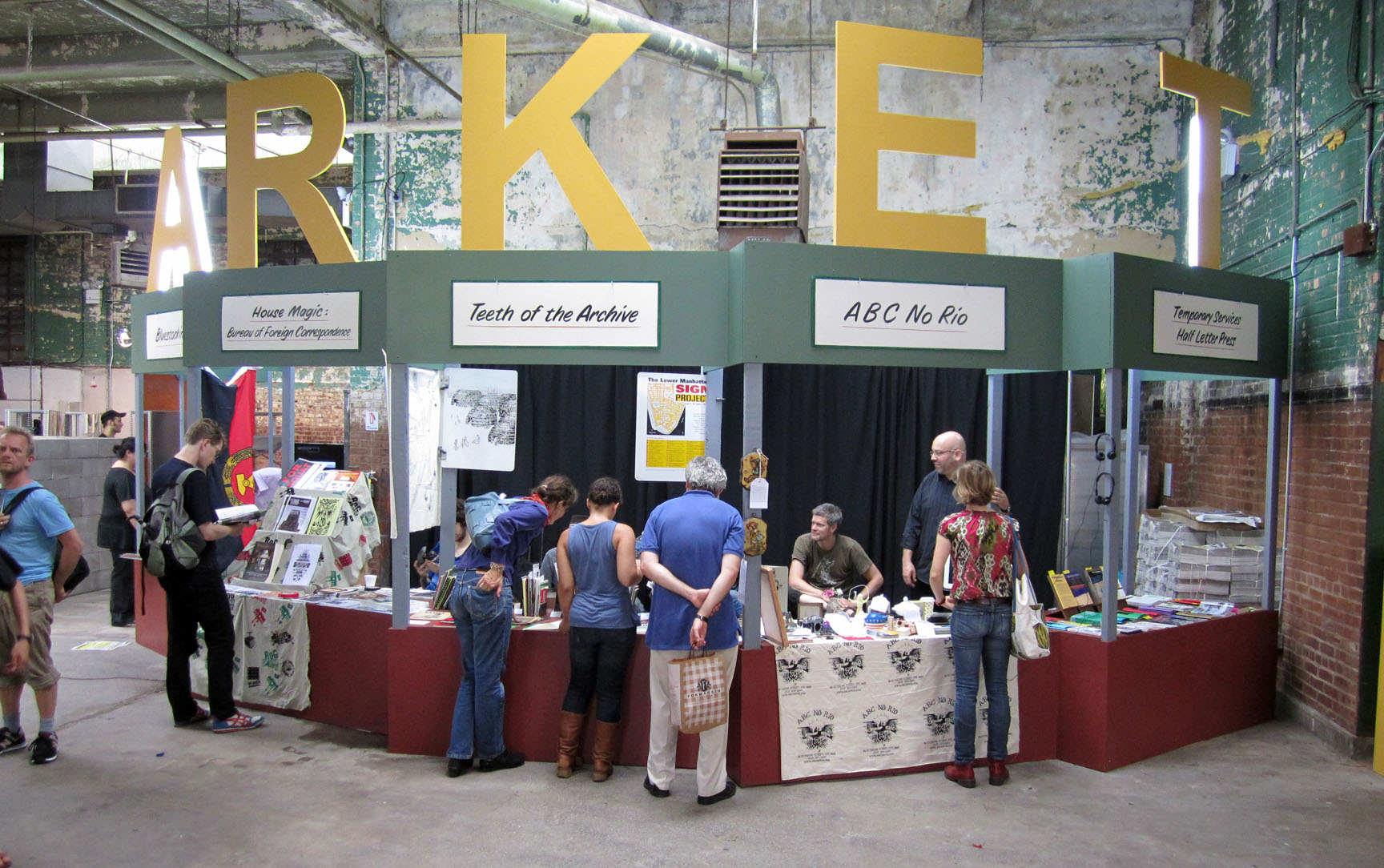 MARKET – Living As Form, Creative Time, Lower East Side, New York, September 24 – October 16, 2011
We are launching a new project called MARKET that will unfold over the course of the exhibition.
This fall, Creative Time will present Living as Form, an unprecedented international exhibition exploring over 20 years of cultural works that blur the forms of art and everyday life, and emphasize participation, dialogue, and community engagement. The exhibition—curated by Nato Thompson—will take place September 23–October 16, and will provide a broad look at a vast array of socially engaged practices that appear with increasing regularity in fields ranging from theater to activism, and urban planning to visual art. Living as Form will bring together 25 curators, document over 100 artists' projects in a large-scale survey exhibition at the historic Essex Street Market building, and create six new commissions in the surrounding neighborhood. In addition, a dynamic online archive of over 400 socially engaged projects is being developed, along with a book to further an understanding of the breadth and complexity of this field.
Curatorial advisers include:
Caron Atlas, Negar Azimi, Ron Bechet, Claire Bishop, Brett Bloom, Rashida Bumbray, Carolina Caycedo, Ana Paula Cohen, Common Room, Teddy Cruz, Sofía Hernández Chong Cuy, Gridthiya Gaweewong, Hou Hanru, Stephen Hobbs and Marcus Neustetter, Shannon Jackson, Maria Lind, Chus Martínez, Sina Najafi, Marion von Osten, Ted Purves, Raqs Media Collective, Gregory Sholette, Superflex, Christine Tohme, Bik Van der Pol, and Sue Bell Yank
Creative Time – Living As Form 
---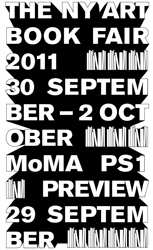 Printed Matter presents the sixth annual NY Art Book Fair, from September 30 to October 2, 2011, at MoMA PS1, Long Island City, Queens.
A preview will be held on the evening of Thursday, September 29th. Free and open to the public, and featuring more than 200 exhibitors from 20 countries, the NY Art Book Fair is the world's premier event for artists' books, contemporary art catalogs and monographs, art periodicals, and artist zines. Exhibitors include international presses, booksellers, antiquarian dealers, artists and independent publishers
from more than twenty countries.
16,500 people attended The NY Art Book Fair 2010, the last edition of this favorite meeting place for book collectors, dealers, artists, curators, independent publishers, and other art enthusiasts.
The NY Art Book Fair 2011 will include special projects, screenings, book signings, and performances, throughout the weekend. The Classroom—a curated series of artist-led workshops, readings, and discussions—and the fifth annual Contemporary Artists' Books Conference—a dynamic, two-day symposium on emerging practices and debates within art-book culture—will engage visitors in lively conversation all weekend long.
LOCATION: MoMA PS1
22-25 Jackson Avenue at 46th Avenue
Long Island City, NY
---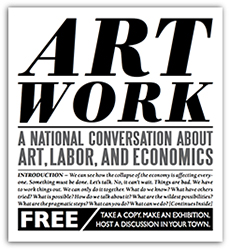 Art Work: A National Conversation About Art, Labor, and Economics – Discussions, exhibitions, potluck dinners, workshops, events, at multiple venues around the U.S. and in Puerto Rico
Art Work: A National Conversation About Art, Labor, and Politics produced by Temporary Services, an independent, Chicago-based collective comprised of Brett Bloom, Salem Collo-Julin and Marc Fischer is a newspaper and website that consists of writings from artists, activists and academics on the topic of working amidst depressed economies and how that impacts artistic process, compensation and artistic property. The newspaper is being distributed throughout the United States and Puerto Rico.
The independently published, 40-page paper features the writings of Julia Bryan-Wilson, author of Art Workers: Radical Practice in the Vietnam Era (2009) and Work Ethic (2003); Holland Cotter, New York Times Art Critic and 2009 Pulitzer Prize winner for criticism; Kristen Cox, Tim Kerr and Nance Klehm, editors for The Journal of Aesthetics and Protest; Harrell Fletcher, visual artist; Futurefarmers, a collective design studio that supports art projects, artists in residencies and research interests; Robin Hewlett, artist/activist; Justseeds: Visual Resistance Artists' Cooperative; Nicolas Lampert, interdisciplinary artist; Lize Mogel, interdisciplinary artist ; and Dan S. Wang, as well as others.
Past discussions and/or exhibitions:
16 Beaver  NY, December 20, 2009
ABC NO RIO  New York, NY, TBA
Bureau of Open Culture  Colombus, OH, November 18 – December 18, 2009
basekamp  Philadelphia, PA, TBA 2010
Central Trak  The University of Texas, Dallas, TX, included in a show called "The Non-Profit Margin", May 22 – July 24, 2010
Commons Gallery  University of Hawaii, Manoa, March 22 – April 2, 2010
CS13 Gallery  Cincinnatti, OH, March 2010
DAAC  Grand Rapids, MI, February 5, 2010
Dalton Gallery  Agnes Scott College, Decatur, GA
DOMY Books  organized by Kate Watson, Claire Ruud, and Circulatory System, Austin, TX, January 22, 2010
Gallery 400  Chicago, January 27 – March 6, 2010, Public Discussion on January 30th, 6-8 PM
Intermedia Porch Gallery  &  Public Space One  Iowa City, IA, January 19-29, 2010
McLean County Art Center  organized by Brian Collier and Alison Hatcher, Bloomington, IL, January 15 – February 20, 2010
Mediamatic  organized by Caroline Woolard, Amsterdam, The Netherlands, November 14 – December 13, 2009
Miller Gallery  Carnegie Melon Univeristy, Pittsburgh, PA, February 2010
Open Engagement  PSU, Portland, OR, May 14-17, 2010
Pinkcomma Gallery  included in Newsstand exhibition, Boston, MA, November 2010
Rainbow Bookstore Cooperative  Madison, WI, March 30, 2010
Sight School  Berkeley, CA, December 16, 2009
Skydive  Houston, TX, January 23 – February 27, 2010
SPACES  Cleveland, OH, November 20, 2009 – January 15, 2010.  SPACES funded and launched the Art & Work newspaper.
Trade School  Brooklyn, NY, February 25, 2010, 6-9 PM
Urbana Public Arts Commission  Urbana Free Library, Urbana, IL, 3:30-5:00 PM, May 1, 2010
Vanagallery  Riverside, CA, December 9, 2009
W&N  San Juan, Puerto Rico, TBA
Project site:  www.artandwork.us 
---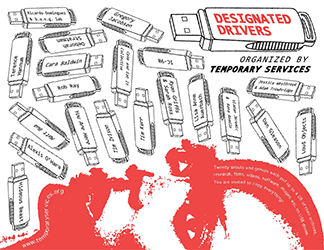 Social Mobility: Collaborative Projects with Temporary Services – The Block Museum of Art, Evanston, IL, April 7 – August 14, 2011
Opening reception on Thursday, April 7, 5-7 PM
We are presenting three collaborative projects:
FREE FOR ALL  was a one-day project from 2000. Click link for description and full list of contributors.
Self-Reliance Library  was realized in late 2010. Click the link for images and a PDF of the booklet.
A USB drive is a flash memory data storage device that is integrated with a Universal Serial Bus interface. With the invention of USB drives, digital information has become extremely portable and easy to transfer in large quantities from one computer to another. Students regularly bring their films and MP3 files to class on USB drives. Professors carry their lectures and presentations on USB drives and plug them into a school's host computer. Files move back and forth whether there is internet access or not. And as we have seen in the recent revolutions in Egypt, and the Middle East, internet access is not guaranteed. Websites can be blocked or an oppressive government can get the whole thing turned off and taken away. Corporations can pressure governments to throttle the internet in unequal biased manners that are good for their businesses, but not individuals and communities. Still, files want to move between people. Back up plans are needed and sharing must continue. We are all creating massive digital surpluses and broadband is too limited for us to have greater, freer kinds of exchanges.
For Designated Drivers, we invited an international selection of twenty people and groups to each fill one four-gigabyte USB flash drive with material of their choosing. These drives will then be presented in exhibition spaces, attached to wall-mounted retractable laundry lines. Visitors will be able to load their own drives or laptops (or use a host computer and CDrs or DVDrs) with any of the material they would like from each of the flash drives.
The drives include images, films, audio, programs, and many publications worth of writing and graphic design. File types include:
MP3, JPEG, PNG, AIFF, TIFF, PSD, WORD DOCs, PPT, MPEG, PDF, AVI, and more. The participants have included mountains of material – often at higher resolution than is commonly seen on a personal website, and in many cases material that is not duplicated online at all. Some participants have used this opportunity to present a few recent projects with great depth, while others have chosen to survey their entire creative output over more than a decade.
The contents of the flash drives in Designated Drivers are deliberately not available online from one centralized location. We want you to get out of your house. We want you to mingle, in person, with others and talk about which files look interesting to transfer and which might be more to someone else's liking. We want to make file sharing a bit more physical, social and special again – the way that tape traders in the 1980s would duplicate music onto cassette for another another and mail amazing obscurities to each other all over the world. We also recall those who linked their VCRs together to share obscure films and concert footage. Technology has come a long way, and today we can make these exchanges without a quality loss with each generation that gets removed from the original. We can fit more copies into ever smaller packages. But we question our own growing dependence on the internet as a means of detached information exchange and want to try another approach.
This booklet is a guide to the first round of offerings. Each Designated Driver has written an introduction to their device. We welcome you to copy whatever you like, and to further share it however you see fit. We encourage you to organize your own social file sharing situations to make this process more fun, more social, and a hell of a lot less controllable.
The following people are participating:
Lisa Anne Auerbach 
Cara Baldwin 
Matt Bua 
Cake and Eat It Collective 
Electronic Disturbance Theater/b.a.n.g. lab,Brett Stalbaum, Micha Cárdenas, Amy Sara Carroll, Elle Mehrmand, and Ricardo Dominguez:  www.thing.net/~rdom  &  bang.calit2.net 
Dan Gleason 
Ryan Griffis  &  Sarah Ross 
Terence Hannum 
Hideous Beast 
IC-98 
Tim Ivison 
Gregory Jacobsen 
Vladan Jeremic & Rena Raedle
Tim Kerr 
Loud Objects 
Alexis O'Hara 
Rob Ray 
Deborah Stratman 
Adam Trowbridge  &  Jessica Westbrook 
You Are Here 
Here is the accompanying booklet for the first installment of Designated Drivers.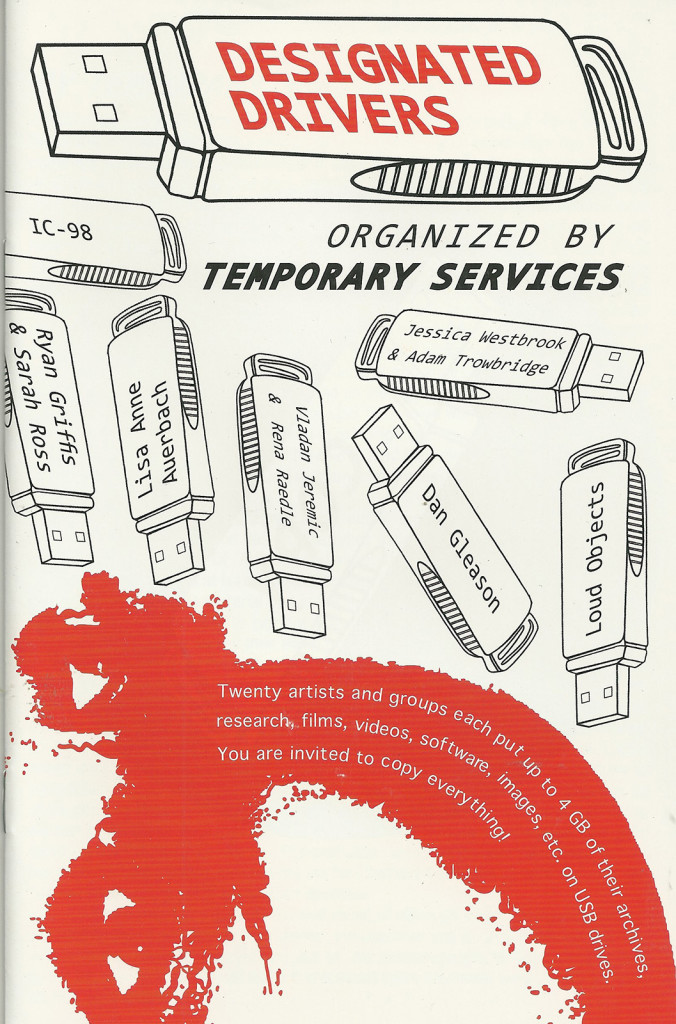 A special thank you to Michael Rakowitz for his support and input on this presentation of the collaborations we have made with so many great folks.
---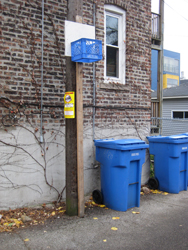 Public Phenomena – Urban Teratology 1 – DIY in Urban Tactics, École Spéciale d'Architecture, Paris, March 2011
We are presenting a selection of images from our Public Phenomena archive, specifically Parking Place Savers, Basketball Hoops, and Plant Protectors.
---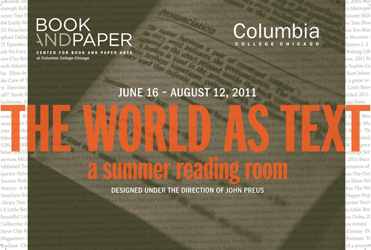 Curated selection of books – The World As Text, Columbia College Chicago, June 16 – August 12, 2011
THE WORLD AS TEXT is a summer reading room and exhibition featuring over seventy-five contemporary artist's books, zines, exhibition catalogs and alternative publications. The innovative reading room is designed by artist John Preus, in collaboration with students from the Columbia College Chicago departments of Art + Design and Interdisciplinary Art, as well as students from the School of the Art Institute of Chicago. A hybrid space crafted out of re-purposed materials to amplify connections between the action of reading and the activity of performance, the reading room features books that were selected by guest curators and contributors including Temporary Services, Maria Fusco, Sarah Bodman, Buzz Spector, Tate Shaw, Doro Boehme and Emily McVarish.
---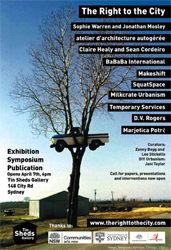 Public Phenomena – The Right to the City, Tin Sheds Gallery, Sydney, Australia, April 7-30, 2011
If you have built castles in the air,
your work need not be lost;
that is where they should be.
Now put the foundations under them
– Henry David Thoreau, Walden
The Right to The City is an exhibition and publishing project, cosponsored by Tin Sheds Gallery and Architectural Theory Review, bringing together a series of artistic, theoretical and philosophical escape plans. These escape plans range from the whimsical to the more serious, and present real or imagined ways of reinventing life in our cities. The project will explore the challenge of "putting foundations" under these "castles in the air" – seeking connections between art, architecture, philosophy and action.
In thinking through those connections, The Right to the City takes as its starting point David Harvey's famous article that redefined urban existence as a contested part of modern democracy: "The freedom to make and remake our cities and ourselves is, I want to argue, one of the most precious yet most neglected of our human rights". Given the perilous environmental predicament we find ourselves in, coupled with our intensifying urbanisation, many artists, activists, planners and architects are seeking ways to "remake" the city in more socially connected and sustainable ways. These activities are often concerned with negotiating the increasing fragmentation and complexity of the contemporary city; developing critical spatial practices that engage in micro-political actions. The Right to the City will bring together an ambitious collection of artistic and written works that explore these urban interventions – opening up a space in which possibilities for
reimagining life in the city can be discussed.
The exhibition will be at Tin Sheds Gallery, Sydney, and will bring together an important group of Australian and international artists whose work is engaged with critical spatial practice. It will combine a gallery show with offsite projects in the grounds of Sydney University and in the local area of Redfern.
Curators: Zanny Begg and Lee Stickells
---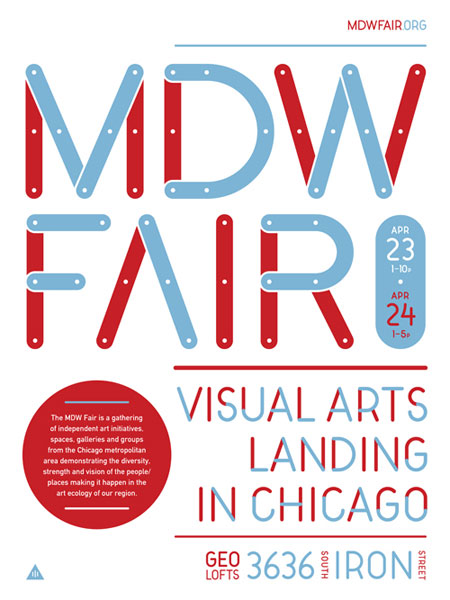 Half Letter Press and Temporary Services publications – The MDW Fair, Version Fest, Chicago, April 23-24, 2011
We will have a table at this weekend-long event.
threewalls, Roots and Culture and Public Media Institute announce The MDW Fair, a gathering of independent art initiatives, spaces, galleries and artist groups from the Chicago metropolitan area. Held April 23-24, 2011 at The Geolofts, 3636 S. Iron Street, Chicago. The MDW Fair will demonstrate the diversity, strength and vision of the people/places making it happen in the art ecology of our region.
The fair features for-profit, 501(c)3, and commercial and unincorporated galleries, independent curatorial projects and publishers and media groups in over 25,000 square feet of exhibition space that includes a 8,000 square foot sculpture garden with work by local artists. The MDW Fair is a manifestation of the collective spirit behind the region's most innovative visual cultural organizers, focusing on the breadth of work done here by artists and arts-facilitators alike.
---
Public Presentation of Temporary Services – Public Address Los Angeles at Outpost for Contemporary Art, Los Angeles, CA, April 8, 2011
Friday, April 8, 8:00 – 10:00 pm
California roll call! Brett and Salem will be visiting SoCal for a few days and are excited to be able to talk about Temporary Services at Public Address – a new experimental cultural center in Los Angeles that was co-founded by one of the former Mess Hall keyholders! This event will be free and open to the public so if you're going back to Cali, we hope to see you. The evening is co-organized by the students and faculty of the MAKE THE WORLD course cluster at CalArts.
Public Address Los Angeles at Outpost for Contemporary Art
1268 N Ave 50 Los Angeles, CA
---
Social Practice: Temporary Services – Museum of Modern Art, New York, April 13, 2011
Wednesday, April 13, 6:00 PM
Join leading contemporary artists as they discuss their work, the creative process, and issues in contemporary art.
Chicago-Copenhagen-based artist collective Temporary Services in conversation with Max Schumann, Associate Director at Printed Matter Inc., discuss their shared concerns about self-publishing and the democratic aspects of artist books. Moderated by MoMA Director Glenn D. Lowry.
Theater 3 (The Celeste Bartos Theater), mezzanine, The Lewis B. and Dorothy Cullman Education and Research Building
---
Public talk on Prisoners Inventions and Supermax Subscriptions – Design Studio for Social Intervention, Boston, MA, April 18, 2011
Monday, April 18, 7:00 pm
Salem will be in Boston to give a presentation on our Prisoners Inventions and Supermax Subscriptions projects, followed by a robust discussion about collaboration and prison issues. This event is co-organized and sponsored by the organization Artists in Context,  The School of the Museum of Fine Arts Boston and the Design Studio for Social Intervention. Salem will also give a presentation about Temporary Services the next day at the School of the Museum of Fine Arts, from 12:30 – 2:00 pm. Both talks are free and open to the public.
Design Studio for Social Intervention |  1946 Washington St, 2nd Floor  | Boston, MA
---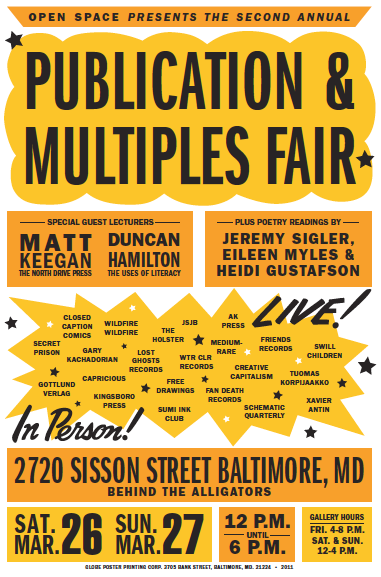 Temporary Services and Half Letter Press publications – Publications and Multiples Fair, Open Space, Baltimore, MD, March 26-27, 2011
We are sending a bunch of our publications to Open Space for this two-day event.
---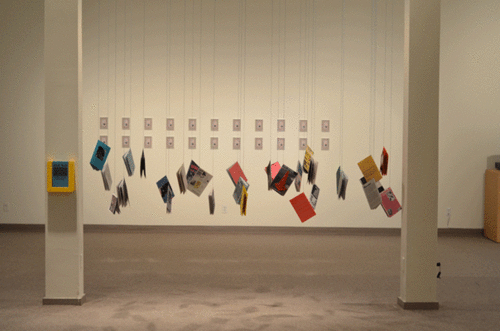 Temporary Services Booklets – FREERIDING, East Gallery, Texas Women's University, Denton, TX, January 10 – February 10, 2011
A large selection of our publications will be available for perusal plus free copies of our booklet  Group Work: A Compilation of Quotes About Collaboration from a Variety of Sources and Practices 
The show was curated by Alison Hearst & Leslie Murrell of SubText Projects 
Here is their description of the exhibition:
FREERIDING features works that reflect on or incorporate an act of giving or taking. The nature of these exchanges eclipses mere interaction and involves a deeper commitment on the part of the artist and viewer in that each gains something, relinquishes something, or engages in a reciprocal trade. Each work in the exhibition relates to the idea of exchange—whether the artist designates his work part of the Public Freehold (Weiner); recreates and manipulates another artist's work (Bisetto); mines from images in the public domain and depends on online workers to contribute to the piece (Lucas); purges intimate objects and memories (Helmes); sells opportunities to engage in conversation with the artist (Budd); or the work centers on charitable, collaborative, and intellectual exchanges (the Art Guys, Bergholz, Chang and Temporary Services).
The passing of an object from one person to another inevitably raises questions about economic systems, particularly issues of bartering or charity that defy the norms of capitalism. Often proliferating during recession eras, past and present exchange-based projects aim to counter the market and encourage basic human interactions. Works likes those included in FREERIDING illustrate and underline the social aspects and human exchanges that art can offer, especially when markets or financial trades are not of chief concern. The exchanges and interpersonal interactions presented by the featured works challenge and defy the hallmarks of an era where isolation and detachment are often the easier choices.
The East/West Galleries are located in the Fine Arts Building on the Texas Woman's University at Denton campus at the corner of Texas and Oakland streets. The exhibition reception will be Tuesday, January 25nfrom 4 to 6 pm. The gallery will be open Monday through Friday from 9 am to 4 pm for the duration of the exhibition.
---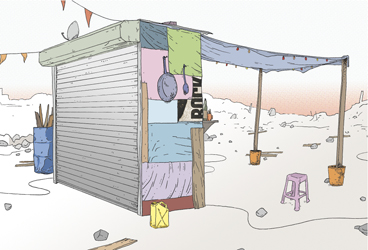 Temporary Services Booklets – Refugee Reading Room, Space 1026, Philadelphia, PA, February 4, 2011
We have several publications in this exhibition. It was organized by Amze Emmons.