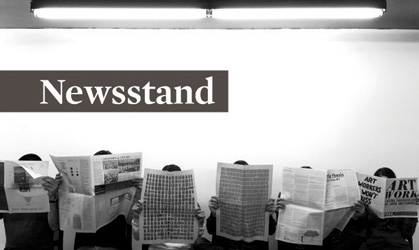 Art Work: A National Conversation About Art, Labor, and Economics – Newsstand, Pinkcomma Gallery, Boston, November 19, 2010
"Newsstand" is the third in a series of exhibitions on contemporary architectural publishing. Following on "A Few Zines" (related to design zines and magazines) and "Publishing Practices" (on the influence of architecture books), "Newsstand" examines another print medium: the newspaper. Inexpensive printing, rapid dissemination, and expanded dimensions make the newspaper a topical platform for architecture and design discourse—even in an increasingly digital world. In order to investigate the motivations behind this tendency, the exhibit presents imaginative examples of the genre from the past several years.
---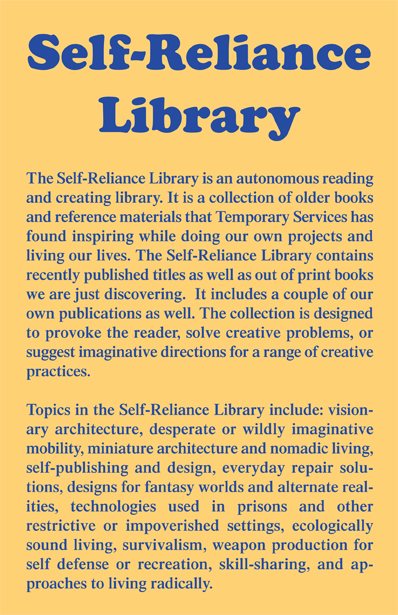 Self-Reliance Library – Group Show, Heuser Gallery, Bradley University, Peoria, IL, October 18 – November 28, 2010
The Self-Reliance Library is an autonomous reading and creating library. It is a collection of older books and reference materials that Temporary Services has found inspiring while doing our own projects and living our lives. The Self-Reliance Library contains recently published titles as well as out of print books we are just discovering. It includes a couple of our own publications as well. The collection is designed to provoke the reader, solve creative problems, or suggest imaginative directions for a range of creative practices.
Topics in the Self-Reliance Library include: visionary architecture, desperate or wildly imaginative mobility,miniature architecture and nomadic living, self-publishing and design, everyday repair solutions, designs for fantasy worlds and alternate realities, technologies used in prisons and other restrictive or impoverished settings, ecologically sound living, survivalism, weapon production for self defense or recreation, skill-sharing, and approaches to living radically.
We have published a booklet that lists and briefly reviews each of the books in the Self-Reliance Library. Get a copy of the booklet: PDFHLP
We have made several new plastic banners as a continuation of Personal Plastic. The banners have quotes pulled from selected books to give a sense of some of the concerns the library presents.
We would like to acknowledge and thank Jeff Kolar for all of his help in making banners and working on other aspects of this project with us! Check out Jeff's web site: www.jeffkolar.us
---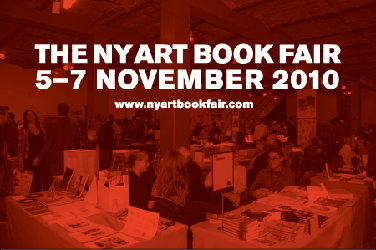 Half Letter Press Temporary Services – NY Art Book Fair, MoMA PS1, November 5-7, 2010
Printed Matter presents the fifth annual NY Art Book Fair, November 5–7 at MoMA PS1, Long Island City, Queens. Free and open to the public, the Fair hosts over 200 international presses, booksellers, antiquarian dealers, artists and publishers from twenty countries, offering the best in contemporary art-book publishing.
Philip Aarons, Chairman of the Board for Printed Matter, said:
"The NY Art Book Fair is the premiere venue to find what's new in art publishing. While it has spawned the next generation of independent art book fairs world-wide, it remains the biggest, the best, and by far the most fun."
The NY Art Book Fair includes special project rooms, screenings, book signings, and performances, throughout the weekend. Other events include the third annual Contemporary Artists' Books Conference and The Classroom, a curated series of informal conversations between artists, together with readings, workshops and other artist-led events.
A list of exhibitors, event schedule, and more information is available at www.nyartbookfair.com.
Printed Matter, Inc. presents The NY Art Book Fair
November 5–7, 2010
MoMA PS1
22-25 Jackson Ave at the intersection of 46th Avenue
Long Island City, NY
Special Programming:

Artist's Project
Leidy Churchman takes over the lobby with a large set of facsimile book paintings on wood. Drawing upon the stacks at the Museum of Modern Art Library with friend and librarian David Senior, Churchman traces a unique and fetching portrait of artists' publications from the last hundred years.
Special Project Rooms
Select exhibitors take over entire galleries: AA Bookstore with Bedford Books (London), Electronic Arts Intermix (EAI; New York), Fillip and A.AAAARG.ORG (Vancouver; Los Angeles), and Picturebox (Brooklyn). Andrew Roth (New York) exhibits a retrospective of PPP Publishing. Goteblüd (San Francisco) presents an exhibition of more than six hundred Riot Grrrl zines, with a working photocopy station. Werkplaats Typografie (Arnhem), the Dutch super-school, brings its entire student body to design, produce, and sell books while you watch.
The Classroom
The Classroom is a curated series of informal conversations between artists, workshops, readings and other artist-led events, with
continuous enrollment for all fair-goers throughout the weekend. Participants include: Casco (Utrecht), f.ART magazine (New York), Golden Age (Chicago), JL Books with Jason Fulford (Atlanta), Kodoji Press with Erik Steinbrecher (Zurich), Little Joe (London), The New Dreamz with Rose Luardo and Andrew Jeffrey Wright (Philadelphia), Onomatopee (Eindhoven), Roma Publications with Jo Baer (Amsterdam), Seems (San Francisco), Sumi Ink Club (Los Angeles), Swill Children (Brooklyn), Triple Canopy (New York and Los Angeles) and Alexis Zavialoff of Motto (Berlin), among others. The Classroom is organized by David Senior, the Museum of Modern Art Library.
Contemporary Artists' Books Conference
The Contemporary Artists' Books Conference is a dynamic, two-day event focused on emerging practices and debates within art-book culture. This year's sessions address a wide array of subjects, including: experimental libraries, the so-called zine renaissance, fusion of art and design in typography, contemporary criticism, and new pedagogical approaches to the ever-expanding field of artists' books. The first day of the conference ends with a lively pecha kucha, a rapid-fire event in which invited speakers have just five minutes to comment on an artwork. Full-conference registrants receive a specially commissioned book by Emily Roysdon, an interdisciplinary artist and writer who examines the intersections of choreography and politics. Roysdon's book is a meditation on vintage photographs of the New York piers by queer photographer Alvin Baltrop.
Highlights:
Featured Countries
This year, the NY Art Book Fair celebrates eighteen cutting-edge publishers from The Netherlands, including a project room by Kunstverein Amsterdam (Amsterdam) and Witte de With (Rotterdam), together with a variety of book launches and informal presentations in the Dutch Pavilion. Other countries represented include: Australia, Austria, Belgium, Canada, Denmark, France, Germany, Ireland, Italy, Japan, Korea, New Zealand, Norway, Slovenia, Spain, Sweden, Switzerland, United Kingdom, and United States.
Antiquarian Dealers
Exhibitors present collections of rare Conceptual Art, Minimalism, Fluxus, and the avant-garde from Japan, Europe, and North America.
Exhibitors include: John McWhinnie @ Glenn Horowitz (East Hampton), Harper's Books (East Hampton), Marcus Campbell (London), Steven Leiber (San Francisco), Sims Reed (London), Stefan Schuelke (Cologne) and others.
Artists Activists
This diverse group of politically minded artists and collectives focus on the intersection of art and activism. Exhibitors include: Journal of Aesthetics and Protest (Los Angeles), GuerrillaGirlsBroadBand (New York), The Yes Men (New York), Bread and Puppet (Glover, Vermont), Center for Urban Pedagogy (Brooklyn), and Temporary Services (Chicago), among others.
Zines by Artists
A lively selection of international zinesters will represent independent publishing at its most innovative and affordable. Exhibitors include: The Holster (Brooklyn), Nieves (Zurich), Ooga Booga (Los Angeles), and ZINE'S MATE (Tokyo), among others. A special section of queer zines includes our favorites, from Original Plumbing (San Francisco) and Girls Like Us (Amsterdam) to PINUPS (Brooklyn).
Editions
Printed Matter presents new limited editions by artists Rachel Harrison, Christian Holstad and Misaki Kawai, published on the occasion
of the NY Art Book Fair 2010. Purchase of these editions supports the Fair, ensuring the event remains free and open to the public.
---

Temporary Services Half Letter Press – MISS READ, Kunstwerke, Berlin, September 3-5, 2010
For the second time MISS READ has invited international publishers and artists to show their artist books at KW Institute for Contemporary Art in Berlin. As a genre of its own, the artist book reflects contemporary ways of artistic production and publishing to a great extent and also addresses issues of presentation and circulation as well as new strategies of distribution. Presenting a selection of more than 40 of the most active contributors in this field, the festival provides the rare opportunity to encounter and explore the contemporary scene of independent publishing.
2nd Cannons Publications, Los Angeles | AKV/urban art info, Berlin | Anita Di Bianco, Berlin/New York | Archive Books, Berlin/Turin | Archive of Modern Conflict, London | argobooks, Berlin | Barbara Wien Wilma Lukatsch, Berlin | Bartleby Co., Brussels | basso friends,
Berlin | Boekie Woekie, Amsterdam | Book Works, London | Chicago – Times – Plotter […] Paper – Libertine – Trixie, Vienna | documentation céline duval, Houlgate | Edie Fake, Chicago | Edition Patrick Frey, Zurich | Erik Steinbrecher, Berlin | Eva Weinmayr, London | Fucking Good Art, Rotterdam | GAGARIN, Antwerp | GRAPHIC, Seoul | Half Letter Press/Temporary Services, Chicago | mediabus, Seoul | Michael Baers, Berlin | Michalis Pichler/"greatest hits", Berlin | Mladen Stilinovi?, Zagreb | Mörel Books, London | no press/derek beaulieu, Calgary | Piktogram/Bureau of Loose Associations, Warsaw | Regency Arts Press Ltd., New York | Revolver Publishing, Berlin | Roma Publications, Amsterdam | Samandal, Beirut | Space Poetry, Copenhagen | Spector Books, Leipzig | Sternberg Press, Berlin/New York | The Green Box, Berlin | Torpedo Press, Oslo | Ugly Duckling Presse, New York | umool umool, Amsterdam/Seoul | (un)limited store, Marseille | Verlag der Buchhandlung Walther König, Cologne | Weproductions, Yarrow | Zavod P.A.R.A.S.I.T.E., Ljubljana | ZINE'S MATE, Tokyo
Miss Read Program
The festival will be accompanied by a series of lectures, performances and talks by artists, publishers, and graphic designers reflecting contemporary ways of artistic publishing. A program in collaboration with Christoph Keller.
Saturday, September 4, 2010
2 pm Brett Bloom (Half Letter Press/Temporary Services): The Smell of Books Surrounds You!
3 pm Zak Kyes: On-Site: Publication as Practise
4 pm Achim Lengerer (Scriptings): Models For Rehearsing The Script
5 pm Jeff Khonsary (Fillip): On Free Content
Sunday, September 5, 2010
2 pm Eva Weinmayr: I Wonder What the Silence Was About. Film Screening and Talk
3 pm Artist lecture by Michael Stevenson
MISS READ and the program are free of charge.
MISS READ is a collaboration of KW Institute for Contemporary Art and the Berlin-based publishers argobooks and Michalis Pichler. Project management KW: Anke Schleper.
For further details and the accompanying program please consult the website:
www.kw-berlin.de
---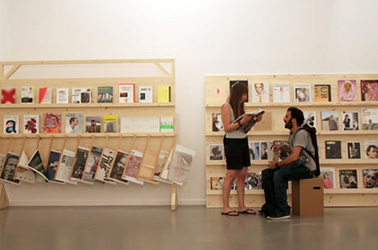 Temporary Services publications –De Zines, La Casa Encendida, Madrid, Spain, June 29 until the end of summer 2010
In June, Óscar Martin Roberto Vidal are curating an exhibition called De Zines at La Casa Encendida in Madrid. The exhibition will feature independent publications, including work from Temporary Services. Around 400 zines, periodicals, art books, and other publications will be on display at La Casa Encendida. La Casa Encendida will be keeping all of the publications as part of their public archives once De Zines closes. More information is available in English and Spanish at their web site.
---
Letter in support of Ricardo Dominguez, Electronic Disturbance Theater, and b.a.n.g. lab
To whom it may concern:
We write this letter to place our support squarely and firmly behind the brave, inspiring, ambitious, and challenging cultural, political, and aesthetic work of Ricardo Dominguez, the Electronic Disturbance Theater (EDT), and the b.a.n.g. Lab at the University of California, San Diego (UCSD). We are concerned about reports of recent harassment and questioning of Professor Dominguez, and write in support of him, his research, and affiliated projects. We call for an end to the investigation of Professor Dominguez and b.a.n.g. lab, and we wish to see both the lab and Dominguez continue their work, unhindered, long into the future.
The EDT and Dominguez had a formative impact on our group's work. We appreciate the EDT's unwavering, decades-long, visionary approach to blurring the boundaries between art and everyday life by engaging in creative political discourse. We remember the early days of the Internet, when it first came to millions of peoples' homes, and the pioneering work Dominguez and EDT engaged in then. The EDT's work has continuity with the civil disobedience engaged in during the Civil Rights Movement era. Electronic Disturbance Theater brought these tactics into an online format. New ideas like electronic sit-ins were attempted and found to be effective. We thank them for their insight then and commend them for their challenging work today!
Dominguez, EDT, and b.a.n.g. Lab ask questions with their work that make people uncomfortable. The vicious attacks they have received by right wing media makes this painfully clear. Racism, bigotry, and class privilege drive the attacks. This toxic environment leaves little choice but to find solutions to helping people survive as they enter the U.S. through some of the deadliest terrain to humans. Many efforts similar to Dominguez's, like putting fresh water in the middle of the desert, have been criminalized in preference for human suffering and death. This is unacceptable.
We write this letter to call others to stand up and refuse the political theater the U.S. government has engaged in by attempting to cast a shadow of criminality over the expression of real dissent. Dominguez, EDT, and b.a.n.g. Lab refuse to tolerate the profound, delusional hypocrisy in our country in regards to the plight of people who are crossing borders seeking the same dream that we have let slip out of our hands into an oblivion of rust belts, high unemployment, home foreclosures, the privatization of public universities, bank bailouts, and more. They take aim at the brutalization of undocumented workers and economic refugees. They make it hard to look away from the trials of people whose very labor and suffering enable us to buy cheap food, to have a house built with labor that costs less than minimum wage, to get a lawn or child taken care of for very little money.
When dissent threatens the status quo in this country, it is dealt with through swift ideological force and calculated intimidation. We have seen this routine play out many times before. We witnessed the trumped up charges that the Bush administration's Department of Justice leveled against Steven Kurtz (member of the artist collective Critical Art Ensemble). He was erroneously charged for bioterrorism. The charge was later reduced to wire fraud. Eventually, Kurtz was exonerated. However, our justice system was besmirched and tarnished just a little bit more.
We demand that these politically driven investigations be stopped. We insist that Dominguez and the b.a.n.g. Lab continue their important work at UCSD. We ask others to write letters of support and to spread the word so these investigations are seen fully as what they are: the criminalization of dissent and unpopular opinions.
Sincerely, Temporary Services (Brett Bloom, Salem Collo-Julin, Marc Fischer) P.O. Box 121012 Chicago, IL 60612
servers@temporaryservices.org
www.temporaryservices.org
P.S. To get the full story of what is happening to Ricardo Dominguez et al, visit bang.calit2.net
---

Temporary Services publications – The Graphic Unconscious, The Print Center, Philadelphia, PA, January 29 – April 11, 2010
For Philagrafika 2010 Temporary Services has been commissioned to produce the sixth in their series of booklets Temporary Conversations. Each issue has focused on an interview with a provocative cultural figure, including Tim Kerr (of the punk band The Big Boys and many other groups), Kawabata Makoto (of the psychedelic band Acid Mothers Temple) and Jean Toche (of the Guerilla Art Action Group) and Suzann Gage, an artist turned nurse, who used her skills as an illustrator to help revolutionize health care for women. There will also be a large collection of Temporary Services publications for visitors to read.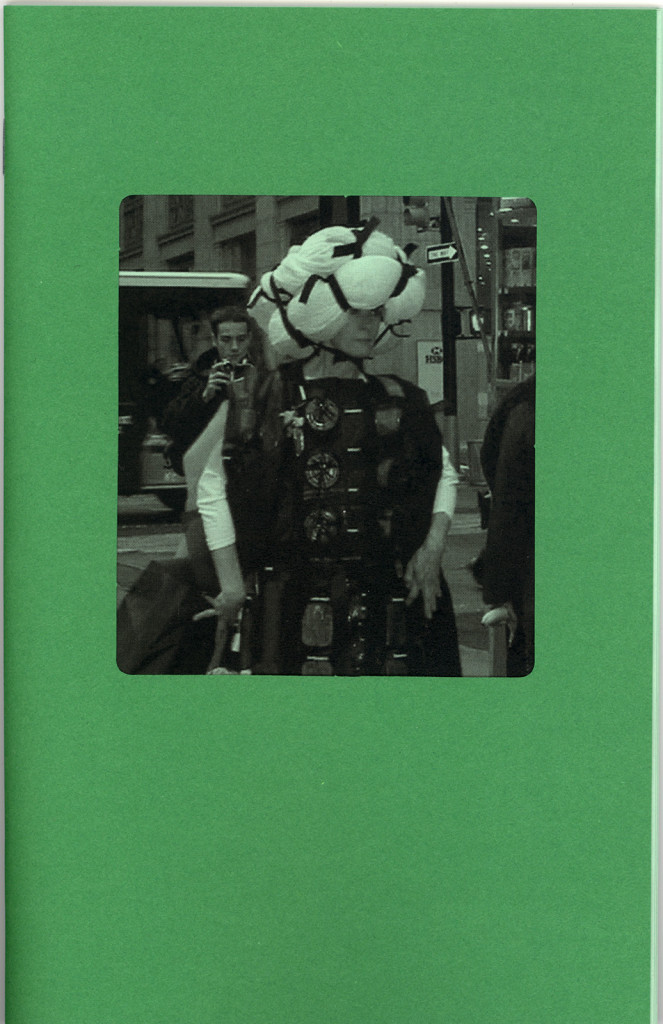 Temporary Conversations booklet with Peggy Diggs.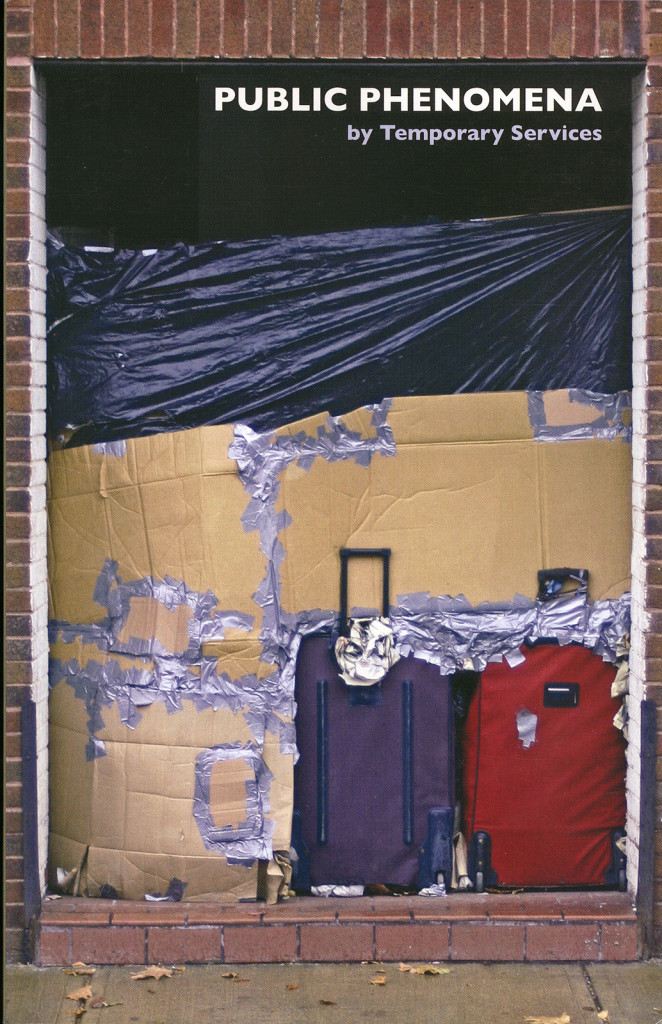 We are also reprinting Public Phenomena: Informal Modifications of Public Space (2005). Free copies of this booklet and the interview with Peggy Diggs will be available at The Print Center.
---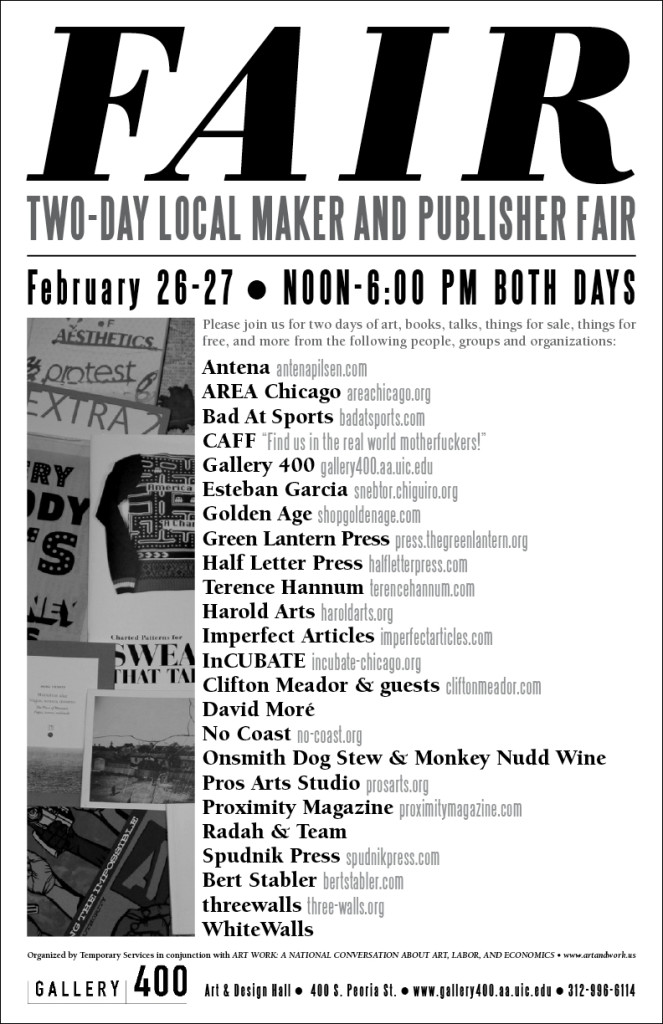 FAIR: A Two-day Local Maker and Publisher Fair – Gallery 400, Chicago, February 26-27, 12-6 PM Both Days
Please join us for two days of art, books, talks, things for sale, things for free, and more from the following people, groups and organizations:
Antena
ACRE
AREA Chicago
Bad At Sports
CAFF – "Find us in the real world motherfuckers!"
Gallery 400
Esteban Garcia
Golden Age
Green Lantern Press
Half Letter Press
Terence Hannum
Harold Arts
InCUBATE
Clifton Meador guests
David Moré
No Coast
Onsmith Dog Stew Monkey Nudd Wine
Pros Arts Studio
Proximity Magazine
Radah Team
Spudnik Press
Bert Stabler
threewalls
WhiteWalls
Download the poster for the event!
Organized by Temporary Services in conjunction with: Art Work: A National Conversation About Art, Labor, and Economics
www.artandwork.us
Gallery 400
Art Design Hall
400 S. Peoria St.
www.gallery400.aa.uic.edu
312-996-6114
---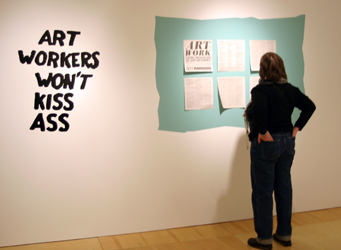 Art Work: A National Conversation About Art, Labor, and Economics – Gallery 400, Chicago, IL, January 27 – March 6, 2010
Join us in Chicago for an exhibition featuring Art Work and our friends The Free Store. Temporary Services has organized the exhibition and coordinated a bunch of related events, all to take place at Gallery 400 at the University of Illinois at Chicago. We hope to see you for the opening reception on Wednesday, January 27, 2010, as well as for the events listed below.
On Saturday, January 30, members of Temporary Services will introduce the project and initiate a discussion about art, labor, and economics from 6:00-8:00 pm.
LOCATION AND HOURS
Gallery 400 at University of Illinois at Chicago
400 S. Peoria St., Chicago January 26 – March 6, 2010 Hours:
Tuesday – Friday, 10:00 am – 6:00 pm, Saturday, 12:00 -6:00 pm.
Thursdays open until 8:00 pm for The Free Store.
EVENTS AT GALLERY 400
• Opening reception: Wednesday, January 27, 5:00 – 8:00 pm
• Art Work introduction discussion with Temporary Services: Saturday, January 30, 6:00 – 8:00 pm. Please join us for a public discussion. Temporary Services will give a short introduction to the newspaper, its distribution and the events and discussions happening around the U.S. and Puerto Rico. The discussion will focus on how artists, art students, and arts professionals are coping with the miserable economic cli- mate we are living through and how we can build different, more ethical arts infrastructures for the future.
DOWNLOAD FLIER
• The Free Store event: workers from the Greenhouses of Hope at Chicago's Pacific Garden Mission talk: Saturday, February 6, 2:00 -5:00
pm
• Organize! What the Artists' Union The American Artists' Congress Can Teach Us Today, talk by Nicolas Lampert: Monday, February 15, 6:00 – 8:00 pm. Nicolas Lampert (Justseeds' Artists Cooperative) will provide an overview of the Artists' Union and the American Art- ists' Congress, two of the leading voices for radical artists in the 1930s that responded to the Great Depression and the rise of fascism with collective action and aligning themselves with working class movements. The talk will segue to an open discussion about how artists today are addressing the present-day economic crisis.
DOWNLOAD FLIER
• FAIR: two-day local maker and publisher fair, Friday, February 26 and Saturday, February 27. Noon – 6:00 pm both days
DOWNLOAD FLIER
• Money drawing event with Harold Jefferies and screening of "You're Gonna Miss Me" documentary, Friday, March 5, 2:00 – 6:00 pm
(screening at 4:00 pm). Harold Jefferies is an artist working at the Little City Foundation art studios, outside Chicago, a program for artists with developmental disabilities. He has been making his own money for years. Harold will be drawing money and making exchanges with visitors. "You're Gonna Miss Me" is a documentary about rock n roll pioneer Roky Erickson, whose band the 13th Floor Elevators coined the term "psychedelic rock" in the 60s. This film tells the story of Erikson's family and their struggle to care for Roky, who suffers from schizophrenia.
DOWNLOAD FLIER
• Reading Room: Half Letter Press presents Brian Holmes discussing his work: Saturday, March 6, 6:00 – 8:00 pm
• Last Day: The Free Store Blowout with Surprises!!: Saturday, March 6, 12:00 -8:00 pm
---

Supermax Subscriptions – Started March 2008
Supermax Subscriptions seeks to connect the surplus of well-traveled citizens to a population that never goes anywhere: prisoners in American supermax prisons.
As most of you know, frequent flyer miles often expire before it is possible to save enough of them for a free airline ticket, seating upgrade, or other costly prize. Supermax Subscriptions asks people with these surplus miles to exchange small quantities of unused miles for magazine subscriptions to supermax prisoners. For as few as 300 miles, you can give the gift of a yearly magazine subscription to a prisoner with little or no reading material.
The first goal of Supermax Subscriptions is to provide every prisoner in Tamms C-MAX supermax prison with at least one magazine
subscription. Men in Tamms are in their cells 23-24 hours a day in permanent solitary confinement. The men have been there for years on end, many for ten years. They have no communal activity, no phone calls, no programs, no education, no work, no librarian, and virtually no reading (mostly children's books). A magazine subscription is one way to give these men your support. Your gift will not be taken for granted.
In conjunction with the Tamms Year Ten campaign, we are kicking-off the Supermax Subscriptions project on the day of the ten-year anniversary of the opening of Tamms supermax prison. Together, we will sign letters to each man in Tamms C-MAX, asking them to pick
their magazine preferences. Please join us – each handwritten signature will show them that someone on the outside knows and cares about their situation.
This project is a collaborative effort by Tamms Poetry Committee, Sarah Ross, Temporary Services, and you!
First Event
WHERE: Mess Hall, 6932 N. Glenwood Ave, Chicago 60626
WHAT: Potluck letter-signing with information entertainment.
WHEN: March 8, 2008, 6pm-8:30pm.
CONTACT US: supermax [at] temporaryservice [dot] org
FURTHER INFORMATION: www.YearTen.org
Photos and details from the mailing event at Mess Hall: here
Coming Soon: Participating prisoners! Watch this page to learn which Tamms prisoners will participate and how to send them gift
subscriptions.
Airlines: Check these airlines to sign up for a mileage awards plan, check your travel mile balance and to find out how to redeem miles for magazine subscriptions: American Airlines, Delta, other airlines may apply.You are also welcome to purchase magazines if you don't have any frequent flier miles.
Overview of Prisoners' First Amendment Rights: download a copy in PDF form