10 Years of Temporary Services – Co-Prosperity Sphere, Chicago, December 5, 2008, 7:30 PM – 12 AM
A party for Temporary Services' 10th anniversary and the release of our book Public Phenomena
All Ages! Free Food! TS Ephemera Slideshow! Surprises! Items for sale from Half Letter Press!
$5.00 admission ($15.00 gets you a copy of Public Phenomena)
Performances by:
The Velcro Lewis Group
Dead Druglords
AZ Snebtor
---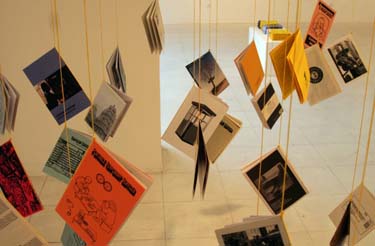 Temporary Services – Testsite, Austin, TX, November 16 – December 22, 2008
"We want to be in control of our lives. Whether we are jungle fighters, craftsmen, company men, gamesmen, we want to be in control. And when the government erodes that control, we are not comfortable."
– Barbara Jordan
"When you come back with no arms or legs, then you can say war is fun"
– The Dicks ("I Hope You Get Drafted")
For testsite 08.5, Temporary Services will investigate two aspects of the state's cultural and political history that embody its radical independence: the development of Punk music in Austin during the early 1980s, and the speeches of Barbara Jordan, the great, late United States representative from Texas. This will be Temporary Services' first exhibition in the Lone Star State.
As part of their ongoing series of publications entitled Temporary Conversations, Temporary Services will publish two new booklets drawn from interviews, memories, and artifacts contributed by Punkers. One will celebrate the band The Dicks and a separate booklet will extensively interview Austin-based musician and artist Tim Kerr, who has played guitar for many bands including the Big Boys and Poison 13.
Temporary Services will also apply these dual interests to a new series of banners. Fabricated from discarded plastic bags, these recycled textiles are part of the group's ongoing investigation into new uses for plastic bags: Personal Plastic. Quotes drawn from politician Barbara Jordon and Punk lyrics are featured on a series of banners hanging in locations both inside and outside the residence housing testsite's exhibition space.
Temporary Services' testsite 08.5 is motivated by their interest in focusing on people and histories that have not been given as much attention as they should, as well as that of coupling their exhibitions with self-published booklets. Towards this purpose, a new poster will appear around Austin and DOMY Books will host a release event for the new Temporary Conversations booklets at their store. Also, an extensive array of past publications by Temporary Services spanning ten years will be installed in the galleries at Test Site.
As is always their way, with their project for testsite 08.5, Temporary Services casts the artist as activist and brings tangible social purpose to the practice of making and exhibiting art. All of the aspects of Temporary Services' activity in Austin, including working with pre-used plastic, tie into the get-it-done spirit that both the musicians they are focusing on and Ms. Jordan seem/ed to have. Making something useful (hope, groundbreaking legislation, groundbreaking lyrics and harnessing youth culture, intervening in public to shed light) out of something useless (despair, racism, plastic) is a common theme.
–
Harper Montgomery
Harper Montgomery is an independent writer and curator living in New York. She was an assistant curator in the Print Department at The Museum of Modern Art between 1998 and 2003, and North American curator of the San Juan Poly/graphic Triennial in 2004. As a curator, she has commissioned projects by Daniel Joseph Martinez, Francis Alÿs, and Instant Coffee, among other artists and collectives. She has written for InterReview, and is a critic for Art Nexus. Currently, she is writing a dissertation on avant-garde artists in Mexico City and Buenos Aires in the 1920s in the Art History Department at the University of Chicago.
Austin calendar:
Public Lecture: University of Texas at Austin, Art Building, Rm 1.120, November 13, 5-6:30 PM
Book Release: Domy Books, 913 E. Cesar Chavez, November 15, 7-9:00 PM
Opening Reception: testsite, 502 W. 33rd St., November 16, 4-6:00 PM
Poster-booklet for the exhibition and other Austin events:
Two new Temporary Conversations booklets: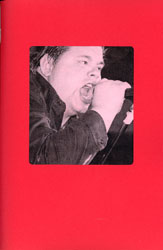 The Dicks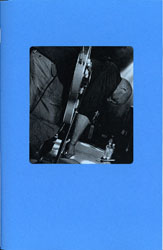 Tim Kerr
We are presenting Personal Plastic, with special updates for Austin next week:
---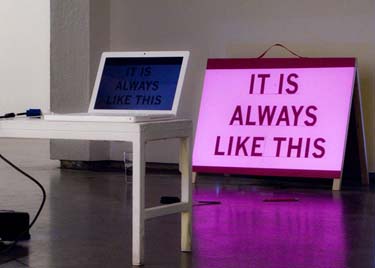 It Is Always Like This – Titanik Galleria, Turku, Finland, August 23 – October 30, 2008
Everything in Turku, Finland, as in most cities, is in its predictable and expected place. Bikes lean against walls, signs hang on stores, advertisements are pasted on poles, and every fixture has an obvious function. The public art is predictable too. It's made from durable materials; it looks like it has been around forever and will stay around forever.
As a small but visible challenge to this tedious routine, the groups IC-98 (Turku) and Temporary Services (Chicago) have teamed up to build and circulate a series of 25 wooden sandwich board signs which carry phrases that advertise nothing and aren't always terribly positive. Many of the texts, written collaboratively by the two groups, point to our frustration with the monotony of city spaces and the high degree of political control that is exerted over them.
Not wanting to make something as fixed or permanent as the situations we are critical of, we have made the signs lightweight and given them handles. Passersby are free to move the signs as they wish. Our placements of them can be viewed as suggestions. We've created a situation that we can't control, just as we don't wish to be controlled by others.
About IC-98 and Temporary Services:
Both groups formed in 1998. IC-98 is Patrik Söderlund and Visa Suonpää. Temporary Services is Brett Bloom, Salem Collo-Julin and Marc Fischer. Members of the two groups first met in Puerto Rico in 2004. Among their common features is a shared concern with self-publishing and designing free publications. This is their first collaboration. A small booklet on this project will follow. Examples of Temporary Services' and IC-98's past booklets and books will remain on view at Titanik during their project.
Sumu Residency Programme: Titanik Galleria
---
Construction Site – Skulpturenpark, Berlin, Friday, September 26, 2008, 7:30 PM
Skulpturenpark will be hosting a screening, Interactivist, comprised of video documents of radical projects by artists and artist groups that use interaction as medium. Featuring work by Wafaa Bilal (Iraq, U.S.), Sarah Febbraro (Canada), Superflex (Denmark), and Temporary Services (U.S.), and curated by Natasha Wheat (U.S.).
Skulpturenpark Berlin_Zentrum
B: 52° 30′ 29.47″ N ' L: 13°24′ 13.67″ E
Kommandantenstr. Alte-Jakob-Str. 10969 Berlin
---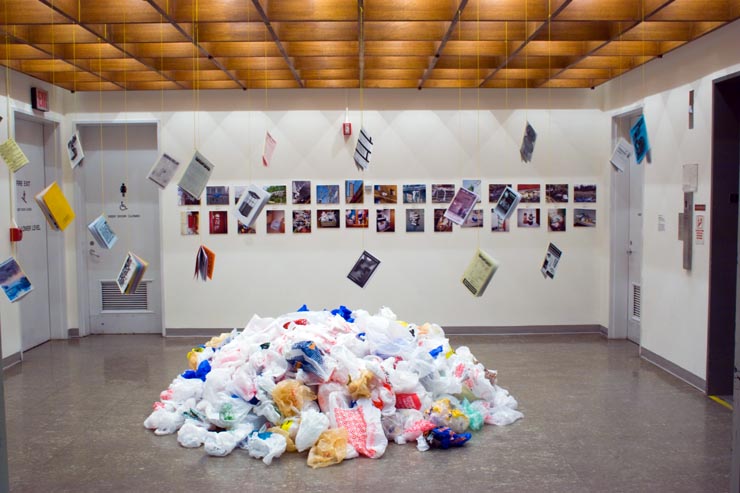 Personal Plastic – Off the Grid, Neuberger Museum of Art, Purchase, NY, March 30 – September 14, 2008
We are presenting a mix of new and old items made from plastic bags, images of plastic bags in peoples' home, plastic bags in the wild, and a selection of our booklets.
From the museum's web site:
Off The Grid features works that subvert and circumvent conventional infrastructures.
Interested in alternatives to corporate and commercial applications and proprietary refinement of communication technologies, Off The Grid assembles media works by contemporary artists making social and ecological responsible art.
Installed inside the Neuberger Museum of Art and across the Purchase College campus, visitors will encounter installations that are non-regulated, fluid, and composed of accessible, sustainable materials, often incorporating participatory elements, which augment the works themselves.
Off the Grid is co-organized by the Neuberger Museum of Art and free103point9. Curated by Jacqueline Shilkoff (Associate Curator, Neuberger Museum of Art ) and Galen Joseph-Hunter, Tianna Kennedy, Tom Roe (free103point9).
---
Shorter online version of the Construction Site video
Construction Site – Interactivist, Disjecta, Portland, OR, Saturday, July 26, 2008
Disjecta will be hosting a screening, Interactivist, comprised of video documents of radical projects by artists and artist groups that use interaction as medium. Featuring work by Wafaa Bilal (Iraq, U.S.), Sarah Febbraro (Canada), Superflex (Denmark), and Temporary Services (U.S.), and curated by Natasha Wheat (U.S.).
Here is a PDF of a critical essay written for the screening:

---

Temporary Services books and booklets – Small Publications Book Fair, ThreeWalls, Chicago, July 13, 2008
Talking With Your Mouth Full: New Language for Socially Engaged Art
A ThreeWalls Symposium
Saturday July 12, and Sunday July 13, 2008
Sunday July 13, 2008
1:00 – 5:00 PM
Small Publications Book Fair with local publications by The Green Lantern Press, InCUBATE, AREA Chicago, Lumpen, and others.
Temporary Services is one of the "others." Marc and Salem will be on hand with many of our publications. Stop by and say hello.
---

Temporary Conversations – One Night Stand, Berlin Biennial, Kunstwerke, Berlin, May 24, 2008
We will release the first in a brand new series of interview booklets, Temporary Conversations, at the One Night Stand event.
One Night Stand will be a very small scale "artists' book fair"-type event. It will take place in the garden of KW on the evening of May 24th. Like in most regular fairs there will be long tables on which to present the projects and benches to sit on. The bar will be open and the usual Saturday night crowd will mix with those coming specially for the books.
The following people will participate:
Documentation Celine Duval, Normandie, www.doc-cd.net
Temporary Services, Chicago, www.temporaryservices.org
Eva Weinmayr books and printed projects, London, www.evaweinmayr.com
Uqbar Foundation, (Irene Kopelman/Mariana Castillo Deball) Amsterdam, www.uqbarfoundation.org
Rita McBride books, Duesseldorf, www.ritamcbride.net
Kristina Ask, dictionary and printed projects, Copenhagen www.kristinask.net
Salamander Comics, collaborative comicbook series, Beirut, www.samandal.org
Michalis Pichler, printed projects and archive of shredded catalogues, Berlin, www.buypichler.com
Anita di Bianco, Corrections and Clarifications, New York. www.anitadi.net
Bent Books, Istanbul, www.b-a-s.info
---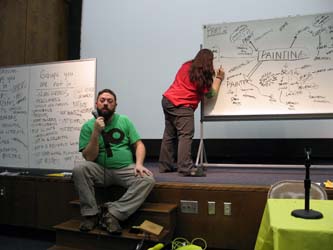 Photo: Amy Franceschini
AnyTime, AnyPlace Art Collectives in the 21st Century – Pasadena City College, Pasadena, CA, March 13 – 14, 2008
Thursday, March 13th
PCC FORUM
7:00-7:45pm Keynote Speaker: Grant Kester (critic and art historian)
7:45-8:15 Desert and Coffee Bar
8:15-9:30pm Guest Speakers: Brett Bloom and Salem Collo-Julin from Temporary Services
Friday, March 14th
R122
9:00-10:00am Registration and Continental Breakfast
10:00-10:50am Session One: Futurefarmers
11:00-11:50am Session Two: Temporary Services
12:00-1:00pm Lunch/BBQ in PCC Courtyard
1:00-1:50pm Session Three: Temporary Travel Office
2:30-6:00pm Tour with Temporary Travel Office to former 1984 Los Angeles Olympic sites