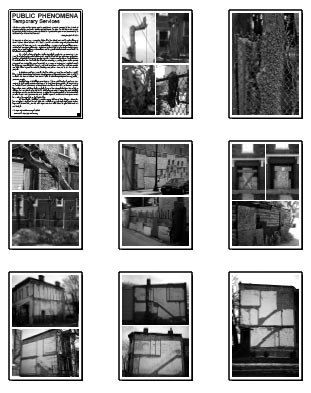 Public Phenomena for Multitudes magazine
We have just completed a spread of new public phenomena research for an upcoming issue of Multitudes magazine (Paris). It is a special issue printed in conjunction with the Transmission exhibition we participated in this spring at the Villa Arson in Nice, France. For the publication, we look at three new categories of public phenomena: trees that have been severely cropped to preserve fences and powerlines, fences and walls made from attaching several pieces of wood and assorted materials together, and traces of buildings that have been torn down but have left marks on adjacent structures.
The PDF of the spread is here:

---

Public Services – Sparwasser HQ, Berlin, Germany, June 17 – July 15, 2006
We are presenting Binder Archives with binders by:
Josh MacPhee, Alexis Petroff, Céline Duval, Harold Jefferies, Lori Couve, Street Flyer and Public Notice Archive, Peter Redgrave, Jesse Bercowetz and Matt Bua, Melinda Fries and Jakob Kolding
Participants booklet PDF: 


Binder Archives manual PDF:

Public Services is described as:
The exhibition Public Services brings together projects by artists and architects whose works and research deal with problems involving the service sector in contemporary urban environments. These projects represent a critical consideration of alternative models of public services, which, ideally, are founded on the principles of openness, access, equality, participation, mobility, adaptability, and transformativity. When artists today think about structures and forms in the contemporary city, they think above all about the importance of open communication within urban structures. By occupying the space that lies between the many different users of cities, corporate capital (and its interests), and the urban structure, they draw attention to processes of degradation and appropriation, borders between public and private, the de-industrialization and agrarianization of cities, and so on, while developing new public-service models based on participation, exchange, and solidarity.
Public Services presents five different starting points for engagement and five explicitly subjective approaches. These projects and creative works have been conceived as forms of immediate and physical intervention in the structure of the city, as social interaction, as a virtual utopian scheme, etc. In terms of their goals, these works may be either indirect or immediate, action-based or utopian.
This exhibition is traveling to multiple venues and the public spaces of their cities:
Pavel Haus, Radkersburg, Austria, October 8 – December 3, 2005
P74 Center and Gallery, Ljubljana, Slovenia, January 12 – 31, 2006
Kibla Multimedijski Center, Maribor, Slovenia, March 24, 2006
Sparwasser HQ, Berlin, Germany, June 17 – July 15, 2006
---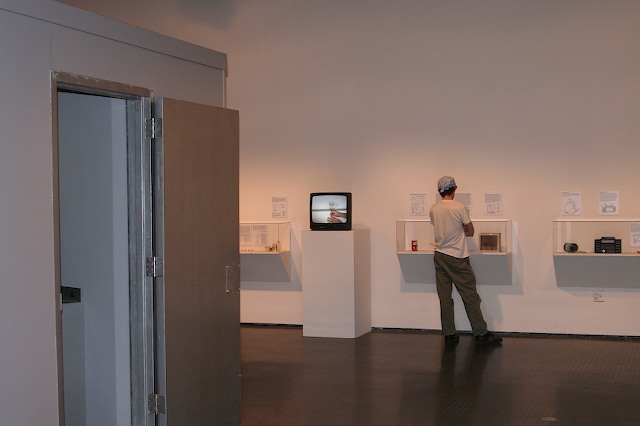 Peer Pleasure II: Red 76, Temporary Services and the VISIBLE Collective – Yerba Buena Center for the Arts, April 7 – July 2, 2006
We are presenting Prisoners' Inventions.
Opening Reception:
Thursday, April 6, 2006
From YBCA'a web site:
Peer Pleasure II continues our exploration of artist group activity and showcases projects by a whole new set of artist groups working in the U.S. and abroad. Each of the Peer Pleasure II projects reflects an interest in forging community networks to distribute art, information and ideas. Interactive projects by Red 76 (Portland and Chicago), Temporary Services (Chicago) and VISIBLE Collective (New York), address a broad range of social and political issues, from life in the prison system, to the misrepresentation of Muslims in the media. Over the course of the exhibition, YBCA's galleries will be animated with interactive displays, impromptu lectures, and unique off-site public events organized by members of each collective.
Yerba Buena Center for the Arts
---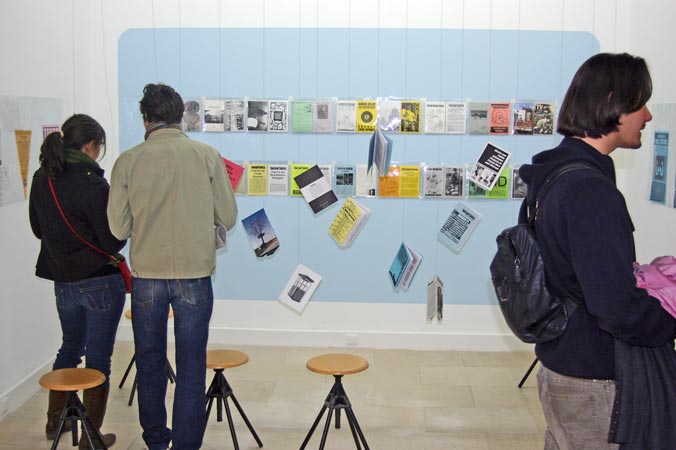 Transmission – Villa Arson, Nice, March 18 – June 4, 2006
We are presenting a complete collection of booklets, books, posters, fliers and other ephemera we have produced over the past 9 years. We are also making a new booklet for the exhibition. The collection of materials will be permanently housed at CNEAI after the show is over.
We made two new booklets for this exhibition:
Three Bibliographies: 1999-2006 PDF


Temporary Services: The first 71 booklets [No available PDF]
CNEAI (Centre National de l'Estampe et de l'Art Imprimé ), Chatou, France.
Villa Arson
---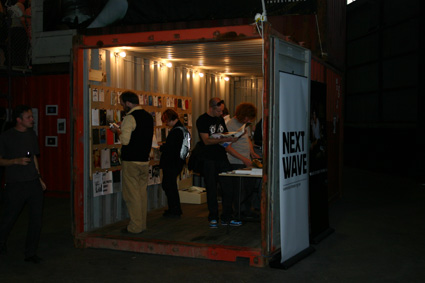 The Invisible Reading Room – Organized by The Invisible Inc., Melbourne, Australia, March 2006
The Invisible Reading Room is described like this:
The Invisible Inc. will be participating in the Next Wave Festival's Containers Project in Melbourne in March 2006. The Invisible Reading Room will incorporate over 100 visual artists' publications including zines, books, sound recordings, video compilations, periodicals, online journals and blogs. In response to the Next Wave 2006 theme 'Empire Games', the collection will focus on projects by young or emerging visual artists from Australia and across the Commonwealth. By making a large and comprehensive collection of Australian and international contemporary artists' publications available at the one site, The Invisible Reading Room aims to demonstrate the diversity of approaches to the published medium in the visual arts, and to expose artists' published projects to a broader audience than they usually receive. The Invisible Reading Room is an ongoing project, and it is intended that the collection will be exhibited at other Australian venues in the future.
---
The Prison Industrial Complex: Rehabilitating the System – Vera List Center for Art and Politics, The New School, New York, NY, Friday., April 7, 2006
Location: Theresa Lang Student and Community Center, 55 West 13th Street, 2nd floor.
"One of the primary goals in the punishment of crime has been the hope for reform. Today, however, the role of the prison as a place for rehabilitation, growth, and personal advancement appears obsolete. Since the privatization of the United States prison system in the 1980s, the system has become a vast $40 billion-a-year industry, the most elaborate in the world. At a time when the United States has achieved the highest rate of imprisonment per capita in the history of the world–in which, for instance, one in four African American men are under correctional supervision–the U.S. public is slowly awakening to an unprecedented crisis of mass incarceration. Investigating notions of punishment and imprisonment, repentance and acquittal, this discussion addresses many of the issues surrounding the prison industrial complex, focusing on privatization and industry."
Participants include Ashley Hunt, artist and activist; Ruth Wilson Gilmore, scholar, University of Southern California; and Trevor Paglen, artist, writer, and experimental geographer. Salem will be talking about Prisoners' Inventions—the other panelists are making great work as well. Come join us for what proves to be an interesting discussion!
 Vera List Center for Art and Politics
---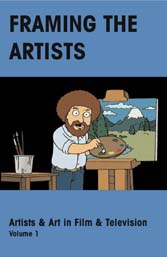 Framing the Artists – Featured project on Super-flux
---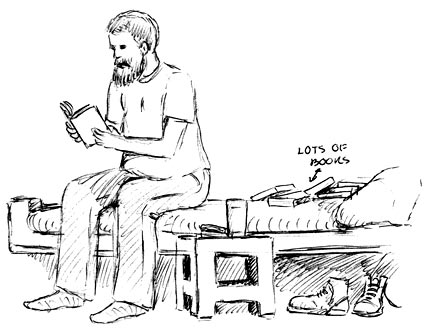 Drawing by Angelo – pictured is a table made of cardboard and masking tape.
Prisoners' Inventions – I Space, Chicago, December 9, 2005 – January 28, 2006
Prisoners' Inventions is a collaboration between Temporary Services, a group based in Chicago, and Angelo, who is incarcerated in California. Angelo illustrated and described many incredible inventions made by prisoners. The creations include cooking appliances, cigarette lighters, condoms and chess sets. These items demonstrate the resourcefulness of prisoners in response to their restrictive environment. Temporary Services co-edited a book of Angelo's writings and drawings, re-created many of the inventions from the book and built a full-size replica of Angelo's cell at his request.
This exhibition at I space will be the most extensive showing of Prisoners' Inventions to date. It will include a large
number of re-created inventions, blueprints for and a replica of Angelo's cell, videos demonstrating how several inventions are made, a reading library of related publications, a panel discussion, film screenings and more. We will also exhibit new Prisoners' Inventions drawings from Angelo that have never been shown or published. These include a method for removing pilly fabric bumps from linens, a pizza recipe involving a light fixture and details of an exorcism that was performed on a television set that may have been haunted.
Opening Reception
December 9, 6 – 10 PM
Please join us and help us celebrate the first complete exhibition of Prisoners' Inventions in Chicago.
Workshop and Discussions:
December 10, 1 PM
Exhibition tour and invention making workshop with Temporary Services. Temporary Services will give a tour of the exhibition. They will talk about the process of collaborating with Angelo on Prisoners' Inventions. The talk will be followed by a workshop on how to make some of the inventions. The workshop is for all ages and skill levels.
December 17, 12 – 2 PM
Prison Design: public discussion with Kevin Henry and Glen A. Hodgson
Moderated by Temporary Services and Jeffery Poss, Associate Professor, UIUC School of Architecture. Kevin Henry is an industrial designer and the coordinator of the Product Design program at Columbia College. Glen A. Hodgson is an architect who has helped plan and design 33 adult and juvenile correctional facilities. They will discuss Prisoners' Inventions in relation to their professional experiences.
Film Screenings:
December 15, 8 PM
A Man Escaped (1956)
Directed by Robert Bresson, France, 95 min.
Lt. Fontaine is a French man incarcerated by German soldiers occupying France in 1943. It gradually becomes clear that Fontaine will be executed for blowing up a bridge as an act of resistance to the occupation. He devises several inventions for surviving prison life and escaping. He figures out a way to communicate with prisoners in neighboring cells by tapping on the walls, and by lowering a handkerchief with a string from his window to pass letters to other inmates. Fontaine dismantles his bed to make a rope reinforced with wire. He fashions grappling hooks from the metal frame of an air vent cover. This film is packed with prisoners' inventions.
January 5, 8 PM
Carandiru (2003)
Directed by Hector Babenco, Brazil, 146 min.
This film is based on the actual experiences of Dr. Drauzio Varella. He worked at Carandiru prison in Sao Paolo, Brazil in the 90s. The film delves into the personal stories of inmates and their lives before prison, while showing the effects incarceration has on loved ones. Carandiru reveals the impact of the AIDS epidemic on the inmate population and the tension this adds to their relationships. A massive riot at Carandiru left 111 inmates dead at the hands of the guards. The film was shot at the prison right before it was demolished in 2002. Featured prisoners inventions include weight lifting equipment made from heavy water bottles attached to wooden poles, and an inmate who creates stunning 'hot air balloons' out of extremely thin paper sacks. These 'balloons' lift off the ground by a payload that is ignited to produce smoke.