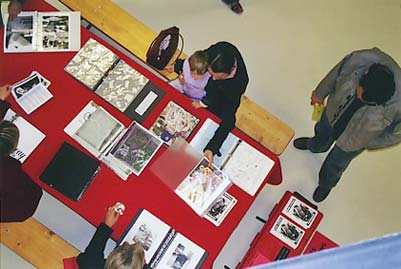 Public Services – Pavel Haus, Radkersburg, Austria, October 8, 2005
We are presenting Binder Archives with binders by:
Josh MacPhee, Alexis Petroff, Céline Duval, Harold Jefferies,
Lori Couve, Street Flyer and Public Notice Archive, Peter Redgrave,
Jesse Bercowetz and Matt Bua, Melinda Fries and Jakob Kolding
---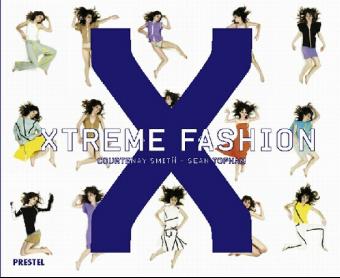 Xtreme Fashion – By Courtenay Smith and Sean Topham, Prestel Verlag, Munich · Berlin · New York, 2005
This new book contains documentation of a project we realized with Biggest Fags Ever (Zena Sakowski and Rob Kelly). The project was Mid West Side Story.
From Prestel's site:
In Xtreme Fashion authors Courtenay Smith and Sean Topham turn their attention to the fashion world, where haute couture is taking a backseat to serious concerns about the environment, personal safety, and privacy. Featuring more than 300 color photos and fascinating text, the authors show how real fashion starts on the streets, born of urban conditions from gang culture to teenybopper worship.
They showcase the works of designers, artists, and other creative individuals such as Moreno Ferrari, Freddie Robins, Vexed Generation,
Alicia Framis, Daniele Buetti, Lucy Orta, and Hussein Chalayan to illustrate the demand for clothing that can protect, extend, alter, mark or mask the human body. Putting forth the idea that truly extreme fashion is not designed to be outlandish, but useful, Xtreme Fashion looks beyond the latest hemlines to clothing and accessories that respond to the world we live in.
---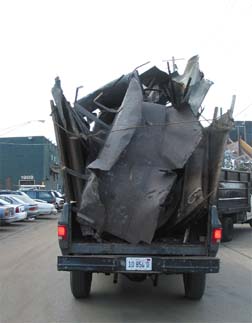 Alexis Petroff – Mess Hall, September 23, 2005
We are big fans of Alexis' work ever since he contributed to Binder Archives. We have asked Alexis to fill Mess Hall with recent and older projects this fall. He agreed and will present photographs, paintings, a video installation, exquisite artist books and more.
Georgina Valverde wrote an introduction to Alexis' work.
---

Framing the Artists – Populism, Various locations: Contemporary Art Center,Vilnius, Lithuania; Stedelijk Museum, Amsterdam; Frankfurter Kunstverein, Frankfurt, starting April 9, 2005
We made the first in a series of guides – download below – to depictions of artists in films and television shows. In addition to the guide, we have produced a video of clips culled from various sources that show these depictions. Both the guide and video are presented as a part of the Populism series of exhibitions.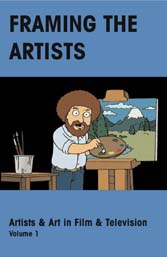 From the introduction to our guide:
Fictional representations of art and biographical films about dead artists are common in mainstream media, despite the lack of concern with living visual artists and their projects. So what do these representations reveal to us about artists and their work?
Many depictions center on artists' unusual behavior, love affairs, or self-destruction through drugs and alcohol. Jokes about not being
able to understand modern art are endless. Very few biographies of actual or fictive artists seriously attempt to consider the artist's creative process in a nuanced way.
Framing The Artists is an overview of many examples of these characterizations. The reviews that follow are but a few examples of portrayals of artists and their work in film and television. We have watched hundreds of hours of video and concede that our research has only just begun.
The Populism exhibition is described as:
The Populism project tries to formulate concrete spaces for experience, reflection, and discussion linked to a contemporary political phenomenon that is as complex as it is widespread. There is little doubt that populist movements gain large parts of their persuasive power from their ability to play on emotions and desires that are supposedly exempt from the procedures of official democratic politics. It is at this level that an art exhibition can provide a space for reflection and experience that differs from that of other public forums. The point of departure is the idea that the emotions and desires that characterize populist politics are not necessarily separate from the ones that find expression in the sphere of art. In this way, key questions are how forms of populism – whether left wing or right wing, progressive or reactionary – promote themselves and their quest for mass appeal through a stylistic and aesthetic consciousness. It is in these economies of signs and desires that the political imagination of visual art can get involved, and address current cultural discussions by creating spaces and images for remodelling democracy.
---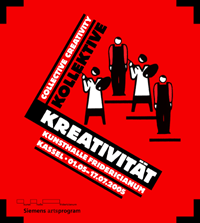 Collective Creativity – Curated by «What, How & for Whom» (WHW), Kunsthalle Fridericianium, Kassel, Germany, May 1 – July 17, 2005
We are presenting an extensive version of Prisoners' Inventions.
From the Fridericianium's web site:
An exhibition on collective practices and group enjoyment. The exhibition deals with different forms of collective artistic creativity
whose protagonists share common programs, ways of life, methodologies or political standpoints. Although the work of collectives is in many ways determined by certain historical, existential, intellectual or political contexts, the exhibition is interested in specific kinds
of social tensions that serve as a common axis around which various group activities are being organized.
Exploring procedures, standpoints, effects, strategies, and social possibilities of collective activity, the exhibition attempts to outline
different forms of collectivity inevitably generated by group work. In the focus are therefore different emancipatory aspects of collective work where collaborative creativity is not only a form of resisting the dominant art system and capitalism call for specialization, but also a productive and performative criticism of social institutions and politics. Which strategies are taken by collectives in public space, which alternative forms of «sociability» are generated, in which ways do they occupy and change the system and the conditions of production and representation, how do they affect the social order?
Read more…
---
Product Placements – Incorporated: a recent (incomplete) history of infiltrations, actions and propositions utilizing contemporary art, Contemporary Art Center, Cincinnati, February 12 – May 8, 2005
"Incorporated" is described as follows:
While subversion and activism is not unique to the art world, bands of artists such as the Situationists, and the Dadaists and Surrealists before them, discovered that a unified voice can project much farther than an individual artist or object. The mere suggestion of an authoritative voice backed by supporting members and organizations is enough to assume control of a certain bandwidth of social consciousness.
"Subversion, which forged its first weapons from art, has now become the art of handling every sort of weapon." – From The
Revolution of Everyday Life, Raoul Vaneigem, 1967.
This exhibition and accompanying activities will comprise the work of six artists/artist groups who have adopted institutional and/or
pseudo-institutional fronts to engage in critical political and socioeconomic activities. Oftentimes these artist groups have employed nothing more that a Web site to infiltrate organizations of global stature. The scope of the exhibition will include nuanced (and irreverent) discussions about community-building, corporate espionage, international politics and civil disobedience.
This exhibition is curated by assistant curator Matt Distel.
---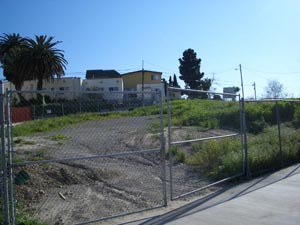 Sunset Blvd between Alvarado and Park in Echo Park
Construction Site – Outpost for Contemporary Art, Los Angeles, April 17 – May 1, 2005
With the help of trusted collaborators Rob Kelly and Zena Sakowski, we will develop an outdoor project on an empty lot in the Los Angeles neighborhood of Echo Park. Construction Site is a socially interactive environment that will develop spontaneously
and collaboratively in the neighborhood for two weeks.
Working with volunteers, friends, students, and passersby, Temporary Services will create structures largely from cast off materials. The
site will be transformed into an outdoor arena for discussions, film screenings, meals, and other events. Please check back in April for a list of participants and a schedule of events.
Location: Sunset Blvd between Alvarado and Park in Echo Park. Across the street from the new public library and right next to the car wash on the corner.
Dates: April 17 – May 1, 2005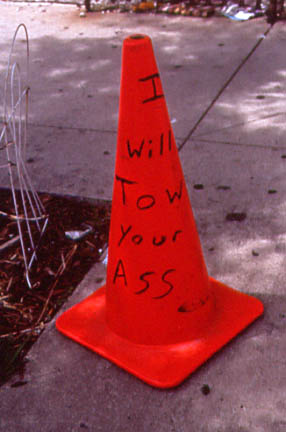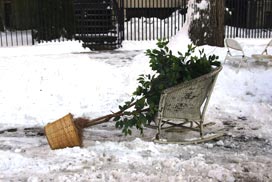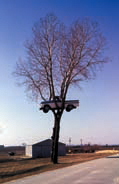 In addition, a new free booklet, Public Phenomena, will be distributed during Construction Site as well as through a variety of national and international channels. This booklet features selections from a large photographic archive Temporary Services has amassed of compelling phenomena found in publicly trafficked space.
---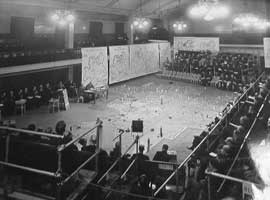 Protest Academy – London Inaugural Lecture: "What are we doing? What is happening to us? What needs to be done? I prefer not to" – Organized by msdm, February 19th – March 6th, 2005 at the Elastic residence, London
---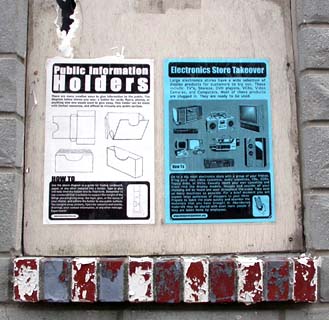 The Window Show – Boarded up buildings in Baltimore, February 12, 2005 until gone
Artwork installed on more than 40 boarded windows of vacant homes in the District. This public art project involves more than 100 artists citywide. Outdoors all day.
Organized by Gary Kachadourian, Baltimore Office of Promotion and the Arts
---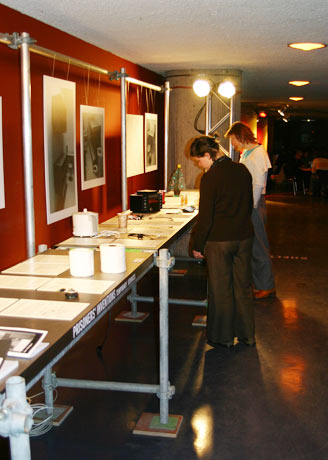 Prisoners' Inventions installed at Transmediale
transmediale 05 – Berlin, February 4 – 8, 2005
We are participating in the WORKSPACE section of the transmediale festival. We will be presenting Prisoners' Inventions and talking about the lack of access prisoners have to computers, the internet or most things digital. Angelo, who illustrated the Prisoners' Inventions book we published with WhiteWalls, has never seen the Internet.
The festival is described as:
transmediale is the biggest and most significant festival for art and the creative usage of digital media. Once a year the festival presents new and outstanding projects in the field of digital culture and provides reflections on the role of digital technologies in contemporary society. It is a forum of communication for artists, media workers and a broad public interested in arts of vital and still increasing international importance.