Real Life lecture series – University of Illinois, Champaign-Urbana, November 2003
Excepted from their site:
The visual artist's profession has traditionally consisted of the solitary construction of objects for sale or display. Departures from this tradition often earn unqualified approval from art institutions and schools. This series of lectures and events will explore such departures as more than merely innovative, demonstrating the necessity, viability and promise of accounting for all of the ways in which art impacts its sites of production and reception.
---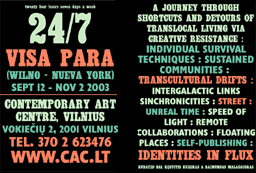 24/7: Vilnius – Contemporary Art Centre and other venues in Vilnius, September 12 – November 2, 2003
We are presenting a survey of our publications and Strategies: 9 posters.
Organized by Kestutis Kuizinas and Raimundas Malasauskas.
Contemporary Art Centre, Vilnius
---
The Monongahela Conference on Post Industrial Community Development- The STUDIO for Creative Inquiry, Carnegie Mellon University, Pittsburgh, PA, October 23, 24 and 25, 2003
---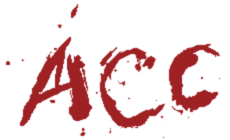 Get rid of yourself – Autonomous Cultural Center, Weimar and Halle 14, Leipzig, July 26 – October 12, 2003
At ACC we are presenting: Aesthetic Analysis of Human Groupings, Public Sculpture Opinion Poll,   and a large survey of our publications.
At Halle 14 we are presenting: Prisoners' Inventions (see below)
Binder Archives and Audio Relay will move back and forth between the two venues.
---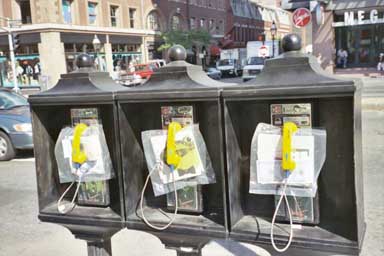 Boston Ravioli – The School of the Museum of Fine Arts Boston and in public spaces around Boston on September 23-25, 2003
Contributors:
Jennifer Schmidt, Meg Rotzel, Aimee LaPorte, Jenn Pipp, Tim Dziewit, Alicia Gibson, Daniel Espeset, Abraham Schroeder, Aaron Luckman, Robin Kukiel, William Matelski, Christina Koski, Katie Klencheski, Kirsten Gronberg, Emmy Grant, Red76 Arts Group, Jane Palmer and Marianne Fairbanks, Michael Wolf, Melinda Fries(ausgang.com), Chuck Jones, Dan S. Wang, and Temporary Services
The world of "packaged" foods, meaning foods enveloped by other foods, is a vast and colorful one. The idea of cooking a multi-layered dinner with a "surprise" inside appeals to chefs of all persuasions, as they create kolachkes, dumplings, lumpia, or good old pigs in blankets and pizza puffs.
One popular version of the "food packet" is ravioli which is usually made with pasta surrounding cheese and meat. Homemade ravioli is particularly wonderful. Ravioli that you make yourself can be filled with an unusual array of ingredients unlike the generic varieties found at the supermarket. Anything that you think will taste great together can be stuffed between the pasta shells. Mixing good pasta dough takes care and work. There is a lot of room for improvisation and play when it comes time to make the filling.
Temporary Services is making large, twelve-inch ravioli. The ravioli and most of the filling are not edible but it should still be a delight
to cut them open and find out what is inside. Our ravioli have see-through plastic shells that have been heat-sealed on all four sides to keep the stuffing in and the rain-water out. The shells contain a variety of ingredients contributed by the three Temporary Services chefs and students at the school. Some of the items are practical. Other items encourage different types of play. Some ingredients are simply intended to amuse.
The ravioli will be distributed in public places. They will be attached to walls with staples and double-sided tape. They will be left in front of doorways and strung up on clothes lines in town squares. The ravioli are gifts to unsuspecting passersby that encounter them. The project is intended to engage a wide range of people. Anyone that sees or takes a ravioli becomes the audience for this gesture.
It takes an enormous amount of effort and experimentation to create new audiences for art. Situating and giving away art in public places is a method we have found extremely effective. Humor, practicality, and generosity are ingredients that are commonly appreciated by diverse audiences. People like to encounter surprises in public places; they like to be gently shaken from the monotony of their daily routines. Public gifts that don't demand either your money (like advertising) or your spiritual commitments (like religious propaganda) are rare. We make the types of public art projects that we would like to discover and experience ourselves. We feel that gestures and encounters that democratize, personalize, and open up stagnant public spaces are desperately needed. With Boston Ravioli, we believe we have cooked up a recipe that will engage people and fill some of these experiential voids. We hope our ravioli whets the appetites and imaginations of those who get a taste.
---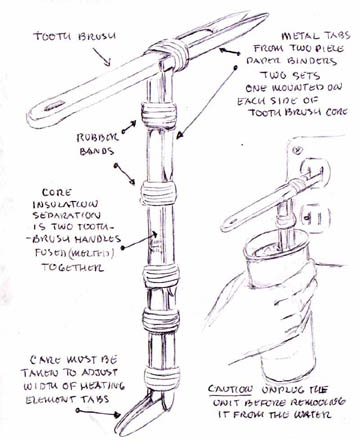 Prisoners' Inventions Book – Book Release, Quimby's, 1854 W. North Avenue,Friday, June 20, 2003
The event will feature brief remarks by Temporary Services about the project, demonstrations of some of the inventions, readings from prisoners' love letters, and assorted refreshments.
In 2001 Temporary Services invited Angelo, an incarcerated artist, to write and illustrate a booklet about the ingenious, practical, and sometimes bizarre things he has seen prisoners make. Angelo generated more than 100 pages of drawings and text, representing 78 different inventions or skills – a striking artistic project. As a document it is also an important addition to the dearth of information available about the ways prisoners personify their environment and attempt to recreate living conditions from outside of prison.
The inventions cover a wide range of techniques for storage, bathing, cooking and dining, privacy, recreation, home beautification and more. Angelo's texts and drawings will show you how to improvise a wake-up alarm, grill a cheese sandwich in a locker, make an immersion heater from razor blades and popsicle sticks, use a toilet to chill a soda or take a hot bath, and complete – with severely limited resources – many other tasks we on the outside take for granted.
The book collects all the inventions and texts Angelo sent. The instructional texts are often anecdotal in references to daily prison life, including small tales about the ways prisoners try to skirt prison rules. Most of the instructions also include highly detailed and considered pen drawings that allow for clear understanding of materials used and how the objects function. Taken as a whole, the collection offers a glimpse into the social environment of prison, where inventiveness and ingenuity are needed to satisfy even the most basic human desires.
---
Binder Archives and Audio Relay – Studio Arts Cafeteria, University of Wisconson-Green Bay campus, Thursday, April 17, 2003
Sponsored by the Lawton Gallery.
Free and open to the public.
Curator of Art, Stephen Perkins.
Binder Archives Index
Audio Relay Index
---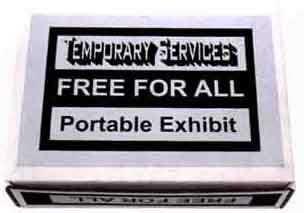 Free For All Portable Exhibition – The Consistency of Shadows: Exhibition Catalogs as Autonomous Works of Art, Betty Rymer Gallery, February 21 – April 11, 2003
This exhibition features over 120 exhibition catalogs, dating from the 1960s to the present which, in their design, depart from their usual function as mere memory and record of an event and serve as works of art in themselves. Curated by Doro Böhme, this exhibition draws items from the Joan Flasch Artists' Book Collection at the School of the Art Institute of Chicago and provides a critical perspective on this emerging field of inquiry. The accompanying catalog includes essays by AnneDorothee Böhme, Anthony Elms, Mary Jane Jacob and Barbara Moore, as well as interviews with Christian Boltanski and Alan Cravitz.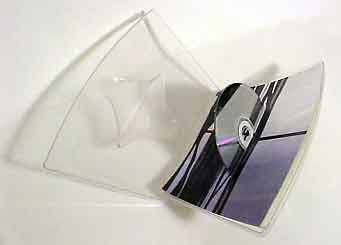 Exhibition catalog
For information about the catalog
Free For All
---
International Arts Group Exposition 2003 (I've got an answer / I've got an anthem) – Organized by Red76 Arts Group, @The Laurelhurst Theater, Portland, March 13, 2003
Over the past several years, dozens of arts group have come into existence and met the need to serve as models for new and innovative arts platforms. Similar in practice to the ethics and culture of DIY punk/indie bands, arts groups have circumvented the stopgaps of their mainstream counterparts and, subsequently, created a vibrant and successful alternative to museums and galleries. They are the public's most accessible outlet for contemporary thought and practice in the arts.
There are innovative ideas all around us. There are things to look at and talk about every minute of our daily life. Arts groups, as a rule, help point them out. They do not function as collectors; they exist in the day to day. Arts groups, by their community minded and participatory nature, create more beneficial platforms for the public to interact with. They expose contemporary art and art thought not just to the people who happen to walk into museums, but the people who walk down the street outside of the museum.
Here's the problem, though -Without a dialogue between these groups, how can anything truly change for the better as a whole? How can the general public, especially in America, start to view art work and art thought as an essential part of their lives? As a way to navigate through their life more easily? In this age of globalization, of unprecedented alienation yet unparalleled communication, these are valid and pressing questions.
On March 13, at the Laurelhurst Theater in Portland, Oregon, Red76 arts group will present, "I've got an answer/I've got an anthem", I.A.E. 2003 (International Arts Group Exposition). The first project in Red76 arts group's new platform "The Connection Project".
This first I.A.E. brings together work created/curated by arts groups from all over the world. The following groups, among others, will be represented in I.A.E. 2003 through films and videos, lectures and presentations, slideshows, sound work, and more:
SuperFlex (Copenhagen, Denmark)
ForceField (Providence, Rhode Island)
Peripheral Produce (Portland, Oregon)
Temporary Services (Chicago, Illinois)
Instant Coffee (Toronto, Canada)
N55 (Copenhagen, Denmark)
Red76 arts group (Portland, Oregon)
NINE (NYC, NY)
Charm Bracelet (Portland, Oregon)
Deaf Leopard (Los Angeles, California/Portland, Oregon)
Basekamp (Philadelphia, Pennsylvania)
It Can Change (San Francisco, California)
Collective Jyrk (Portland, Oregon)
Free103point9 (NYC, NY)
Lucky Pierre (Chicago, Illinois)
NYC Surveillance Camera Players (NYC, NY)
PaperRad (New York State)
Beige (New York State)
Eveleigh & Evans (London, England)
Love and Devotion (Stockholm, Sweden)
Next Question (Pittsburgh, Pennsylvannia)
Jefferson Presents… (Pittsburgh, Pennsylvania)
Rasbullito Collective (Portland, Oregon)
Alphabet Dress (Portland, Oregon)
---
Binder Archives – P|R|O (Projectroomone), Portland, Oregon, February 14 – 16, 2003
---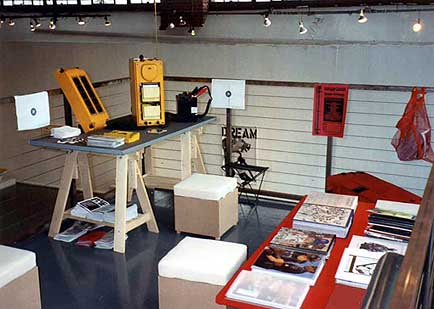 Binder Archives, Audio Relay, Public Sculpture Opinion Poll and more – Shadow Cabinets, Southern Exposure, January 10 – February 8, 2003
Both the Binder Archives (See Binder Archives Index ) and Audio Relay (Audio Relay Index) have traveled to Southern Exposure, in San Francisco. This presentation is a part of an ongoing series called Shadow Cabinets.
Contributions to the Audio Relay will be organized by Ted Purves.
---
Boudoirs, Salons, et Antichambres – CNEAI (National Center for Printed Art), Chatou, France, October 13, 2002 – January 19, 2003