Dim Sum – Organized by Red76 Arts Group, Gavin Shettler Gallery-Portland, Oregon, Dec.11-14, 2002
From Red 76:
Dim Sum will archive the work of well over 100 artists from around the world. Art that can really be worked over. Work that can be held, listened to, looked at.
The viewer will arrive in the gallery to see the space set up as if they were in a restaurant. They will be seated, drinks will be served. There will be a TV/VCR, and a CD player at each table. Menus will be given to the viewers that are incredibly hard to figure out and only vaguely give you an idea of what you might get. We, Red76 members, will come around, dressed as waitstaff with material for the viewers to choose from that they might not have picked off the menu, just as if you were eating Dim Sum.
In Cantonese, Dim Sum translates into "a little bit of heart". What better to focus on? Some may view the work shown at this exhibit as ephemera. Well, fuck them. Zines, chapbooks, CDs, videos, giveaway portfolios, scrapbooks, are the items that fuel ideas and spur growth. Most importantly these are the works of art that we see around us everyday. In our bookshelves, on our tables. These are works of art that you can pick up, sit down with, and call your own.
For our contribution we will be giving away free copies of G.W. Sok's booklet "Into the Gravy." Additionally we will be presenting a complete portable exhibit box containing over 100 artworks and objects from our 2000 project "Free For All". Finally, we will share a binder housing CD's of insightful urban nomad stories by Dave Whitman and a short text about our collaboration with Dave. If you live in or near Portland, we hope you can see this project.The generous, energetic and prolific folks at Red76 Arts Group have been doing excellent thoughtful work and their efforts are highly worthy of your attention.
---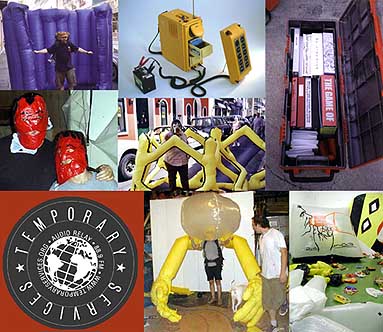 Winter Services – December 7, 7:00 – 11:30 pm, at 6Odum, 2116 West Chicago Avenue
This is a one night event with performances celebrating the launch of Audio Relay, our autonomous radio station and audio archive built by Brennan McGaffey (See: Audio Relay Index). The event also includes Binder Archives (see below) and a presentation of inflatable things (wall, police officer, giant billboard and more) from our Midwest Side Story project with Rob Kelly and Zena Sakowski. There will be a slide show from our actions in Puerto Rico with the inflatables. We will be giving away several booklets. Free booklets include: a manual for Audio Relay, a schedule of the performances and contents of the Audio Relay, Midwest Side Story booklet and a supplement to that project.
This event is FREE. FREE masks handed out at the door. FREE food and beer provided.
Performances By:
Red Cabinet Theater (with Margaret Baldwin, and Peoples Republic of Delicious Food members Nathan Peck and Ralph Barton)
The First Plenary Session of the Revolutionary Party of Saturn (featuring members of Service Anxiety)
Tiny Hairs
The  Audio Relay will house and broadcast work during the event by:
Eleanor Balson, Greg Jacobsen and Thyme Jones
Mark Booth
M.W. Burns
Gabriel Fowler
Rob Kelly and Zena Sakowski + Temporary Services
Kathleen Kranack
Lucky Pierre
Brennan McGaffey
Red Cabinet Theater
Service Anxiety
Deborah Stratman and Jacob Ross
Tiny Hairs
Daniel Tucker
John Wanzel
Dave Whitman + Temporary Services
For detailed listing of contributions

---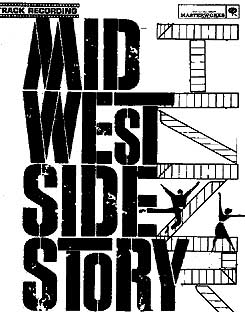 Midwest Side Story – Collaboration with Zena Sakowski and Rob Kelly for Puerto Rico '02 [en ruta] – October 6 – 12, San Juan and other locations, Puerto Rico
[There's a place for us… ] –"Somewhere", from West Side Story, lyrics by Stephen
Sondheim
The musical West Side Story, written by Jerome Robbins and Stephen Sondheim in 1961, offers some interesting dialogue about the uses of public space. Rival gangs, the Jets and Sharks, are seen at the beginning of the musical in the midst of claiming their territories. One gang writes its name on a brick wall, only to be written over moments later by the other gang. A literal dance of defense follows, as members of both groups battle for their own spots on the street.
This overture, a struggle between citizens in public space, is thwarted by the sound of a policeman's whistle. The influence of arbitrary authority forces the dancers to flee. There are no more demands for spots or places. The street is at peace, because only the police are now walking on it.
Our work together is an exercise in expanding notions of the use of public space. Large, inflatable, plastic forms will be unleashed within various public situations and contexts. The plastic forms will be stored in or attached to a series of backpacks worn by Temporary Services (TS), Zena Sakowski, and Rob Kelly. The forms will inflate to massive proportions using electric and gas-powered leaf blowers and miniature battery-operated enclosed fans.
The inflated plastic forms include a 30 foot long wall, our own king-size version of the police character Officer Krupke, a row of paper-doll inspired people, and a pair of massive wearable hand/arm extensions coupled with a gigantic inflated wearable plastic head. Several parts of the inflated forms are being outfitted with balaclava masks made from recycled plastic grocery bags and multi-colored packing tape. Dozens of these masks will be distributed during our public actions to erase the distinction between
the spectators and participants.
We have also created a compact disc featuring remixes of the soundtrack from West Side Story. Our public demonstrations of the inflatable forms may be accompanied by this CD which updates Sondheim's lyrics by incorporating parallel ideas in the West Coast gangsta rap of N.W.A. along with a kitchen sink of other sonic turmoil.
In creating this series of projects, we seek to not only extend our own personal space for a moment, but also to offer a playful series of spectacles to others sharing the street. We welcome the opportunity to foster a dialogue about our actions with all those that wish to assert their place within public space.
Ten Foot Tall Police Officer: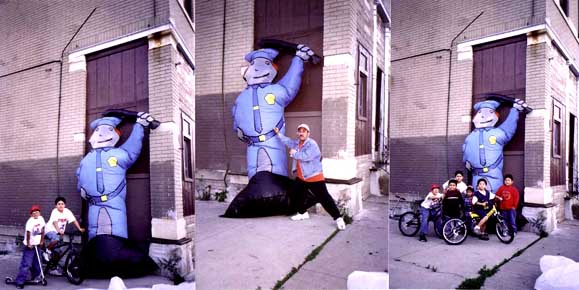 Inflatable Wall:
Giant Hands:
Giant Head:
Instant Crowd:
Masks:
---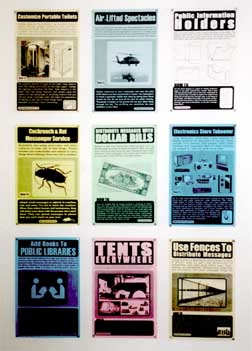 Strategies: Nine Posters – Shadow Cabinets in a Bright Country at Apex Art , New York, September 6 – October 5, 2002
Strategies: Nine Posters. The posters were adapted from an experimental exhibition strategies text we were developing a couple of years ago. We have modified them to address a wider, non-art audience and to suggest ways that people can creatively reconfigure public spaces to a variety of ends. The posters will be made available in Apex. They will be presented in several public locations using a strategy outlined in one of the posters.
Strategies: Nine Posters Images:
---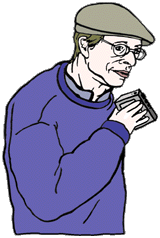 Dave's Stories – Travelogue, Organized by Red76 Arts Group. Held at Disjecta Arts Space in Portland Oregon. August 23, 2002
Dave Whitman has been homeless for over fifteen years. We first met Dave when he started attending the exhibitions and projects we presented in our former office space in downtown Chicago. Dave continued to visit us informally and all of us gradually got to know him.
We developed a friendship with Dave and found him to be unusually generous, ethical, and trustworthy. He often kept us company while we maintained office hours during exhibitions – frequently engaging visitors in discussions about the work on view. We also allowed Dave to sleep in the space during some of the colder nights of the winter.
Dave and Salem from Temporary Services collaborated on a project called Salem and Dave Cook Bacon and Eggs, where they did just that, on a grill in Lincoln Park in Chicago. This project was initiated after a series of conversations they had about people eating in public. Dave said, "I've always wanted to cook for all those guys," meaning, his fellow nomads. Salem and Dave gave away eggs, bacon, and assorted breakfast pastries to passers-by.
Around this time, Salem gave Dave a tape recorder and provided him with replacement cassettes and batteries. The recorder allowed Dave to document the incredible stories he'd been telling us. It gave him a space to recount his many astute observations about how public space is regulated, unusual social behavior, and his endlessly revealing and entertaining stories about other homeless people.
Dave recorded over six hours of stories for us. Here are just a few, accompanied by slides of downtown Chicago. We hope you enjoy this introduction to one of our city's dearest urban nomads.
"Travelogue is a series based around the idea of the transformative nature of traveling. Each exhibition features a number of presentations on traveling and where it takes us."
Excerpts from the Travelogue presentation
---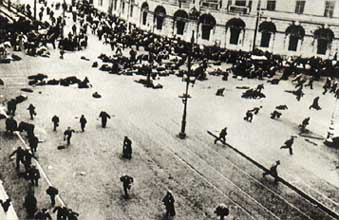 Groupings -"Critical Mass," Smart Museum, Chicago, April 25 – June 23, 2002
We are realizing several projects and collaborations around human groupings and group work.
Aesthetic Analysis of Human Groupings – This is a large wall display(48 ft x 16 ft) consisting of multiple stripes of various media. This display articulates the myriad subtleties and variations of human groupings that we find ourselves slipping in and out of on a perpetual basis. Each stripe on the wall is composed of different media – stripes of t-shirts with images of groups on them, record album covers, photos, wall paper – with images of groups and groupings on them.
"Into the Gravy" -A Booklet by The Ex. We are reprinting an essay by Jos, a member and vocalist of the Dutch music group The Ex. This 1989 essay was originally published in the book "Threat by Example" which is out of print and will not be reprinted. The essay includes a funny and caustic take on the corporate music industry as well as wonderful reflections on The Ex's group practice and their efforts to build and work in an ethical and independent international network. Jos has written a new introduction to the text and designed all new layout for the booklet. We will also screen the video "Beautiful Frenzy" – a filmed portrait of the group by Christina Hallström and Mandra Wabäck.
Peoples Republic of Delicious Food – This Chicago-based group of performers and media manipulators works in manners very differently than TS. They insist on a completely open group structure. They will contribute to the exhibition upon our invitation. They in turn, are inviting other groups to come and participate.
Group Home – Booklet of interviews with members of Chicago cooperative houses. Living in a cooperative housing situation is an intense and rigorous group process. This booklet will present interviews with members of two cooperative houses in Chicago. There will be a potluck dinner at the Smart on Friday, April 26th.
Group Work: A Compilation of Quotes About Collaboration from a Variety of Sources and Practices
Video Screenings – Two nights of assorted videos that present different groups, groupings and related subjects:
Sunday, May 19, 2002
2:30 pm
BEAUTIFUL FRENZY – 52 minutes, 2001
Film by Christina Hallström and Mandra Wabäck
"The film, the first release of CUT Productions, was made by Christina Hallström and Mandra U. Wabäck, two independent Swedish filmmakers living in Amsterdam, who filmed the band on location over a period of two years: on tour in Europe and the US, along squats, clubs and festivals, during rehearsals, and at the band-members' homes. Crossed with various archive material and poetic sequences, the film gives a vivid impression of the band making music without giving in to established conventions. Made with modest means (i.e. digital video cameras, a lot of sweat, a couple of tears), with the help of dear friends, and with no support whatsoever from any official sources within the Dutch film industry, the result is an unorthodox document on independent music-made by two independent filmmakers going their own way, in the same spirit as the band."
PEOPLES REPUBLIC OF DELICIOUS FOODS – TBA
The PRDF is providing us with video footage from their performances from the past few years. Their performances include elaborate costumes and unusual situations.
MUSICAL – 5 minutes, 2001
This video documents a performance Elyce Semenec organized. Non-professional dancers performed a musical number across, and on the median strip, of a busy street in Chicago.
Thursday, June 6, 2002
6:30 pm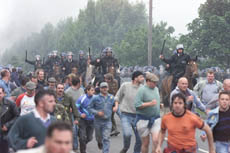 BATTLE OF ORGREAVE – 60 minutes, 2001
Film by Mike Figgis
This film is based on the historical re-enactment of a miner's strike in Orgreave. The original strike and battle with the police occurred in 1984. The re-enactment was a project initiated by Jeremy Deller. The strikes turned into one of the most bloody encounters during a time of great labor unrest. This film charts the re-enactment of the strike and he dredging up of unresolved historical crises.
LAND – 5 minutes, 2002
Video by N55
Video manual for N55's project LAND. "LAND is constructed from pieces of land in different places in the world. The various parts are added to LAND by persons who guarantee that anybody can stay in LAND and use it. Any person can initiate expansions of LAND. The geographical positions of LAND can be found in Manual for LAND. The manual is continuously updated at www.n55.dk/LAND.html. A current version can also be obtained by contacting N55."
TOOTH AND NAIL: THE FALL OF KALENDARPANDEN
Video by 4n6x
On October 31, 2000, the last social political squat of its kind in Amsterdam tries to defend itself from eviction.
Booklet with The Ex:


Group Home: 


Group Work: A Compilation of Quotes About Collaboration from a Variety of Sources and Practices:

---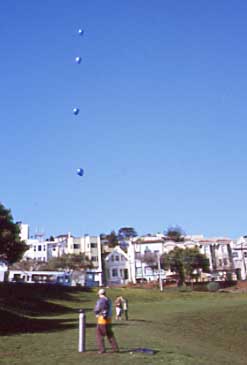 Generosity Projects – CCAC Institute, San Francisco, February 1-12, 2002
"Increasingly over the last ten years, artists have explored the idea of generosity as a medium. This two-day symposium will explore the complex relationship between art making and generosity. Panelists consider crucial questions about how contemporary art can directly connect with audiences and respond to public interest. Featured panelists include Carlos Basualdo, Peter Coyote, Mary Jane Jacob, Ben Kinmont, Cesare Pietroiusti, Jorgen Svensson, Michael Swain, Temporary Services, and Jeanne van Heeswijk."
The CCAC Wattis Institute presents Artists' projects by Cesare Pietroiusti, Michael Swain, and Temporary Services – Feb. 1-12
In conjunction with the Generosity Projects symposium, artists Cesare Pietroiusti, Michael Swain, and Temporary Services will undertake new projects within the CCAC community.
Temporary Services is putting three new strategies into practice in San Francisco. These strategies work to make public spaces less controlled and more open to multiple possibilities.
Cloud Sky Occupation:
San Francisco Ravioli:
Public Record:
---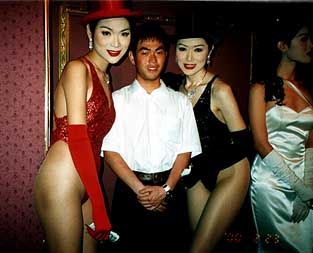 Thailand is not my idea – Thasnai Sethaseree, January 10 – 26, 2002. Runs concurrently in Bangkok, Thailand at Project 304, in Osaka, Japan at F Gallery, and in Temporary Services' living room: 1431 West Chicago Avenue, Rear Building
Thailand is not my idea. It's not Thasnai Setherasee's idea either. It isn't an idea that belongs to any one person or any one group of persons – not even to Thai people. Thailand, in a globalizing culture, is a shared idea. It is increasingly fractured and often contradictory. The presentation of the material in this exhibition is disjointed. You won't get a complete sense of everything that it offers unless you see its counter parts in Bangkok and Osaka. Even then, you would have a hard time pulling it all together.
Thasnai Sethaseree has coordinated one exhibition that runs concurrently in three countries. Each space will present tourist photos taken in Thailand. The photos in Temporary Services' living room will be Japanese tourists' photos of Thailand (over 400 photos). The photos in Japan will be American tourists' photos of Thailand. And in Bangkok, the photos will all be from Thai people.
"Thailand is not my idea" starts on January 10 in all three locations. Temporary Services will host a service on Monday, January 14, from 7-10 pm. Our living room is open to the public on Thursday, January 10, from 12-5 pm, and Saturdays, January 12, 19, and 26, from 12-5 pm.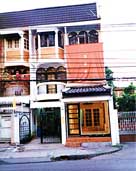 Project 304
49/3 Setsiri Rd, Phayathai
Bangkok 10400
Thailand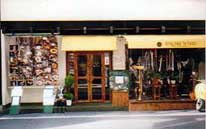 FGallery
Silwataka Ramyananda
HATENA
1-17-2 HigashishinsaibashiChuo-ku Osakashi
Osaka 542-0083
Japan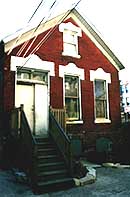 Temporary Services
Living Room
1431 W. Chicago Ave.
Rear Building
Chicago, IL 60622
Text from the booklet ADD PDF HERE OF THIS PAGE
---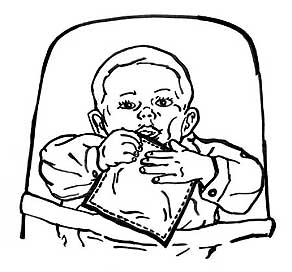 Eukabeuk – Chiang Mai, Thailand, December 18, 2001 – February 2002. Satellite reception at Midway Studios
The Eukabeuk Event is an attempt to create a network of relations and communication between people from all over the world. It is a contemporary cultural rendezvous with the aim to jointly create freedom of expression, exchange and other means of communication dealing with life in social and/or natural experiences.
–
The Eukabeuk Event invites every culturalist, every group, every faculty, from no matter what Cultural background, such as artists, social theoreticians, clergymen, actors, musicians, N.G.O.-s, teachers, scientists, etc.., to participate by presenting activities/works to be communicated to society.
–
This Eukabeuk event will take place from November 2001 until February 2002 within the area of Chiang Mai Province. Date and time of each activity will be chosen by each culturalist.
–
The Eukabeuk event is inspired on the basic concept that a good society is a society that creates Artistic and Cultural concepts continuously and appropriate for each period of time; a society of consciousness and flexibility.
Chiang Mai Ravioli Ingredients:
Paper origami drinking cup
Shampoo and conditioner samples
Packets of sugar taken from restaurants
Cherry Lifesaver
Lubricated condom
Piece of Sandpaper
Chocolate Chanukah gelt
Spool of thread
Drawing crayon
Stick of white chalk
Kissing lips sticker
Band-aid
Plastic barrette
Craft project packet with fabric and snail pattern
Gift tag from "Farang"
Birthday  candle
Temporary Services title card
Insert card with drawing of a person holding a Chiang Mai Ravioli
Chiang Mai Ravioli: